ELYRIA, OH – Invacare Corp (Booth #1621 at Medtrade, scheduled for Oct 23-25, 2017, at the Georgia World Congress Center in Atlanta) received notice last week from the United States Food and Drug Administration (FDA) that the company has successfully satisfied the Agency's requirements under the consent decree to resume full operations at its Corporate and Taylor Street manufacturing facility in Elyria, Ohio. The company is now able to produce and sell all products made in the Taylor Street facility without the previous restrictions under the consent decree, which has been in effect since December 21, 2012.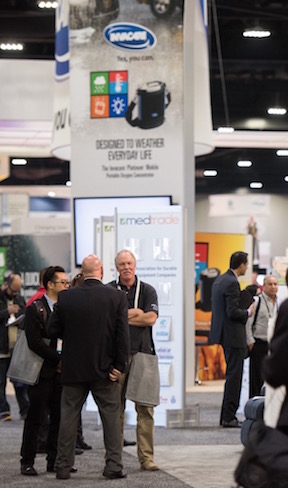 In a letter dated July 24, 2017, FDA stated, "Invacare can design, manufacture, process, pack, repack, label, hold, distribute, import into or export from the United States of America, the subject devices at or from the Corporate or Taylor Street facilities." The letter followed the completion of several procedural milestones, including FDA's recent on-site inspection of the facilities that started on May 30, 2017.
"Since I arrived at Invacare in 2015, we have created a culture of quality excellence," said Matthew E. Monaghan, chairman, president and CEO. "We made significant investments in our quality system, as well as manufacturing and design processes. We are pleased to have FDA's recognition of our progress, and we will continue to put quality at the core of everything we do. I want to thank our associates and acknowledge the leadership of John Watkins, senior vice president of quality assurance and regulatory affairs, for making quality our number one priority and getting us to this important milestone."
The company is now able to sell its wheelchairs designed and manufactured at the Taylor Street facility without having to obtain the verification of medical necessity (VMN) documentation previously required under the consent decree. To ensure the facilities are in continuous compliance with FDA regulations and the consent decree, the consent decree requires the company to undergo five years of audits by a third-party auditor selected by Invacare. The third-party auditor will inspect the Corporate and Taylor Street facilities every six months for the first year, and then once every 12 months for the four years thereafter. Other Invacare manufacturing facilities were unaffected by the consent decree and have remained fully operational.
Monaghan continued, "The consent decree was a precipitating event for Invacare, and it caused us to evaluate all areas of the business. We are emerging from this experience with a new, stronger foundation. While our transformation remains ongoing, we now have a leadership team with robust medical device and quality backgrounds; a clear transformation strategy that aligns the company toward its more clinically complex mix of products; a new commercial focus on our clinical competencies to better meet the needs of our complex rehab and post-acute customers; and an exciting new product portfolio. This new product portfolio includes the Invacare® TDX® SP2 power wheelchair with LiNX® technology, which recently received 510(k) clearance from FDA and will launch in the third quarter of 2017 from the Taylor Street facility. We are very proud to have reached this consent decree milestone with FDA, and we thank the many customers who have remained committed to us throughout this process. We look forward to expanding our rehab business over time and working together with our customers to make life's experiences possible for the people who need our products."