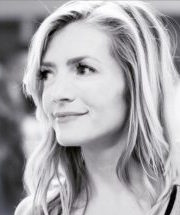 LAS VEGAS – BackEmbrace LLC founder Kara Froula (pictured) is bringing her back and posture support device to Medtrade Spring, scheduled for April 16-18 at the Mandalay Bay Convention Center in Las Vegas.
As a first-time Medtrade Spring exhibitor, BackEmbrace offers a new retail opportunity for attendees who are looking for something fresh. "BackEmbrace is one of the reasons attendees come to Medtrade Spring in the first place," says Kevin Gaffney, vice president and group show director, Medtrade Spring. "It's a new take on a familiar concept that is ideally suited to the retail market. Attendees looking to 'embrace' something brand new should pay a visit to Booth #1127A."
Kara Froula invented BackEmbrace after feeling the effects of long hours working hunched over the computer. In looking for ways to relieve the tension and strain in her upper back, neck, and shoulders, the products she found were bulky, uncomfortable, and restricted her mobility — and certainly not attractive.
"I looked online, shopped around, and tried everything I could find, but nothing was effective while also being comfortable and attractive," Froula says. "I experimented with materials and created prototypes until I came up with a design that was slim, sleek, and could be worn over or under clothes—a unisex design that contours to your body. Like a gentle embrace, BackEmbrace helps to relieve tension and strain in the upper back, neck, and shoulders, leaving you feeling more energized and confident. It's an effective orthopedic device—it just doesn't look like one."
Read more about Kara's remarkable journey here.
BackEmbrace, LLC is part of the New Exhibitor Collection at Medtrade Spring 2019. Medtrade Spring is the nation's second largest (Medtrade is the first) trade show devoted to the DME industry. The show starts on April 16 and the show floor is open April 17-18. Six months later, Medtrade 2019 will take place Oct 21-23 at the Georgia World Congress Center in Atlanta.