ABERDEEN, NC – As a disabled Vietnam veteran, Chuck Barnes, owner of EZ Access Bathing & Mobility in Aberdeen, NC, knows the struggles of soldiers who come back from service with permanent injuries. Barnes has delivered countless scooters to a variety of different customers, but his focus routinely comes back to men and women in uniform.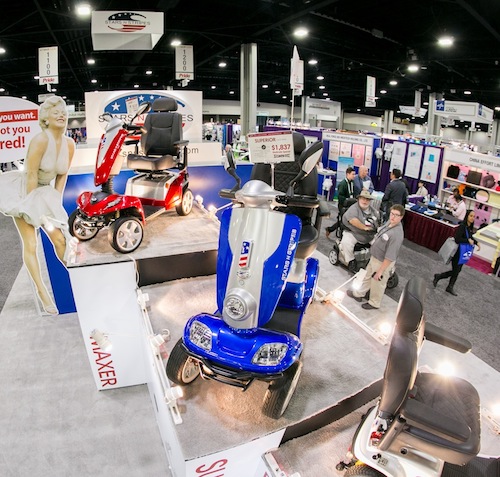 When Barnes had the opportunity to give back to veterans, he called California-based manufacturer Stars N Stripes Scooters (shown here at Medtrade 2016, the nation's premiere home medical equipment trade show). Stars N Stripes ultimately provided a deluxe model scooter equipped with four-wheel suspension and a broad protective front shield to shelter the natural elements while driving.
Barnes delivered the high-end scooter to Welcome Home Veterans Living Military Museum at Richard's Coffee Shop in Mooresville, NC, where the item will be given to a mobility-impaired veteran.
Like its name suggests, Stars N Stripes manufactures its scooters entirely in the United States. Most scooter makers have decided to cut costs by outsourcing manufacturing overseas, but Stars N Stripes owner Mandy Chia has resisted the trend, electing to keep her company's quality and service at a high level with American manufacturing.
Stars N Stripes has made a habit of donating and/or heavily discounting to those in need. Most recently, the Beverly Hills, California-based company provided dozens of scooters at nominal prices to CalVet Homes in West Los Angeles and Lancaster, Calif.
"EZ Access Bathing & Mobility is proud to be associated with Stars N Stripes Scooters," said Barnes. "Stars N Stripes Scooters has excelled in every facet of a company with good character. The quality of their products and their customer service are exceptional. Their desire to step up and give back exhibits their excellent values. I am extremely proud to represent their company in providing their Deluxe Model to the Welcome Home Veterans Living Military Museum, an organization that has also excelled in character and has reached out to so many veterans."