ATLANTA – Patented Stability Gliders™ from Stabilized Steps, Naples, Florida, attach to the bottom of medical walkers—allowing the walkers to be stable on various surfaces such as indoor floors, sand, gravel, grass, mud, and snow. The elegant simplicity of the product appealed to Medtrade attendees who gave a third place award to Stabilized Steps in the Innovative HME Retail Product Awards, sponsored by HomeCare Magazine.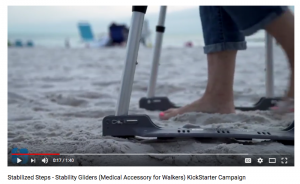 Eryk Hardwick invented the product and got the patent in 2013, but it wasn't until Stephanie C. Gomez joined the team to form Stabilized Steps that the possibilities began to take shape. Gomez left her job as a commercial banker to take on the role of president, co-founder, and CEO. After investing her time, money, and expertise, the product is now slowly but surely getting to the public via the DME channel.
"This is a perfect product for DME providers," said Gomez. "I had someone call me and they wanted to help me bring this product to Walgreen's, and I'm not interested in Walgreen's, because you need someone in a DME store—a sales representative who is showcasing the product and has a floor sample."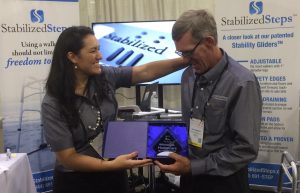 Gomez continues to work tirelessly to hone the company brand and solidify its foundation. That takes time, and she is patient. Gomez (pictured here at last month's Medtrade with inventor Eryk Hardwick) explained: "Some people said, 'Just get it to market and we'll make adjustments.' I said, 'No, you are dealing with people's stability and their balance issues.' Part of the reason our reception at Medtrade was so good is because this product is a great idea. That's also the reason I personally got involved. This has an impact on people to be able to go outdoors and be more stable indoors. We were prepared and took our time to develop a good quality product. I work days and nights on this."
To participate in Stabilized Steps' Kickstarter Campaign, or find out how to donate Stability Gliders to Parkinsons' and/or MS patients/community groups, Click Here. Click on the Youtube Screen Grab above to see the product in action.

Stabilized Steps earned the Innovative HME Retail Product Award (third place) at Medtrade, held last month at the Georgia World Congress Center in Atlanta. Gomez made a presentation and three judges cast their votes along with all session attendees. Moderator Jim Greatorex, vice president, VGM Live at Home, a division of the VGM Group, tabulated all the votes to come up with the top three.
DME providers will get another chance to learn from the best experts in the industry, and learn about the newest products, next year at Medtrade Spring, scheduled for March 27-29, 2018, at the Mandalay Bay Convention Center.
Innovative HME Retail Product Award Finalists (Nine Entries from Eight Manufacturers)
Jazzy Zero Turn Scooter by Pride Mobility
Owlet Smart Sock 2 – device to track baby's heart rate/oxygen levels
AirMini Portable CPAP Solution by ResMed
AirTouch F20 – disposable CPAP mask by ResMed
MyPainAway Sports Cream by Topricin
Mini-Tablet Holder and Smart Phone Holder by Delta
SoClean CPAP Cleaning Device by SoClean
STRONGBACK Wheelchair by STRONGBACK Mobility
Stability Gliders (a walker accessory) by Stabilized Steps