CHESTERFIELD, MO – Austyn Martin likes things that look sleek and go fast. In response to his wish, Quantum Rehab® donated a Stretto Power Chair to Martin as part of his wish from the Make-A-Wish Missouri & Kansas chapter. Martin, 17, of Tunas, MO, was born with spinal muscular atrophy and requires the use of a power wheelchair. Because Martin loves sports cars, the chair was presented at Holman Motorcars St. Louis, an Aston Martin dealership, where Martin was able to see the luxury cars up close.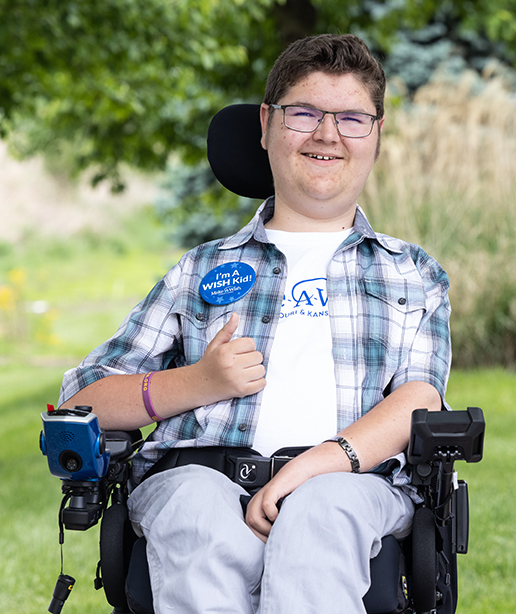 An additional surprise was a set of authentic Aston Martin Wings donated by Aston Martin. The wings are on the back of Martin's power wheelchair. Martin's custom-made Stretto features iLevel® technology, which offers 12 inches of power lift while operating the chair at speeds up to 3.5 miles per hour. iLevel's patented Extra Stability Technology® enhances safety for transfers, reach and numerous other activities of daily living.
"It's going to help me so much because instead of being below eye level, where everybody looks down and thinks, 'Well, I don't know if I want to talk to him,' I'll be up there when I'm looking at them and they'll notice me for who I am," Martin said.
Jay Brislin, vice president of Quantum Rehab, says the company was happy to help. "At Quantum Rehab, consumer needs and wishes are our driving force," Brislin said. "We are pleased to partner with the Make-A-Wish Missouri & Kansas chapter to grant Austyn's wish of a Quantum Stretto power wheelchair. Working together, we fitted Austyn to make sure his power chair meets his needs. In addition, thanks to the generosity of Aston Martin sports cars, we were able to further customize Austyn's power chair by affixing a genuine set of Aston Martin Wings to it since Austyn loves sports cars."
Ashley Wray, Wish Specialist at Make-A-Wish Missouri & Kansas, says Austyn's wish would not have been possible without the support of Quantum Rehab and Holman Motorcars. "Both of these partners have worked together to make this surprise, and his wheelchair, something really special," Wray said. "Austyn was shocked to find out that his one true wish came to fruition and it will be a memory his whole family can cherish."
State Associations Continue to Provide Virtual Education
WATERLOO, IA – The unexpected turn of events with COVID-19 put a strain on every aspect of healthcare in 2020 and into 2021, and most HME-focused state associations had to cancel their in-person conferences in 2020, which could have cost a lot in lost revenue. Late last summer, the VGM Government Relations team sought out a way to assist the state associations in this time of a concern. They wanted to help the associations continue to provide their members with education and CEU courses while also generating some revenue that was lost during COVID-19 due to canceled events.
Earlier in 2020, VGM Education purchased a virtual conference platform called SABA. The government team worked with the VGM Education team to make the SABA platform available for state associations to use, at little cost. The VGM Government Relations team reached out to a handful of the VGM vendor partners asking if they would want to participate in the virtual conferences to help offset the cost for state associations.
Realizing that they would be part of a solution to this challenge for the state associations, vendors stepped up to the plate. The support from GCE, Medline, SoClean, VGM & Associates, VGM Forbin, VGM Insurance, VGM Education, Brightree, Philips Respironics, NCART, and U.S. Rehab made for very little cost to the state associations. The only cost that the associations had to absorb was the cost of the CEUs, which was $10 per person. Vendors were also able to have a virtual exhibit booth at each of the nine conferences, including CAMES, TexMEP, ACMESA, HOMES, PAMES, NEMEP, PAMS, MAMES, and Great Lakes.
The average amount of revenue for the associations was $3,620.61. The average amount of participants for each conference was 130. Kelly Ore of CAMES said, "We cannot thank VGM enough for assisting the CAMES organization with hosting our annual event virtually. Having the ability to offer CEU's in addition to a fantastic list of speakers allowed us to attract a broader audience. I was amazed at how easy the process was, and how much work VGM put in to launch a flawless full day event."
Beth Bowen, executive director of ACMESA, FAHCS, ATHOMES, and NEMEP commented, "Our partnership with VGM during the pandemic has been invaluable. They've provided so many resources for state associations including a virtual platform with all the bells and whistles. The platform allowed us to connect with our membership and provide them with the best experience possible, next to being in person. We all know that meeting face to face proves to be the most productive, but when that isn't an option, this platform provided the benefits we needed and allowed us to engage with our membership."
ACMESA Summer Meeting – Registration is Open
WRIGHTSVILLE BEACH, N.C. – The ACMESA Summer Meeting is scheduled Wednesday & Thursday—Aug 18-19, 2021 at the Holiday Inn Resort – Wrightsville Beach, N.C. Registration is open now.
E-mail Beth@AtlanticCoastMESA.org or Allison.ACMESA@gmail.com for help in renewing 2021 dues or for more information about the meeting.
Pride and Quantum Launch Provider and Clinician App
EXETER, PA – Pride Mobility and Quantum Rehab have launched PQ-365, a new one-stop app that includes everything Pride and Quantum-related. Designed for providers and clinicians, the free app helps busy professionals stay up to date with the latest information from Pride and Quantum and access all company content in one place.
Features include:
a serial number and order search;
the serial number shown in the order tracking information;
links created to part numbers in the serial number lookup for a description of each part;
voice search;
an image share option;
the ability to zoom in on product images;
illustrated parts breakdowns (password protected); and
a coaching feature created for coaching app users on new functionality such as sharing an image.
Other features include a quick-search option, 360-degree product views, fillable order forms, push notifications, consumer testimonials, news, events, specifications sheets, brochures, owner's manuals, basic operating instructions and more. After an initial tutorial option upon opening the app for the first time, the user is required to select either the U.S. or Canada to view country-specific content.
Additionally, password-protected installation instructions and technical videos are available (passwords can be obtained by emailing marketing@pridemobility.com). Providers and clinicians can also directly access the Pride Learning Management System via the app for online CEU courses.
"We are excited to add Pride content into our Quantum Clinician app to create the new PQ-365 app," said Kate Pencek, senior director of IT & Enterprise Architecture. "We want PQ-365 to be a central repository for both Pride and Quantum, from order forms to technical service videos. While it is simple and user-friendly, the app meets today's technological demands while providing a great user experience. Our goal is to continuously improve the app to meet the needs of our providers and clinicians."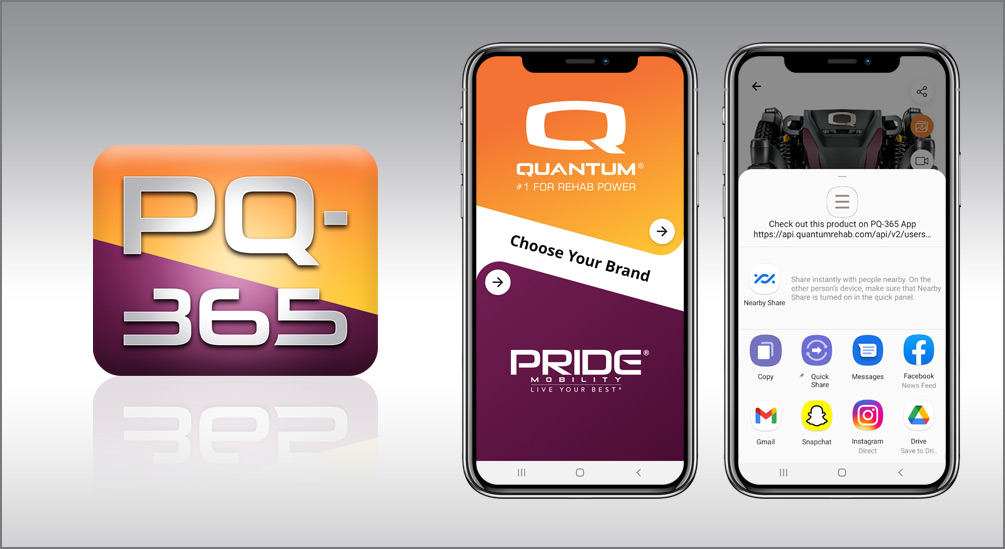 Rhonda Perko, vice president of Marketing, says there was a clear need to have an app for Pride Mobility as well. "The company received fantastic feedback on the Quantum Clinician app, so naturally we added Pride as a next step," Perko said. "Having an app is yet another way for our providers and clinicians to undergo immersive brand experiences. From a sales representative wanting to show a consumer product color options, to a clinician who wants to fill out on order form on a cell phone, PQ-365 is a one-stop resource that can be used by all mobility products professionals."
PQ-365 is available for download via the Apple Store and Google Play. It replaces the Quantum Clinician app. Click here to check out a video of the new app. Those who already have the Quantum Clinician app installed will receive an app update to download the new version.