MURRYSVILLE, PA – Philips Respironics Inc recently earned the New Product Pavilion Providers' Choice Silver Award (sponsored by HomeCare Magazine) for its Philips Respironics Mask Selector. HME providers voted for the Mask Selector on the final day of Medtrade Spring, held earlier this year at the Mandalay Bay Convention Center in Las Vegas.
According to Kevin Coldren, director of Global Product Marketing, Philips Respironics, there was no universal process for selecting mask style, size, and fit for sleep apnea patients prior to the Mask Selector. "Unfortunately, this often led to poor mask fit, which negatively impacted therapy adherence," said Coldren (pictured here at Medtrade Spring 2020). "To address this, Philips developed the Philips Respironics Mask Selector, the first and only 3D scanning mask software that assists with the selection of sleep apnea therapy masks."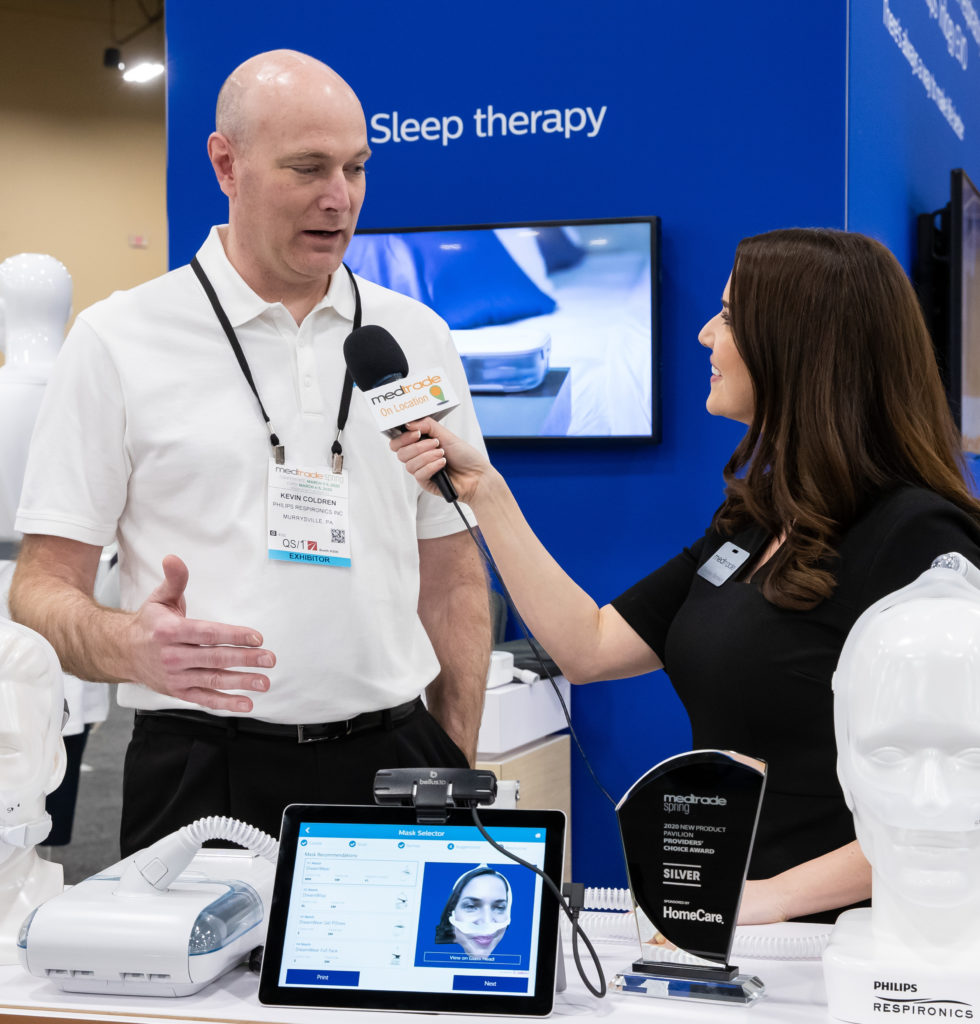 The Philips Respironics Mask Selector is designed to personalize the mask selection and fitting process for PAP therapy by using a proprietary algorithm and advanced 3D scanning technology to recommend options tailored to a patient's individual needs.
At Medtrade Spring, many of the conversations around the Philips Respironics Mask Selector revolved around how the product advanced the mask selection process for sleep apnea patients.
"By giving on-site demos, we were able to demonstrate how easy and effective the technology is to implement, with a user-friendly interface and quick 3-step mask-fitting process," Coldren said. "By leveraging knowledge in the true functionality of sleep and sleep stages – built on more than 3 billion nights of sleep therapy data and decades of clinically-guided research and trials – we continue to make headway toward the ultimate vision of helping people live better through sleep, and find new and innovative ways to solve sleep problems."
New Product Pavilion Providers' Choice Awards
• The Gold Award went to Ageless Innovation's Joy for All Companion Pets, from Ageless Innovation LLC. Tom Canterino (pictured), co-founder and vice president of Business Development and B2B Sales, is pictured on the right after receiving his award on day three of Medtrade Spring 2020.
• Philips Respironics Inc earned the Silver Award for the Philips Respironics Mask Selector.
• The Providers' ChoiceBronze award went to the Let's Move Rollatorfrom Trust Care by Stander.