ATLANTA – Several awards were given out last month at Medtrade, and these exceptional products merit a closer look. The second place finisher in the biannual Innovative HME Retail Product Awards, sponsored by HomeCare Magazine, was The SoClean® 2 CPAP Sanitizer (also known as SoClean®).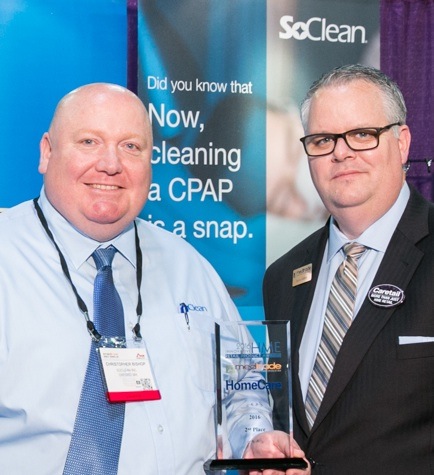 Chris Bishop (pictured far left with Kevin Gaffney, group show director, Medtrade), director of Sales and Business development, SoClean Inc, agreed to sit down and answer questions about a product that is uniquely suited to capitalize on the growing awareness of the dangers of sleep disorders.
Greg Thompson, editor of Medtrade Monday: Why do you think you received 2nd place in the Innovative HME Retail Product awards?
Chris Bishop: I feel SoClean took the 2nd place award due to the fact that our product addresses a dire need in every CPAP patient's life…the need to clean their CPAP equipment every day. Most patients become disillusioned with cleaning, and it soon becomes a chore. The SoClean is the modern, more effective way to keep CPAP equipment safe to use every time. Along with this, the SoClean is the perfect cash sale product. It helps DME locations to fill in the financial gaps where insurance reimbursement is now lacking.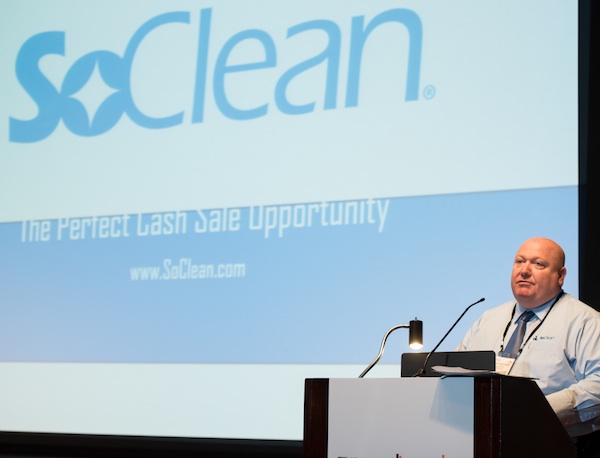 Thompson: Why is retail/caretail so important in today's HME world?
Bishop: Because of the constant cost compression of insurances, and lowering reimbursement rates, DMEs are struggling to keep the doors open. Cash sale items are the springboard to bridge the gap between traditional reimbursement revenue and what's needed to keep the lights on.
Thompson: What type of customers (end users) will be using your products?
Bishop: Every CPAP, BiPAP, and APAP wearer is a potential customer for SoClean. Whether patients are getting fit for the first time, or they are long-time CPAP users, the SoClean is the perfect product. It will modernize what has become a nuisance—daily cleaning of CPAP equipment. When customers see that they can now do in seconds what normally took approximately 20 to 30 minutes, they will become SoClean customers.
Thompson: What are your plans for Medtrade Spring?
Bishop: Medtrade Spring has always been a great way to leverage meetings with key decision makers in the DME industry. We're hoping to continue this next spring.