ATLANTA – During Medtrade's highly competitive New Product Pavilion Providers' Choice Awards, sponsored by HomeCare Magazine, the Bronze award went to 3B Medical, Inc for its 3B Lumin Bullet CPAP hose cleaner.
Angela Giudice, RPSGT, director of Clinical Education, 3B Medical Inc., Winter Haven, Fla, accepted the award at last month's Medtrade, where attendees embraced the product's potential to increase cash sales. Medtrade Monday chatted with Giudice about the product's design, strategic price point, and operation.
Medtrade Monday: What was the thinking behind the design of the Lumin Bullet?
Giudice: The Lumin Bullet was designed to address two issues faced by HME providers: 1) increasing their selection of products to increase cash retail sales; and 2) providing patients with a real solution to keeping CPAP use healthy and easy.
3B Medical intentionally stayed away from utilizing ozone, which some manufacturers creatively call "activated oxygen" to avoid disclosing the very real health risks of using ozone.
Most HME providers remain unaware of the numerous federal regulations cautioning on use of ozone in the home, such as: 21 CFR 801.415. For that reason, every solution we develop always focuses on other available means of disinfecting. UVC light is the cleanest, fastest, and healthiest way of disinfecting.
The need for hose disinfection really struck a chord with our development team. The challenge was to create a product that could literally float through a 6 foot long tube. Thinking outside the box was no easy feat, and our engineering team toyed with several concepts before incorporating strong magnetic forces and a high powered germicidal LED.
Medtrade Monday: What is the value proposition that HME providers can relay to customers?
Giudice: In two weeks of using CPAP, a hose will almost always develop a thin layer of biofilm. The hose becomes a dark, warm, and moist area for breeding bacteria. No patient wants to breathe through slime.
Medtrade Monday: Why is the Lumin Bullet under the $100 price point?
Giudice: In our talks with DME owners, only one in six patients seemed willing to spend $200 to $300 on a CPAP sanitizer like Lumin [not to be confused with the Lumin Bullet]. The other five out of six patients are leaving their DME provider empty handed without a cash sale. CPAP wipes offer a low cost accessory product, but that hardly meets ownership interest in moving the goal on increasing retail sales.
The $249 price point of Lumin ignored the far larger market of consumers looking for a lower cost product to assist with daily cleaning. The inception of the Lumin Bullet was born out of perception of a large unmet need, both for HME providers and patients, for a product under the $100 price point.
Medtrade Monday: What was the reaction to the product at Medtrade?
Giudice: The Lumin Bullet is sleek, modern, and unlike anything on the market. Lumin Bullet was a hit at Medtrade. Our booth stayed busy with everyone wanting to come play with the newest disinfection device from 3B Medical.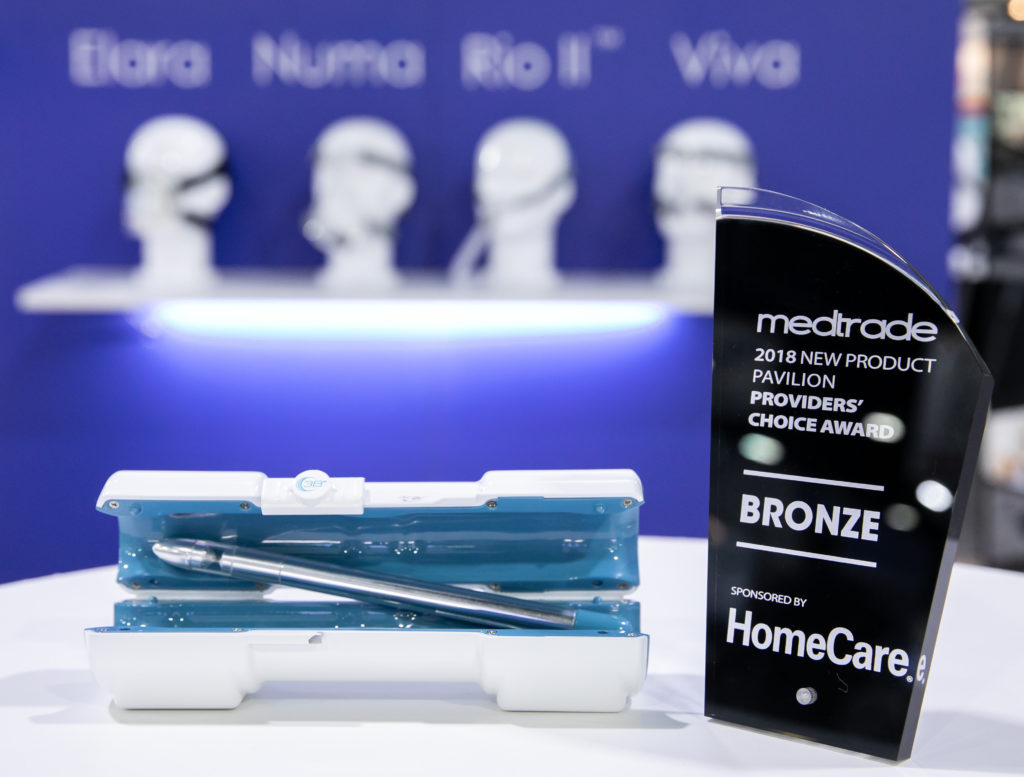 Medtrade Monday: What were you hearing from booth visitors?
Giudice: We kept hearing how quick and easy the Lumin Bullet is to use. Our customers were really enthused to have an ingenious product to provide to patients that not only was affordable, with a retail price of $99, but also allowed patients to take control of their health.
Medtrade Monday: When can dealers start carrying the Lumin Bullet?
Giudice: We are still four weeks from commercial availability. Like Lumin before it, we expect Lumin Bullet to go on backorder quickly as we ramp up production to keep up with demand.
Medtrade Monday: What do you expect in the future?
Giudice: Creative and new product innovation is the driver to our high double digit growth year over year. 2019 will be our busiest year ever, with new product launches planned at almost every 90-day interval. 3B Medical is the go-to company for increasing DME profitability.