SANDWICH, MA – Gary Sheehan firmly believes that sleep is a cornerstone of overall health, so much so that he has devoted 80% of his business to sleep medicine. "Payers understand that identifying, diagnosing, and treating sleep apnea is within their best financial interest, and doing it with effective partners is how you create sustainable solutions for patients," says Sheehan, president and CEO, Cape Medical Supply, Sandwich, Mass.
With that commitment to patients in mind, Cape Medical recently acquired the sleep therapy assets of Enos Home Medical (EHM), a long-time provider of sleep therapy services in Southeastern Massachusetts and Rhode Island. With additional assets in hand, Sheehan aims to use digital solutions to improve patient experiences and outcomes. "Our focus on data delivers healthier, more engaged, and more satisfied patients," he says.
Finding those "digital solutions" is likely at Medtrade Spring and Medtrade (Oct 21-23, 2019), and Sheehan (pictured here winning the 2017 Van Miller Homecare Champion Award) confirms that key relationships are routinely cemented at the show. "We're a close partner of Brightree," he says. "We've been very aggressive in implementing their web-based solutions for patients, so the portal as well as the patient app has been really well received by both our patients and referral partners. Patients are accustomed to doing things on their phones, on Amazon, and we want to provide a like experience for the management and reordering of CPAP supplies."
What does the future hold for sleep medicine? Medtrade Monday sat down with Sheehan to get a sense of his optimism, in addition to his reasoning for making big bets on sleep.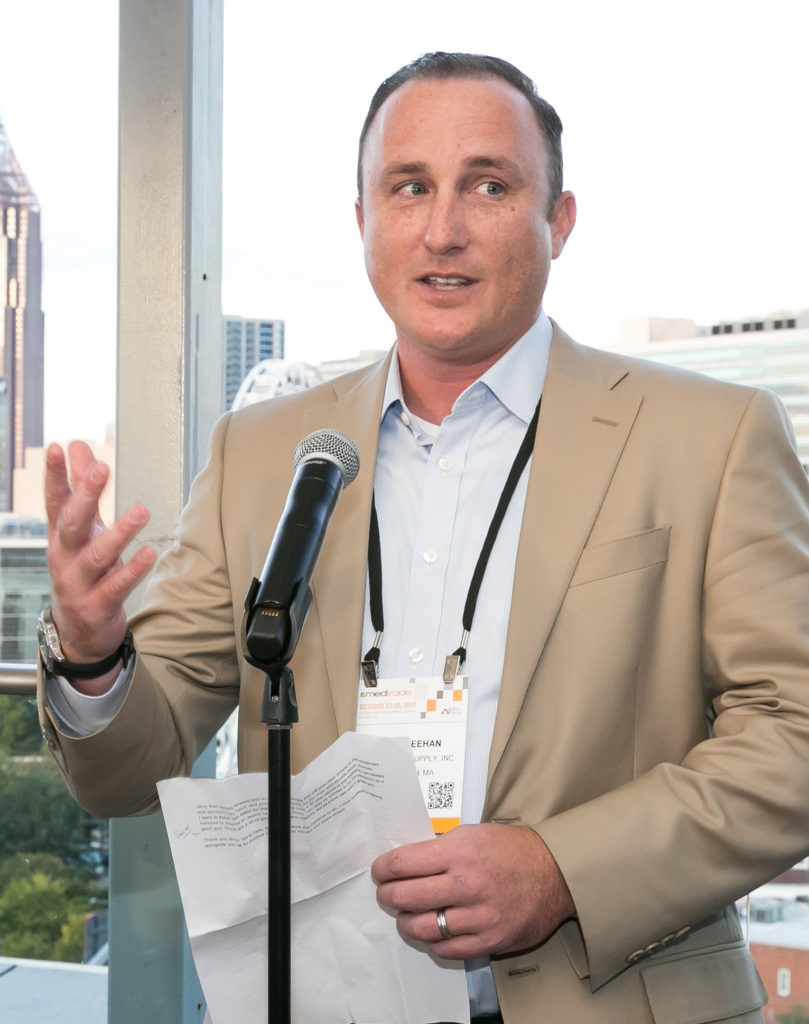 Medtrade Monday: What's your level of optimism about sleep as a business model?
Sheehan: We feel that we have developed a competitive advantage in this category that allows us to go out in the market and compete really well and find and execute transactions like this one, and create strong organic growth through our business processes—through our technology and through our analytics platforms.
We're not dabbling in a bunch of different things. I'm not walking in saying send me oxygen and beds. We're a sleep company, and we do that really well. I think the macro environment is generally supportive of investments in sleep, because I think there's a recognition that it's an area that makes a significant difference in the lives of patients. And frankly, when it's treated effectively, overall medical expenses go down.
Medtrade Monday: How much of Cape Medical is devoted to sleep medicine?
Sheehan: We are about 80 percent sleep and 20 percent orthopedic bracing, which is primarily fulfilled through consignment partnerships. From a core point of view, we really are a sleep company. That's what we do; that's our focus and that's what our people are trained to handle and manage and we think that they are experts at it and do a really good job.
Medtrade Monday: How many employees do you have?
Sheehan: We have 80.
Medtrade Monday: How much concern do you have about the next round of competitive bidding impacting the sleep world?
Sheehan: We've gotten the category separated, so we're not going to get these oxygen companies that are trying to drive down their unit price by bludgeoning E0601 and the other code, so you've got also clearing price, the bonding. The unit economics already don't make sense for most providers, which is why we can do deals like the one that we just did. It's hard to predict. At the end of the day, CPAP does remain a very local business, meeting with patients, setting things up. There's parts of the category that are drop shipment, but the business of putting patients on therapy and getting them compliant with therapy continues to be a messy, local business, with sales reps collecting documents and working with offices—and respiratory therapists working with patients. We would expect that, given some of the governance and changes around the bid program, that the pricing would actually go up, certainly for CPAP devices—for E0601. There is concern obviously with lead item pricing, of what the impact will be there. Our view is that the bidding program is going to restore some of the margin that's been lost over the last bunch of years, and make the CPAP category a more sustainable category overall.
Medtrade Monday: What Medtrade exhibitors do you make a special point of visiting?
Sheehan: We partner with ResMed and Phillips to a significant degree. We find that they're both really great companies to work with. They are, on their own, in their own right, offering new technology solutions—not just machines that are smaller and quieter and lighter—but also connected devices that are putting information into our EMR and providing our clinicians real time visibility into patient performance.
Medtrade Monday: What other product categories are you pursuing?
Sheehan: We are aggressively working to build our portfolio of cash sales, so accessories to sleep therapy patients—cleaning devices like SoClean. We're selling a lot of those as well as some of the other ones that have come to market.
Medtrade Monday: What is your opinion of Medtrade?
Sheehan: Medtrade continues to be the gathering spot for manufacturers and leaders within the HME space, and I think almost everyone that we're partnered with is represented at the show. It's always great to see them on the floor and at the parties, and to see all the leaders from all over the U.S. who are in town who are there and ready to share ideas, collaborate, and talk about the challenges they are facing. Medtrade is unparalleled in terms of your ability to do a lot in one place in just a few days.
Medtrade Monday: And you're planning on attending Medtrade this October?
Sheehan: I wouldn't miss it. I sit on the board of AAHomecare and we have a board meeting there. To me, as much as anything else, it's a great face-to-face environment to meet with peers and talk about the challenges that we're all facing—operational, financial, whatever the case might be. There's a lot that you can do on the Internet, email, and phone, but for relationship building and networking, there's still nothing else that beats Medtrade. If you're trying to do a lot of face-to-face, in one place at one event, for me Medtrade is it.
Close to a Billion With Sleep Apnea? ResMed Spotlights Latest Estimates
A ResMed-led analysis published in The Lancet Respiratory Medicine (July 2019) estimates that more than 936 million people have obstructive sleep apnea. As summarized in news-medical.net and elsewhere, the estimate from the multinational analysis by ResMed and 12 sleep researchers is nearly 10 times greater than the World Health Organization's 2007 estimate of more than 100 million.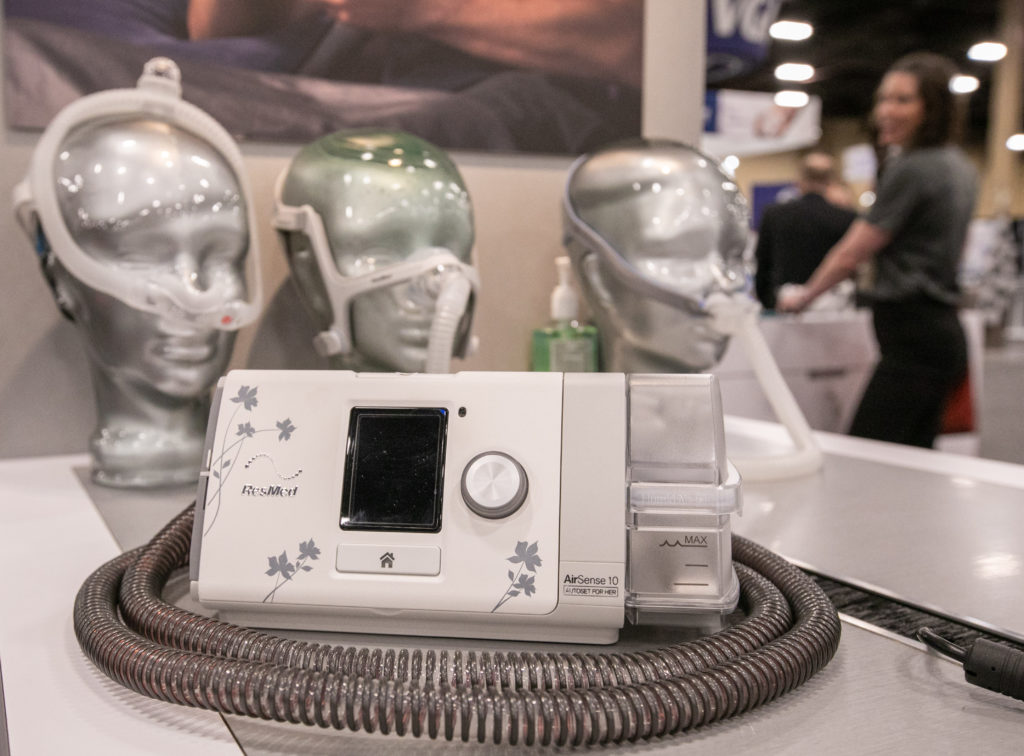 "More than 85 percent of sleep apnea patients are undiagnosed, meaning hundreds of millions repeatedly suffocate instead of getting healthy, restful sleep each night," said Carlos M. Nunez, M.D., study coauthor and ResMed's chief medical officer. "This raises their risk of workplace and roadway accidents, and can contribute to other significant health problems, such as hypertension, cardiovascular disease, or even poor glucose control for diabetic patients. We know the risks, and now we know the size of the problem is nearly 10 times greater than previously thought. Addressing it starts with screening patients we know to be high-risk."
Education for clinicians and patients can help get more people diagnosed, but the educational component should include a conversation about what constitutes good sleep. "Some believe snoring may simply be a normal feature of how some people sleep, when in fact it's one of the most important signs for the risk of sleep apnea," Nunez said. "With a global prevalence that approaches 1 billion people, patients and physicians need to consider the risks and ask questions that may ultimately help them sleep and live better. This is no longer a problem that can be treated lightly or ignored."