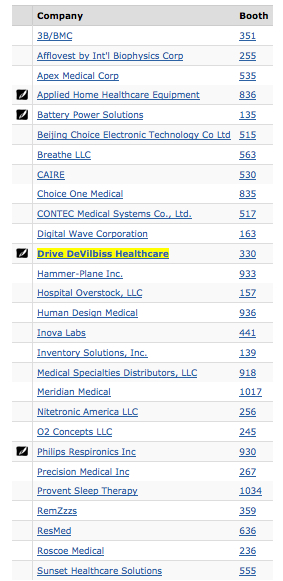 LAS VEGAS – With 35 days remaining until the start of Medtrade Spring, exhibitor sign-ups under the sleep/respiratory category are strong (see chart). Exhibitors such as San Diego-based ResMed are preparing for the show (scheduled for Feb 29-March 2 at the Mandalay Bay Convention Center in Las Vegas) on the heels of considerable momentum thanks to strong revenue numbers.
Last week, ResMed announced results for its quarter ended December 31, 2015. Revenue for the quarter was $454.5 million, a 7% increase compared with the quarter ended December 31, 2014; this is a 13 percent increase on a constant currency basis.
"We remain focused on delivering strong long-term growth from our sleep-disordered breathing and respiratory care businesses. Our team continued to deliver double-digit constant currency growth this quarter," said Mick Farrell, ResMed's CEO. "Our Americas region was a significant contributor this quarter, as our customers continued to show their strong preference for our offerings, including Air Solutions cloud-based software, AirSense devices, and AirFit patient interface systems.
"We have expanded our respiratory care business into the field of long-term oxygen therapy. Last week we announced a definitive agreement to acquire Inova Labs in Austin, Texas. This will add portable oxygen concentrators, complementing our non-invasive ventilators, and providing yet another ResMed therapy option for patients with chronic obstructive pulmonary disease, or COPD."
"The respiratory sector at Medtrade Spring reflects a vital category for so many providers who are making plans to attend the show," adds Kevin Gaffney, group show director, Medtrade. "Government policy has not made things easy for oxygen and sleep providers, but Medtrade Spring will be a great place to learn about the latest technologies, techniques, and tips to improve the respiratory business. Go to www.medtradespring.com to check out the educational sessions, and Click Here to register for Medtrade Spring. I hope to see you there."
Use #MedtradeSpring16 on social media.