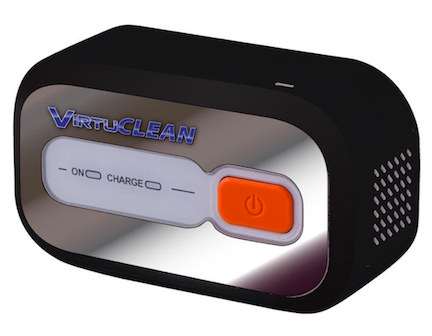 LAS VEGAS – Medtrade Spring attendees cast their votes for the best new products in the New Product Pavilion Providers' Choice Awards (sponsored by HomeCare Magazine) and the VirtuCLEAN (a PAP cleaning device) by VirtuOx (Coral Springs, Florida) took home the Silver Award.
Cleaning the positive air pressure (PAP) machine is often neglected, but now patients can simply put the PAP into VirtuClean and walk away. VirtuCLEAN automatically cleans the device and shuts off 30 minutes later. According to Kyle Miko, founder and COO (pictured, lower left) of VirtuOx, VirtuCLEAN kills 99.99% of disease-causing pathogens that otherwise reside and grow in the PAP mask, tube, and humidifier chamber.
Medtrade Monday spoke with Miko about the VirtuCLEAN, just introduced in 2017 and already making an impact in the burgeoning field of sleep medicine.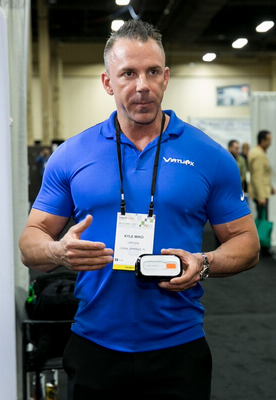 Medtrade Monday: Why do you think the VirtuCLEAN did so well at Medtrade Spring?
Miko: It's a novel product. There is only one other device in the world that is similar, and they have of course had 100% market share for the last four years. Ours is a lot smaller. The other device is about the size of a shoe box, and ours is about the size of a few cell phones stacked on top of each other. It's a fifth of the size. Ours is battery powered and portable. Ours requires no filter changes.
People are so busy and it's hard to adhere to cleaning schedules, but with our device, you plug your hose into the front of our CPAP cleaner, push a button, and walk away. Thirty minutes later it is 99.9% clean. The device uses ozone to disinfect.
Medtrade Monday: What is your overall level of optimism for the HME and/or CPAP industry?
Miko: We know that there are approximately six million CPAP users in the United States. We know that there are about 1.3 million new CPAP patient being added every year. That will increase and it will continue to increase. My outlook is aggressive. We know that sleep disorders are not going away. In fact, it's becoming more widely diagnosed. It's an industry that continues to grow.
VirtuCLEAN product features:
• kills 99.9% of germs and bacteria in only 30 minutes;
• uses Ozone to disinfect;
• requires no soap, water or cleaning solutions;
• small and portable, weighs only 1⁄2 pound; 

• ultra quiet;
• 18-month warranty;
• charging time of two hours; 

• requires no maintenance like other devices; and

• ideal for homecare, but can be used to clean multiple masks in a hospital setting.
HME providers will get another chance to see VirtuCLEAN at Medtrade, scheduled for Oct 23-26, 2017, at the Georgia World Congress Center in Atlanta.