BOTHELL, WA – Ventec Life Systems completed a record-breaking year manufacturing VOCSN critical care ventilators in response to COVID-19. Ventec produced 45,000 ventilators in part due to a collaboration with General Motors (GM) to deliver critical care ventilators to the U.S. Department of Health and Human Services in just 154 days.
After partnering with GM in March 2020, Ventec and GM established a new production facility in Kokomo, Indiana. Together, the Ventec and GM team completed a $489 million contract to supply 30,000 VOCSN V+Pro Emergency critical care ventilators to support healthcare professionals on the front lines in the fight against COVID-19.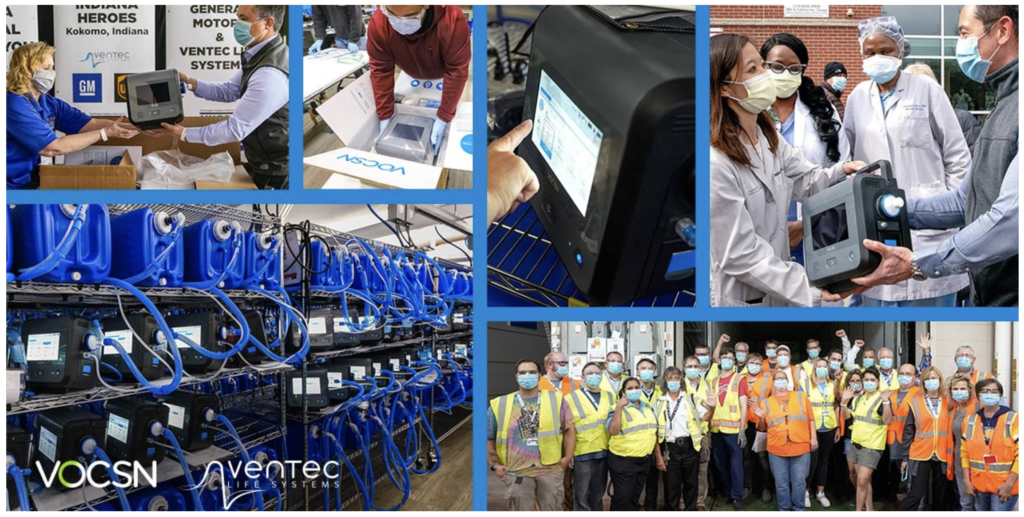 The company reported record growth in 2020 as a result of the 80x increase in manufacturing production for the U.S. Federal Government, state governments, hospital systems, long term care facilities, and DME companies. Ventec will continue to invest in the company's future growth, with revenue allocated for continued enhancements to VOCSN Multi-Function Ventilator and the release of VOCSN Multi-View™ cellular, a system designed to provide complete patient trending and monitoring for ventilator-dependent patients across multiple respiratory therapies.
After a beta launch at the American Association for Respiratory Care (AARC) Congress in 2019, Ventec fully launched VOCSN Multi-View in 2020. A new dynamic website and cellular capability for remote monitoring will launch in the first half of 2021, building on the integrated multi-therapy delivery of VOCSN. Multi-View is designed to summarize patient data and create trend reports to facilitate informed treatment decisions and care plans, drive proactive interventions, control costs, and deliver seamless care.
Ventec worked closely with CMS to recognize the opportunity to replace multiple pieces of respiratory equipment with VOCSN, and created the first HCPCS code for a Multi-Function Ventilator. VOCSN is the only device that qualifies for this new code – HCPCS E0467 – which is available to any patient that requires a ventilator and one additional VOCSN therapy (oxygen, cough, suction, or nebulizer). With changes to E0467 in May 2020 and December 2020, VOCSN is now accessible to all ventilator users regardless of current or past device use, and patients can now qualify for a second VOCSN in the home. E0467 is billable under 47 state Medicaid plans, most private insurers, and TRICARE.
Ventec added a sixth respiratory therapy with the launch of VOCSN High Flow therapy, a tool for healthcare professionals using VOCSN to treat patients battling COVID-19. This additional therapy is enabled with a free software update and provides caregivers and healthcare professionals an additional option to meet a patient's evolving respiratory needs by combining invasive and non-invasive ventilation and High Flow therapy for patients from hospital to home with a single device.
High Flow therapy is now part of the standard of care for COVID-19 patients, and the U.S. Department of Health and Human Services (HHS) awarded Ventec with a $75 million contract for High Flow therapy kits to ensure all 30,000 VOCSN V+Pro critical care ventilators deployed by the Strategic National Stockpile can support High Flow therapy.
New Oxygen Study
Ventec Life Systems published research showing O2 expenditures decreasing by 75% for a long term care facility after conversion to VOCSN Multi-Function Ventilator. The facility studied realized annualized savings of over $16,000 for O2 expenditures following the change to VOCSN Multi-Function Ventilator.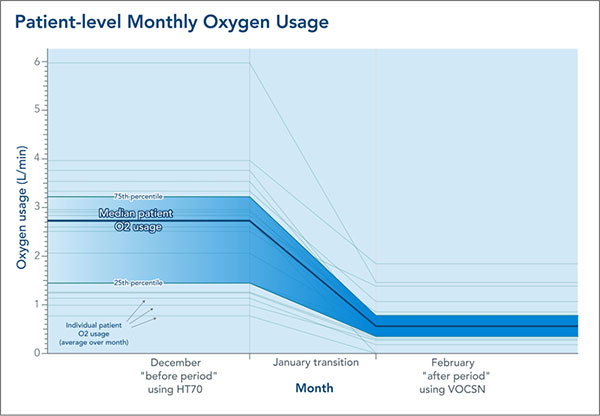 Key Findings of Primary Analysis
Every patient used less oxygen when using VOCSN compared to when using HT70. Using 30 "average" patients with 24-hour oxygen requirements for 31 days:
Patients using VOCSN used 75% less oxygen compared to patients using HT70.
Oxygen expenditures decreased by 75%.
Total oxygen expenditures (including delivery fee, tax, and flat monthly fee) decreased by 53%.
Annualized cost savings for total oxygen use at the facility was $16,125.
Annualized cost savings per patient for total oxygen use at the facility was $538.
Nine percent of patients transitioned to VOCSN in the after period no longer required oxygen and nine percent were weaned from the ventilator.
VOCSN Software Update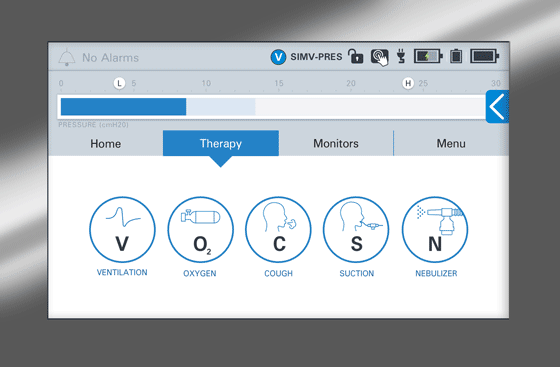 VOCSN software version 5.0 is now available with ease-of-use enhancements including a Quick View menu, which streamlines access to commonly used therapies and features. The Quick View menu simplifies access for up to eight commonly used features and settings including:
O2 Flush
Suction
Cough
Waveforms
Monitors
Ventilation Settings & Alarms
Inspiratory Hold
NEW Mark Event function allows users to note events for reference in VOCSN Multi-View™.
New enhancements were developed based on feedback from clinicians and users, and were developed in close collaboration with VOCSN partners. Other changes include updates to reduce alarms, such as extending the service oxygen concentrator soon alarm reoccurrence from every 8 hours to every 32 hours.