ALJ Ruling Shines a Light on Challenges with OIG Reports and Their Findings
WASHINGTON, D.C. – A recent Administrative Law Judge (ALJ) ruling overturned 100% of disputed claims stemming from a May 2021 HHS Office on Inspector General (OIG) report of non-invasive ventilators supplied by Viemed. In that report, the OIG recommended that CMS issue an extrapolated overpayment and recoup funds from Viemed.
In appealing that decision, Viemed made the case that the OIG ignored diagnosis and supporting documentation from prescribing physicians and applied clinical guidelines that are contrary to CMS' accepted standard of care. The ALJ agreed and resolved remaining claims in Viemed's favor, resulting in a $0 overpayment for patient claims addressed by the OIG.
OIG reports can be highly influential and referenced regularly in policy changes and audit projects. This appeal win by Viemed highlights the concerns AAHomecare has communicated with government officials on how federal government auditors may not be qualified to audit DMEPOS claims.
DMEPOS regulations are complex and require a seasoned auditor that is educated and knowledgeable of DMEPOS coverage criteria to be able to properly review DMEPOS claims. We will continue to educate and advocate for an improved review process for all entities that audit DMEPOS.
See more in Viemed's statement on the ALJ action resolving the issue.
Average Processing Time for ALJ Appeals Continues to Decrease in 2022 
WASHINGTON, D.C. – The Office of Medicare Hearings and Appeals (OMHA) recently shared with AAHomecare that they have published the average processing time for an ALJ appeal for Fiscal Year 2022. The average wait time decreased by 42% between FY 2021 and FY 2022.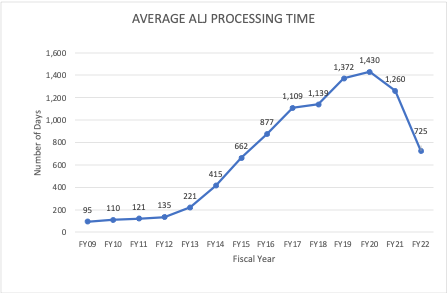 OMHA is required to process ALJ appeals within 90 days, however, they have not met that requirement in over 10 years. As part of the American Hospital Association lawsuit, OMHA is mandated by the court to have eliminated the backlog by the end of FY 2022.
AAHomecare is requesting additional data specific to DMEPOS ALJ appeals.
AAHomecare Responds to RFI on Dual Eligible Beneficiaries
WASHINGTON, D.C. – On January 13, AAHomecare submitted comments to U.S. Senators' request for information (RFI) on issues around Medicare-Medicaid dual eligible beneficiaries. This past November, Sens. Bill Cassidy (R-La.), Tim Scott (R-S.C.), Tom Carper (D-Del.), Bob Menendez (D-N.J.), John Cornyn (R-Texas), and Mark Warner (D-Va.) released the RFI to help lawmakers make informed decisions for future policy making.
AAHomecare submitted comments that highlighted the need for the following:
Adoption of CDEs and e-prescribing
Address inconsistencies in HCPCS codes, modifiers, and quantity limitations
Address documentation requirement inconsistencies
Medicaid to Medicare transition issues
Issues with copays and documentation requirements when Medicaid is a secondary payer
Medicaid not covering Medicare copays
You can find AAHomecare's full comments here.