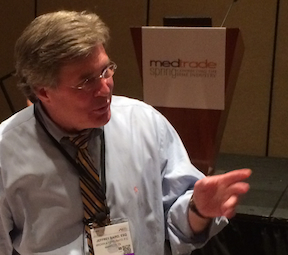 AMARILLO, TX – Fast forward to January 1, 2019. For 18 to 24 months following January 1, 2019 ("Gap Period"), competitive bidding will not exist. During the Gap Period, if they choose to do so, DME suppliers will have the right to limit the product lines they offer to traditional Medicare beneficiaries.
The Age Discrimination Act of 1975 generally prohibits age discrimination under any program receiving federal financial assistance. CMS has a specific anti-discrimination rule that states that CMS can terminate a DME supplier's PTAN for a number of reasons, including if the supplier "places restrictions on the persons it will accept for treatment and it fails either to exempt Medicare beneficiaries from those restrictions or to apply them to Medicare beneficiaries the same as to all other persons seeking care." 42 C.F.R. §489.53. Supplier Standard No. 25 states:
(25) All DMEPOS suppliers must disclose upon enrollment all products and services, including the addition of new product lines for which they are seeking accreditation. If a new product line is added after enrollment, the DMEPOS supplier will be responsible for notifying the accrediting body of the new product so that the DMEPOS supplier can be re-surveyed and accredited for these new products.
42 C.F.R. §424.57(b)(25).
When a supplier enrolls with traditional Medicare, it indicates on the enrollment form (CMS-855S), the products and services it intends to provide. The supplier is allowed to revise these products and services by submitting a change to the NSC. A Medicare supplier is not required to include all the products and services it provides on the 855S, and thus can selectively choose which products and services it will provide to traditional Medicare beneficiaries.
The process for removing product lines is to submit a change to the NSC via an 855S form or through PECOS, removing those products and/or services from the enrollment for a specific PTAN. The supplier should be able to continue to submit claims for the deleted items/services for dates of service prior to the effective date of the change. As a result of deleting certain items/services, the supplier will be prohibited from providing any item/service not included on the 855S to traditional Medicare patients.
Whether discontinuing select business lines from the supplier's traditional Medicare enrollment impacts the supplier's Medicare Advantage ("MA") contracts will depend on the particular MA contract provisions. Most MA contracts will require that the supplier maintain accreditation for the products/services provided to the MA plan enrollees, even if the supplier is not enrolled to provide such products to traditional Medicare patients.
Oxygen
42 CFR 414.226 requires that a supplier providing the 36th month rental of oxygen equipment to a Medicare patient continue to do so (and provide related oxygen contents) for any period of medical need until the end of the 5-year reasonable useful life ("RUL"), or arrange for another supplier to do so if the patients relocates outside the supplier's service area. Additionally, any supplier that provides the 1st month rental of oxygen equipment is required to continue providing oxygen equipment for the 36-month rental period, unless medical necessity ends or one of the limited exceptions apply.
While guidance has been issued allowing another supplier to re-start the 36-month rental period if a supplier exits the Medicare oxygen business without making required arrangements for another supplier to assume its obligations, such guidance makes it clear that an exiting supplier that fails to meet these requirements is in violation, and risks having its PTAN revoked.
During the Gap Period, the supplier can refuse to accept new oxygen patients. If the supplier is a non-participating supplier, it can choose to no longer accept assignment for claims for its existing oxygen patients. In doing so, it should send a 30-day advance notice to the patient advising that the supplier will no longer accept assignment on the patient's oxygen claims. After the 30-day period ends, it can charge the patient its usual and customary charge for the oxygen equipment/contents and submit the claim to Medicare on an unassigned basis.
For equipment rentals billed on an unassigned basis, the supplier will have to have the patient sign a claim authorization for each month's rental claim. Although there is no easy answer on how to accomplish this, the patient should be motivated to sign such authorizations in order for him/her to receive payment from Medicare for the unassigned claim.
AAHomecare's Retail Work Group
The Retail Work Group is a vibrant network of DME industry stakeholders (suppliers, manufacturers, consultants) that meets once a month via video conference during which (i) an expert guest will present a topic on an aspect of selling products at retail, and (ii) a question and answer period will follow. The next Retail Work Group video conference is scheduled for September 13, 2018, at 11:00 a.m. Central. Micah Swick, National Sales Director, for Pride Mobility Products, will present "Retail Selling: Building Rapport, Tickets and Margins." Participation in the Retail Work Group is free to AAHomecare members. For more information, contact Ashley Plauché Manager of Government Affairs, AAHomecare (ashleyp@aahomecare.org).
Jeffrey S. Baird, JD, is chairman of the Health Care Group at Brown & Fortunato, PC, a law firm based in Amarillo, Tex. He represents pharmacies, infusion companies, HME companies and other health care providers throughout the United States. Mr. Baird is Board Certified in Health Law by the Texas Board of Legal Specialization, and can be reached at (806) 345-6320 or jbaird@bf-law.com.