LENEXA, KS – Medtrade exhibitor Mediware Information Systems Inc, a provider of comprehensive post-acute healthcare software, is updating features of CareTend for the HME/DME and home infusion markets. CareTend's added functionality enables providers to grow their retail operations, streamline credit card processing, save costs using drop-ship features, and increase output with customized workflow and reporting tools.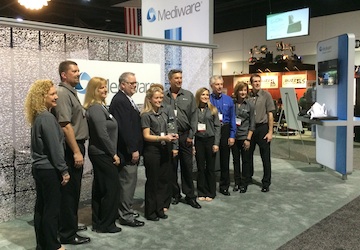 Mediware will again be exhibiting at Medtrade (Booth #1419), scheduled for Oct 31-Nov 3, 2016, in Atlanta. Mediware is pictured receiving the award for Best Booth at Medtrade 2015 in Atlanta.
CareTend point-of-sale capabilities give providers the tools they need to quickly process transactions using their own hardware. POS is scalable for single and multi-site operations, so providers can see all transactions, inventory items, and sales, regardless of current location.
Transactions are processed quickly using barcode scanning for all items, and the systems accepts multiple forms of payment including cash, check, credit card, on-account, and insurance. The added credit card processing features provide flexible options for patient accounts, POS, and cash management activities with complete data security. Providers can also enjoy tremendous cost savings using direct shipping options, enabling suppliers to ship on the customer's behalf without carrying every product on inventory.
"We are thrilled to roll out the next release of CareTend," said Paul O'Toole, vice president and general manager of the Home Care Solutions Division of Mediware. "The added functionality streamlines the entire post-acute patient care process so that providers can save time by eliminating manual tasks and improve patient care through fast order fulfillment and complete patient care tracking."