LAS VEGAS – Founded by a quadriplegic more than 10 years ago, Cure Medical has always embraced a community-centered approach to urological manufacturing. "True partners keep their commitments," Cure Medical CEO John Anderson explains. "We've made a conscious decision to support our distributor partners by supporting and attending their key trade groups and meetings. We can only be successful with their success."
The Medtrade Effect for Cure Medical
"Cure believes an unwavering commitment to our HME partners is simply good business. It's not only the best approach for our explosive organic growth, but it's also a vital component to appropriately serving our extensive range of end users nationwide. HME providers are the key to all of that for us, and Medtrade is one of the best places to connect with them throughout the year," Anderson adds.
At Medtrade Spring, Cure Medical will be showcasing their newest innovation—the Cure Ultra® family of ready-to-use, pre-lubricated intermittent catheters. Attendees can visit the Medtrade New Product Pavilion to view the new Cure Ultra Coude for Men, and then request a sample of it, or any other Cure catheter, at Cure Medical's booth #467.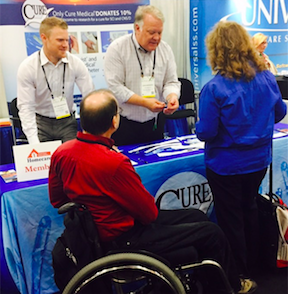 "The Cure Ultra® Coude is well received within the urological community and was spotlighted by Urology Times editorial staff in their February issue," Anderson continues.  Urology Times reports on current clinical and non-clinical news to urologists in patient care practice, and the magazine is billed as "the leading news source for urologists."
Cure Medical products are intentionally designed to help maximize margin growth while delivering quality offerings for customers. "Savvy manufacturers are sensitive to the pressure that HME providers are facing in the marketplace due to reimbursement shifts on all levels," Cure Medical vice president of Sales Chris Sellwood says. "That's why Cure works so hard to offer a product mix that is priced in respect of these levels."
In addition to meeting the Cure Medical team, Medtrade Spring attendees will also have the chance to connect with Spina Bifida Association executive director Sara Struwe, and her leadership team, who will be attending as distinguished guests of Cure Medical. "I look forward to this year's Medtrade Spring to meet new friends, reconnect with others and create meaningful partnerships that support the health care needs of our communities. Together, I know we can make a difference for the 166,000 people with Spina Bifida. I am excited to meet everyone in Las Vegas!" Struwe confirms.
Cure Medical gives 10% of net income back to fund medical research in pursuit of a cure for paralysis, in addition to financially supporting several key organizations such as the Spina Bifida Association. "People who are born with Spina Bifida are typically lifelong users of HME products. Without ongoing financial support from HME industry leaders, organizations like the SBA won't be able to adequately provide resources to the families we all strive to serve," Cure Medical VP of Marketing Lisa Wells shares.  "Medtrade is also a wonderful opportunity for HME providers to learn more about their program and partnership opportunities."
Beyond her role with Cure Medical, Wells also serves on the National Board of Directors for the Spina Bifida Association and United Spinal. "We'd like to personally thank Medtrade and AAHomecare for welcoming the Spina Bifida Association to Medtrade Spring and Stand Up for Homecare this year. We look forward to a wonderful event together as a strong and skilled community of care providers and partners," Wells adds.