AMARILLO, TX – An enormous amount of money flows through the system each year for health care. There are 78 million Baby Boomers retiring at the rate of 10,000 per day. Boomers have a relatively long-life expectancy. And under the heading of "none of us escapes old age," Boomers' bodies break down as they grow older. In order to keep Boomers alive…and hopefully, healthy…a great deal of money is spent on their health care.
It is human nature to have an urge to reach into the money stream and attempt to grab some of it. This sometimes takes the form of selling products and services that patients really do not need. Over the decades, we have witnessed this with seat lifts, respiratory medications (used in conjunction with nebulizers), diabetic testing suppliers, gel mattresses, NIVs, compounded pain cream in the pharmacy arena and most recently, back and knee braces. A number of DME suppliers are now aggressively entering the CGM arena. This is resulting in a spike in claims being submitted to CMS. CGM suppliers will likely get audited and so their documentation needs to be accurate and complete.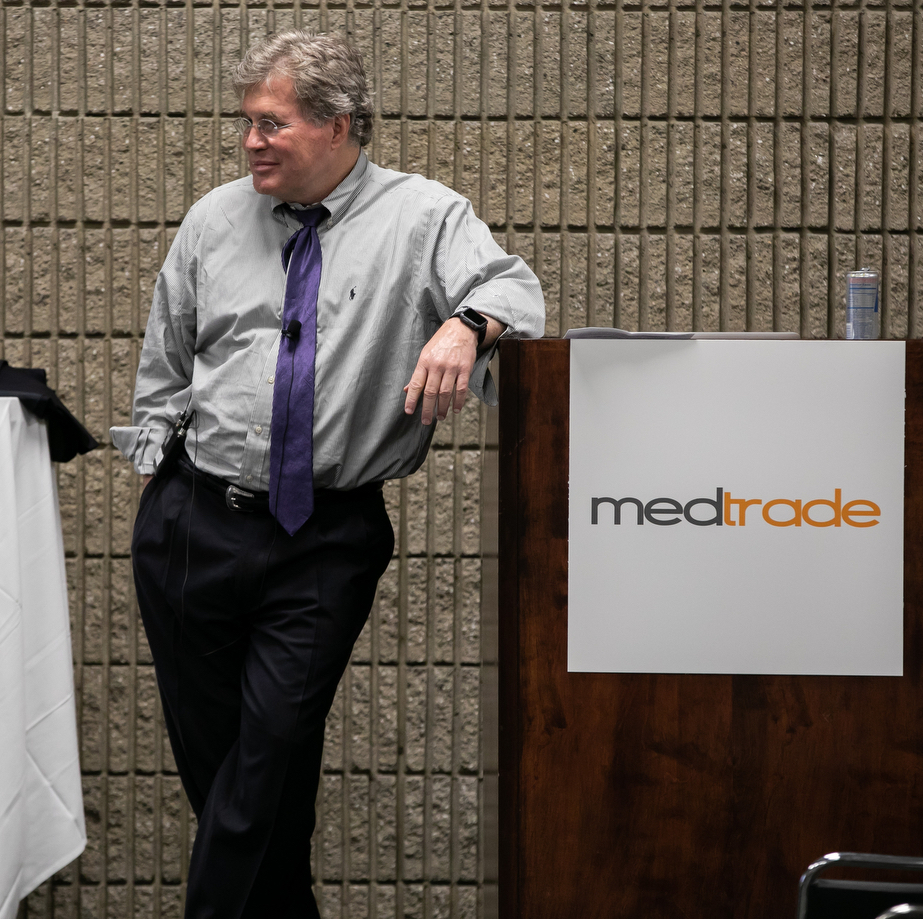 This brings us to genetic testing. After Operation Brace Yourself shut down the fraud in the brace market, many lead generation companies and marketing companies (collectively referred to as "Marketers") transitioned over to the genetic testing space. And after the fraud in the genetic testing space is eventually rooted out, Marketers will move over to the next "flavor of the month."
A recent Department of Justice ("DOJ") Press Release discusses a fraud case in the genetic testing arena. This case provides important lessons to DME suppliers. The Press Release says, in part:
A Florida man was sentenced today to 10 years in prison for conspiracy to commit health care fraud in connection with a scheme that resulted in the submission of approximately $3.3 million in fraudulent claims to Medicare for genetic testing.
Ivan Andre Scott, of Kissimmee, was convicted by a federal jury on Jan. 8, 2021, of one count of conspiracy to pay and receive unlawful health care kickbacks, and three counts of receiving unlawful kickbacks. According to court documents, Scott was the owner of Scott Global, a telemarketing call center located in Orlando. The evidence showed that Scott targeted Medicare beneficiaries with telemarketing phone calls falsely stating that Medicare covered expensive cancer screening genetic testing, or "CGx" tests. Each test cost as much as $6000. After beneficiaries agreed to take the test, the evidence showed Scott paid unlawful bribes and kickbacks to telemedicine companies to obtain doctor's orders authorizing the tests.
The evidence at trial showed that the telemedicine doctors approved the expensive testing even though they were not treating the beneficiary for cancer or symptoms of cancer, and often without even speaking with the beneficiary. According to the evidence presented at trial, Scott then sold the genetic tests and doctor's orders to laboratories in exchange for illegal kickbacks. To conceal the illegal kickbacks, Scott submitted invoices to the laboratories and other marketers making is appear as though he were being paid for hourly marketing services, rather than per referral.
Between November 2018 and May 2019, labs submitted more than $3.3 million in claims to Medicare for genetic tests that Scott had referred to them, of which Medicare paid over $1.3 million. In that timeframe, Scott personally received approximately $194,000 for his role in the scheme.
The case was investigated by HHS-OIG and the FBI and was brought as part of Operation Double Helix, a federal law enforcement action led by the Health Care Fraud Strike Force, under the supervision of the Criminal Division's Fraud Section, focused on fraudulent genetic cancer testing and the use of telemedicine that has resulted in charges against dozens of defendants associated with telemedicine companies and cancer genetic testing laboratories for their alleged participation in one of the largest health care fraud schemes ever charged.
There are several lessons for DME suppliers:
Stomach vs. Brain – If your brain tells you one thing, but your stomach tells you something else, then ignore your brain and trust your stomach. We are all capable of intellectually rationalizing a dishonest decision. But our stomach never lies. And so if a DME supplier is presented with an opportunity to make a lot of money real fast, then the supplier needs to take a deep breath and take a step back and think about it. It is better for the owner of a DME supplier to make less money and sleep well at night…than to make a lot of questionable money and have to continue to look over his shoulder. Here is a real life example:
I know a person ("John Doe") who owned a relatively small pharmacy ("ABC"). Doe is married with children and was a pillar in his community.
A much larger pharmacy ("XYZ") had made millions of dollars billing TRICARE for compounded pain cream.
TRICARE cut off payments to XYZ.
XYZ approached Doe and offered to transfer its pain cream patients to ABC. ABC would bill TRICARE and pay a percentage of the revenue to XYZ.
Doe was charged with multiple crimes by the DOJ and served time in prison. Before going to prison, Doe told me that his stomach told him to turn down XYZ's offer, but the money was too enticing. Before he was arrested, Doe would see millions of dollars in his account…but his stomach hurt. He should have trusted his stomach.
Marketers…Be Wary – If a DME supplier enters into a questionable arrangement with a Marketer, then it is mostly the supplier's neck that is on the chopping block. It is the supplier, not the Marketer, that is submitting claims to Medicare. Sure, the DOJ might go after the Marketer. But the DOJ's bigger target will be the supplier. If a Marketer approaches a DME supplier, then the supplier needs to consult a health care attorney…not the supplier's local business attorney. The local business attorney, while he/she is as smart and honest as the health care attorney, will likely not understand the legal pitfalls that face a DME supplier if it enters into a questionable arrangement with a Marketer.
Telehealth…Be Wary – Telehealth is a good thing. In fact, it is a very good thing. Telehealth is the future of health care. But be careful. As reflected in the above Press Release, there are fraudsters that will use telehealth in an attempt to game the system. As with dealing with Marketers, if a telehealth company approaches a supplier, the supplier needs to consult with a health care attorney. There were sham telehealth companies targeted by Operation Brace Yourself and now there are sham telehealth companies targeted by Operation Double Helix. When deciding whether or not to enter into an arrangement with a telehealth company, the DME supplier needs to be aware of the following:
The DME supplier cannot directly or indirectly pay the telehealth physician. Payment to the telehealth physician must come from the patient, the patient's insurance company, or the patient's employer.
Telehealth is primarily regulated by the states. The DME supplier needs to understand the applicable state law regarding telehealth. For example, in State A, a telehealth encounter can be only audio, while in State B, a telehealth encounter must be both visual and audio. In State A, the patient must first have an in-person encounter with the physician…after which that same physician can provide telehealth services to the patient; however, State B may not require such an initial in-person encounter. These are just two of a number of examples of differences in state laws.
Telehealth is also regulated by the third party payor. Examples include (i) traditional Medicare; (ii) Medicare Advantage; (iii) traditional Medicaid; (iv) Medicaid Managed Care; and (v) traditional employer group health insurance plans.
Expensive Claims = Scrutiny – Make no mistake. If a DME supplier is submitting expensive claims, or even a large number of not-so-expensive claims, it will be scrutinized by the third party payor. And this might morph into a government investigation. And so the DME supplier needs to be confident that (i) how it secures its patients is proper (e.g., no kickbacks or inducements); (ii) its physician orders are above reproach; and (iii) its documentation supports the claims.
AAHOMECARE'S EDUCATIONAL WEBINAR
Legal Guidelines for Growing Your Retail Business
Presented by: Jeffrey S. Baird, Esq., Brown & Fortunato
Tuesday, May 18, 2021
1:30-2:30 p.m. CENTRAL TIME
"Leave it to Beaver" has been replaced by "Modern Family." The old way of running a DME business no longer works. With stringent documentation requirements, lower reimbursement, and post-payment audits, Medicare fee-for-service should only be a component of the supplier's total income stream. There are 78 million Baby Boomers retiring at the rate of 10,000 per day. Boomers are accustomed to paying for things out-of-pocket. And most Boomers want the "Cadillac" product – not the "Cavalier" product – so they can have an active lifestyle well into their 80s. The successful DME supplier will be focused on selling upgrades, utilizing ABNs, and selling "Cadillac" items for cash. These retail sales may take place in a store setting, through a kiosk, or over the Internet.
When selling products for cash, there are a number of requirements that the DME supplier must meet. This program will discuss these requirements, including the following:
state licensure;
selling Medicare-covered items at a discount off the Medicare allowable;
obtaining a physician prescription; and
collection and payment of sales and/or use tax;
qualification as a "foreign" corporation;
required notification to a Medicare beneficiary even thoughthe supplier does not have a PTAN;
complying with federal and state telemarketing rules.
Lastly, this program will discuss the benefits of setting up a separate legal entity through which the retail business will be operated.
Register for Legal Guidelines for Growing Your Retail Business on Tuesday, May 18, 2021, 1:30-2:30 p.m. CT, with Jeffrey S. Baird, Esq. of Brown & Fortunato.
Members: $99
Non-Members: $129
Jeffrey S. Baird, JD, is chairman of the Health Care Group at Brown & Fortunato, PC, a law firm with a national health care practice based in Texas. He represents pharmacies, infusion companies, HME companies, manufacturers and other health care providers throughout the United States. Mr. Baird is Board Certified in Health Law by the Texas Board of Legal Specialization and can be reached at (806) 345-6320 or jbaird@bf-law.com.