HOUSTON – Many 30-somethings in the HME industry (see last year's "young blood" article) are not overly concerned with Medicare reimbursement rates. With golden commodes floating in a seemingly distant past, the focus is squarely on the future.
For some, that future was not always so clear, even while working for the family HME business. Faisal "RJ" Poonawala (pictured at Medtrade 2017 where he served as a judge in the Innovative HME Retail Product Awards) graduated with a degree in Criminal Justice from the University of Houston before pondering a career with his family at Spring Branch Medical Supply. "By the time I was done with college, I had fallen in love with the business and the industry," says the 34-year-old Poonawala, now general manager at Houston-based Spring Branch.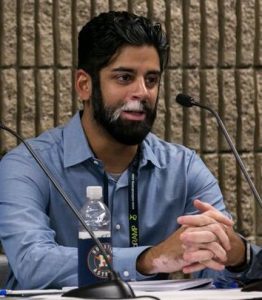 Poonawala's parents started the company in 1985, with RJ joining full time in the mid 2000s. Even in those early days of the mid 1980s, they began the transition toward retail-friendly products by moving to a retail storefront location in 1987 that is still the base of operations.
By the mid 2000s, Poonawala says, "I started moving away from even more Medicare/insurance reimbursable products toward products that were non-reimbursable, but that I felt offered a greater value proposition to our patients, clients, and their families."
Dana Lesperance, director of Marketing and Sales, Absolute Respiratory Care Inc., Johnston, Rhode Island, knows the feeling of relying less on Medicare. In July 2016, Absolute did not get any Medicare contracts via competitive bidding.
"We thought, 'This could be a good or bad thing,' and we tried to look at it in a more positive light and push forward, and it ended up being very good," says the 34-year-old Lesperance. "It really allowed us to hit the reset button, get back to our core, reestablish better relationships with our referrals, and grow our commercial payers like Blue Cross."
As a result, the last six to eight months have been prosperous, but not without initial pain. "The first four or five months [after losing out on CB contracts] we really dropped off," admits Lesperance. "Our oxygen business took a huge hit. CPAP took a decent hit. But we made back most of our CPAP business and probably about half of what we lost in oxygen. It's been a mixed bag over the past couple of years, but we have a cautiously positive outlook over the next couple of years."
As of late 2017, the company does "a very small amount" of Medicare in eastern Connecticut, but the bulk of business is not with the government program. Cash/caretail items are increasingly prominent in the mix. "We don't have a huge storefront, but we sell things such as SoCleans, and we are doing well in that area," says Lesperance. "We sell the CPAP Max Pillow, some CPAP lights, and distilled water. And we are actually doing cash sales now for the ResMed Air Mini travel CPAP. That's starting to get rolling."
See Young Blood Part 2 Next Week: Is HME a Viable Career for College Grads?