CLEVELAND – When Dana McLaughlin, MBA, CMA, started with Medical Service Company (MSC) a dozen years ago, the Cleveland, Ohio-based regional DME had three locations. In 2020, MSC has 35 sites in seven states. The expansion in a competitive bidding era is due to many factors, but McLaughlin puts technology and acquisition as two of the main reasons.
"We've always invested in the latest technology," says McLaughlin, who holds a bachelor's degree in Accounting from the University of Pittsburgh and an MBA and Masters in Accounting from Lake Erie College. "Sometimes you have to take a little bit of risk to reap a higher reward. We've also done a ton of acquisition over my years."
The portable oxygen concentrator (POC) is one example of technology that the industry was "a little shy" (at least at first) to embrace. MSC took the leap, taking on the extra expense in an effort to bring value and better care to patients. "We made the choice to invest in a large fleet of POCs," says McLaughlin (pictured at AAHomecare's Stand Up for Homecare fund raising reception at Medtrade 2019). "We've got valuable vendor partnerships, and we decided to bring it to our patients."
The latest billing and reimbursement technology (some discovered at Medtrade) has contributed to a highly efficient operation. Most recently, MSC introduced and installed a cloud-based voice network that McLaughlin says, "allows us to know the patients. It has a screen pop up when they are calling in. It data mines our system so our customer service reps know who is calling before they answer the phone. We invest in our team as well. We try to make their jobs easier, because it's all about our people."
Last year, McLaughlin and Josh Marx, MBA, MSC's vice president of Business Development, backed up their words by instituting a $15 hourly minimum wage for all full-time employees throughout the organization.
"The wage is really just making a statement that we know that our people are our best resource," McLaughlin says. "Happy people are able to provide better service. We wanted to make sure every member of our team earned a decent wage to be able to survive in today's world. You can look at it as an expense, or you could look at it as an investment. As the financial leader for MSC, I've always been one who looks at anything we spend on our team as an investment."
Beyond the numbers, McLaughlin is always gauging the human impact of policies, technologies, and acquisitions. She views adding companies as an opportunity. "I would never term it as stress," McLaughlin says. "It builds excitement among our team to know we are going to have new markets to serve and gain new members.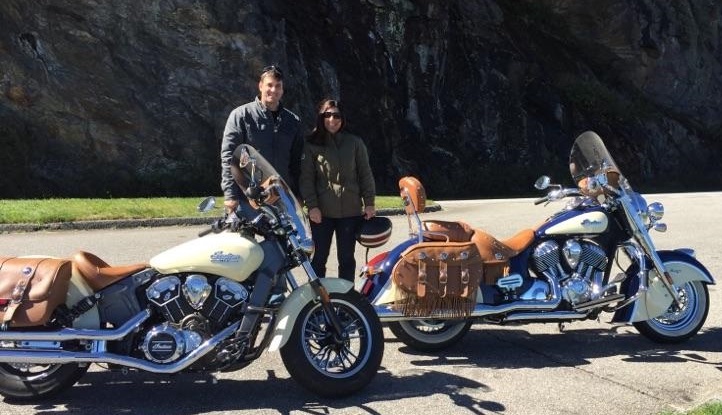 "One of the things I am very proud of is we have people from acquisitions that we did 10 years ago still working for us," McLaughlin continues. "We retain when we do acquisition. We don't force the MSC way and say 'This is how we do it.' It has to be a great cultural fit…Ultimately, we do not take our focus off of the service in Medical Service Company. We never let ourselves lose sight of that, and that means taking care of patients and doing what's right."
When she's not helping to run MSC, McLaughlin and husband Eric (pictured here in the Blue Ridge Mountains just outside of Asheville, N.C.) like to tour on their Indian Motorcycles. "That is my stress relief, that is my joy in life. My husband and I travel to the mountains in western North Carolina at least four or five times a year to ride motorcycles. It's got to be an Indian Motorcycle."
Why Indian? McLaughlin cites its "classic beauty" and get up and go. "I like to go fast, and I like that risk," she confesses. "Indians are known to be a smoother ride than Harleys, but don't quote me on that. I don't want to make enemies." As for close calls, she's been lucky (and careful) so far. "I have not laid it down yet," she says. "Knock on wood."