Invacare Launches AVIVA™ FX – MPS Maxx Multi-Position Power Standing System
ELYRIA, OH – Invacare Corp recently launched its new AVIVA™ FX – MPS Maxx Multi-Position Power Standing System wheelchair, available through Motion Concepts, a division of Invacare.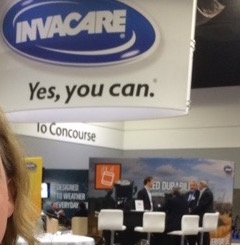 The system provides maximum safety, stability and comfort whether it's used indoors or outdoors. The AVIVA FX delivers a stable ride with a small turning radius for indoor navigation and new 4Sure™ Suspension System designed to conquer outdoor obstacles.
"Building further on our innovative AVIVA FX power wheelchair launched in February 2020, the MPS Maxx features our unique standing technology on a front wheel drive platform to complement our existing center wheel drive chair," said Joost Beltman, senior vice president, general manager, North America. "Together, the AVIVA FX with the MPS Maxx Multi-Position Power Standing System is an innovative, highly adjustable system incorporating power standing and offers a unique combination of independence, functionality and accessibility."
The MPS Maxx combines 45° CG Tilt, 170° of Recline/ESR, 178° Open Angle Power Standing and 7″ Seat Elevation with Power Articulating Belt Drive Center Mount Foot Platform (BDC). A grouping that offers individualized positioning and gets you closer to what matters.
Ask Legislators to Support HME Policy Priorities in Lame Duck Session
WASHINGTON, DC – With Congress currently set to remain in session into December, you still have a chance to register your support for two policy priorities.  Please consider using AAHomecare's Action Center to send a message on these issues:

Extending Moratorium on Medicare Sequestration Cuts – AAHomecare is part of a coalition effort to continue the suspension of the broad-based 2% Medicare Sequestration Cuts impacting all healthcare providers.  This relief granted in the April 2020 CARES Act is currently set to expire on Dec. 31. See Action Center message here.
Fixing Outdated Budget Neutrality Provisions Impacting Rural O2 – Reps. Cathy McMorris Rodgers (R-Wash.) and Dave Loebsack (D-Iowa) [pictured] have introduced H.R. 8158, legislation that helps protect payment rates for oxygen products in rural areas remain from rate reductions not felt in cities and suburban regions. In September of this year, the House Energy & Commerce Committee approved the measure; please help give H.R. 8158 one more push to move it forward. See Action Center message here.
Hospice Source Acquires Superior Healthcare
DALLAS – Hospice Source, a provider of durable medical equipment dedicated to the hospice market, acquired Superior Healthcare, Inc. of Martinez, California. The acquisition furthers Hospice Source's position as the largest provider of hospice focused durable medical equipment in the state of California.
Jeff West stated "Hospice Source is committed to providing exceptional patient care to all its hospice partners. The acquisition of Superior Healthcare allows us to extend that passion for service to a greater number of northern California hospice patients and hospice partners. We welcome our new team members, hospice partners and patients to the Hospice Source family."