MEXICO CITY – The last time Mexico City-based company Lyssette made an appearance at Medtrade in 2000, the HME industry was still enjoying a golden age of relative prosperity. At the turn of the century, government regulators largely left the industry alone, and it was undeniably easier to do business.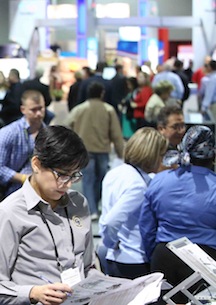 Officials at Lyssette (Booth #2335 at Medtrade, scheduled for Oct 31-Nov 3, 2016, at the Georgia World Congress Center in Atlanta) believe it's time to come back to the nation's premiere HME-focused show, primarily because they see opportunity in the American market.
Moisés Harari, Business Development, Lyssette, is looking to expand the market for the company's wide range of underwear garments for women, specifically in the categories of control, maternity, nursing, post-partum, and surgical/medical bras.
"We have only a handful of clients for our medical-related bras and underwear," says Harari. "So our mission is to expand knowledge of our complete product range and brands, and try to get more clients in the medical business who want a reliable underwear manufacturer."
Lyssette exports almost half of its products to the United States and Canada, and they are looking to boost those totals even more after Medtrade. They are one of the few local manufacturers with ISO 9001:2008 certification.
As for Lyssette's products, Harari is keen to dispel notions that seamless bras and underwear are superior for surgical-related use. "This is not always so," he says. "None of our garments are seamless but offer much more precise and detailed control and support. Also, seamless underwear may be comfortable, but it could get too stretchy too rapidly. Our wide range of garments offer many types of fabrics, finishes, and overall performance.

"Our aim is to show that we are versatile manufacturers," continues Harari. "We can produce high quality, low cost garments for top medical industry suppliers with all the requirements needed and with a very fast turnaround."
"In addition to Mexico, an already strong Asian contingent is growing at Medtrade, with the Korea Health Industry Development Institute booking nine booths, Formosa Cultural Corp, and the Shanghai Carelife International Trading Co adding four booths," says Kevin Gaffney, group show director, Medtrade. "Zriha Hlavin Industries Ltd from Barkan, Israel, will also join several overseas manufacturers at Medtrade."
• Click Here to register for Medtrade 2016.
• Go to medtrade.com for additional information about Medtrade.