LAS VEGAS – Ohio-based Invacare Corp recently signed a contract to exhibit at Medtrade Spring, scheduled for March 27-29, 2018, at the Mandalay Bay Convention Center in Las Vegas.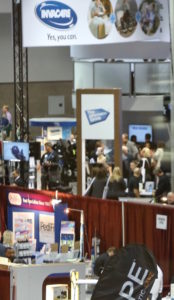 "Invacare is a long-time exhibitor at Medtrade Spring and Medtrade, and we are pleased to welcome them back," said Kevin Gaffney, group show director, Medtrade. "Their decision comes with an acknowledgement that there are still considerable challenges for HME providers. One of the reasons they want to be in Las Vegas is because they truly believe they can help providers to deal with those challenges, and eventually to succeed in the future."
"We want our providers to know that we understand the difficulties of the HME industry, and we are committed to providing innovative, quality, cost-effective products that help them do business," said Robert Hanley, manager, Corporate Accounts – HME, Invacare Corp. "The market may be difficult, but efficient ways to run an HME business still exist, such as leveraging quality products like the Invacare® Platinum® Mobile Oxygen Concentrator with Connectivity that help satisfy clinical and patient needs with advancements such as integrated informatics or connectivity.
"Homecare is still a cost-effective way to treat many patients, and that's not something we see changing," continued Hanley. "Attendees who visit our booth at Medtrade Spring can expect to hear about our commitment to the HME industry with a focus on quality and cost-effective operation strategies for the provider, and real-world solutions for patients."
Invacare's 4Q and Full Year Ended Dec 31, 2017 Shows Net Sales Increase
ELYRIA, OH – Invacare Corp's financial results for the fourth quarter and year ended December 31, 2017, showed a slight jump in net sales.
Highlights for the Fourth Quarter 2017
Reported net sales increased 1.5% to $250.4 million compared to the fourth quarter 2016. Constant currency net sales(a) decreased 2.3% compared to the fourth quarter 2016.
Consolidated constant currency sequential net sales(b) decreased 1.2% compared to the third quarter 2017. Notably, North America/Home Medical Equipment (NA/HME) constant currency sequential net sales were flat.
Gross margin as a percentage of net sales decreased 60 basis points to 27.3% compared to the fourth quarter 2016, primarily as a result of inventory liquidation following previously announced 2017 plant transfers and year-end promotional activities.