WASHINGTON, DC – Rep. Cathy McMorris Rodgers (R-Wash.) has scheduled a Congressional staff briefing to discuss AAHomecare's study on the effects of the bidding program on HME patients, discharge planners, and suppliers, as well as a study published by the American Thoracic Society (ATS) highlighting access problems for oxygen patients.
While we have shared findings from both surveys with HHS, CMS, and OMB, as well as with our congressional champions and key committee staff, Rep. McMorris Rodgers offered AAHomecare and ATS the opportunity to present these findings to a broader segment of Hill staffers to help build additional support for H.R. 4229 and to raise awareness of the need for broader reforms for the bidding program going forward.
The briefing will take place next Wednesday, Feb. 14 at 3:30 pm in room 137 of the U.S. Capitol, and will feature presentations by the lead authors of both surveys, as well as remarks from AAHomecare president & CEO Tom Ryan and a supplier's perspective from Mike Calcaterra, Northern Zone vice president with Norco Inc. in Spokane, Wash.
Please help demonstrate the HME community's support for Rep. McMorris Rodgers and build strong attendance for this event by asking your contacts in House and Senate offices to attend this briefing. You can forward this invitation along to your representative's office and urge them to attend.
Looking for contact information for legislative assistants handling healthcare issues with your representative?  Contact Gordon Barnes at gordonb@aahomecare.org for details.
Socialize & Strategize With Your Fellow HME Leaders at Stand Up for Homecare
LAS VEGAS – Be a part of the premier networking event at Medtrade Spring – reserve your ticket today for the Stand Up for Homecare reception at Medtrade Spring, March 28 from 5:30-7:00 pm at the Mandalay Bay South Seas Ballroom F.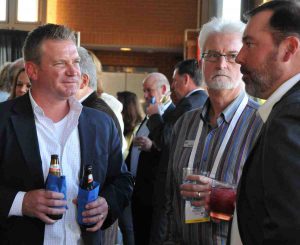 Your attendance helps supports consumer advocacy groups that represent many of the patient groups we serve, and are also strong allies on legislative and regulatory priorities.  Funds raised also allow us to enhance grassroots advocacy and outreach activities that have been critical in raising the profile of HME policy priorities on Capitol Hill. Don't miss this opportunity to socialize and strategize with your fellow HME leaders while supporting better legislative and regulatory outcomes for our industry.
You can purchase Stand Up for Homecare tickets as part of your Medtrade Spring registration, or by mail/fax using this form.  Thank you to our sponsors listed below; contact Sue Mairena at suem@aahomecare.org to add your company's name to this roster of companies that Stand Up for Homecare!
Diamond Sponsors:  Medtrade — Drive DeVilbiss
Gold Sponsors: Apria Healthcare — Brightree — Inogen — Lincare — Pride Mobility — ResMed — VGM Group
Silver Sponsors: Brown & Fortunato — Hoveround — The MED Group — Philips
Advocate: Smith & Nephew — Spectrum Medical — Fisher & Paykel
Supporter: Mediware
See How Your Company Stacks Up Against Your Peers With New Audit Key Benchmarking Feature
WASHINGTON, DC – The HME Audit Key is currently open for the HME community to submit data on cumulative counts of pre- and post-payment audits and appeal claim outcomes under DME MAC, RAC, and SMRC reviews.  Participation is easier than ever, and a benchmarking feature is new to the program for 2018:
Brightree users can access much of the data needed in the My Files section of their Brightree account online.  Suppliers using this feature have told us that this greatly reduced the amount of time and effort needed to submit their data.  See more details on using this Brightree tool.
The Audit Key has reduced the number of data submission rounds, going from a quarterly submission schedule to a twice-yearly one.
Companies that participate in two consecutive survey rounds (i.e., this current one and the next one slated to open in July 2018) will receive a report that benchmarks your company's performance vs. the aggregate results in areas such as DME MAC prepay audit denials and new patients subject to audits in selected categories. See a sample report here.
Increased industry participation will help us collect compelling data to help us advocate for audit reform on Capitol Hill and at CMS – and will also help us build a stronger resource that will allow suppliers to benchmark their performance against their industry peers.
Learn more and register at HMEAuditKey.org.
FAHCS and AAHomecare Join Forces in Tallahassee
TALLAHASSEE, FL – The Florida Alliance of Home Care Services (FAHCS) gathered in Tallahassee with members of the association to meet with the Governor's office, the AHCA Department and Legislative offices to discuss patient access issues, managed care concerns and simply educate leadership on the value of Durable Medical Equipment and the services that the industry provides.
Special thank you to attendees: Chris Townsend, FAHCS President with Taffi Medical; Gene Sego, FAHCS Past President with Sego's HME; Becky Pitts, FAHCS Treasurer with Barnes Healthcare; James Chung, FAHCS Secretary with JC Home Medical; Sid Russell, FAHCS Board Member with North Florida Medical, Nicole Dib, MD with Pediatric Supplier; Sean Schwinghammer, FAHCS Member with Surf Med and Laura Williard, VP Provider Relations with AAHomecare.