ATLANTA – An eventful year in the HME industry comes to a head on Oct 31, 2016, when Medtrade kicks off in Atlanta at the Georgia World Congress Center. The nation's premiere HME-focused event is scheduled for Oct 31-Nov 3, a four-day event that is designed to foster unity during undeniably challenging times for the industry.
Do you have an idea for a conference session at Medtrade? If so, you must submit your presentation for review by May 9th. "Medtrade always has the best speakers in the industry," says Kevin Gaffney, group show director, Medtrade. "And while it's true that we will certainly have a lot of familiar faces presenting at Medtrade, it's also true that we are on the lookout for new blood, so feel free to pass along our 'Call for Presentations' to suitable candidates."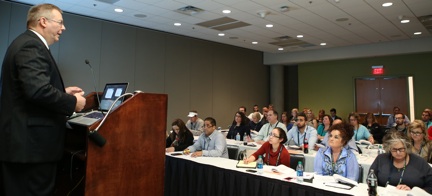 Share Your Expertise at Medtrade 2016
If you have an interesting program idea, Medtrade invites you to share your experience and knowledge by submitting a proposal for its Call for Presentations. By submitting an abstract, you will help shape the educational conferences at Medtrade 2016 and positively impact the futures of attendees' businesses. Those who are selected as conference speakers gain visibility in the HME industry and contribute to the advancement of the profession.
Click on the Link Below to Submit (or copy and paste the link in your browser).
https://n2b.goexposoftware.com/events/cfp/goExpo/public/form.php?fi=1018
The Evaluation Process
Medtrade management, along with members of the Educational Advisory Board (EAB), will evaluate all presentations based on: timeliness of topic; overall content; audience level content is geared for; audience interest; creativity; prior speaking expertise; knowledge of subject matter; prior speaker evaluation results; and speaker references.
To be considered as a speaker, the program must be educational in nature. Sales presentations will not be accepted. In addition, material should be original; otherwise, sources must be referenced. For multiple speakers, each speaker must agree to these terms. Incomplete program submissions will not be considered.
Program Guidelines
Programs should address one of the educational tracks listed below. Sessions are either 1 hour or 1.5 hours in length, including a brief session for question and answer. Organizers will seek continuing education unit (CEU) accreditation for appropriate programs once they are selected.
Primary Session Tracks
• Audits
• Business Operations
• Competitive Bidding
• Continuing Education & Training
• Executive Leadership
• Keeping it Legal
• Retail/Caretail
• Sales & Marketing
• Sleep/Oxygen
• Strategic Planning