ATLANTA – The ribbon cutting may be a thing of the past, but excitement is a tradition that remained last week at the Medtrade Expo Floor. Here's what a few different exhibitors had to say about the nation's premiere HME-focused event that concluded last week at the Georgia World Congress Center in Atlanta.
"I've been doing trade shows for 10 years and I had my biggest sale as a salesperson today at Medtrade."
— Jesse Price, Hawaii Moon
"We've had a great day that exceeded our expectations. Medtrade is back. We feel very positive. We're getting back to a selling show." — Sandy Habecker, training specialist, Invacare Corporation
"It's been a good show for us. We are a first-time exhibitor, and it's been steady. We've had a good reaction to our EZ Series Forearm Crutch." — Zooey Chu (pictured, right), president, Zcare Design Inc., Grand Rapids, Michigan
"We've had good traffic and good leads. People are looking to save money with a competitive economical solution." — Kent Barnes, TeamDME!, Brentwood, Tennessee
"The show is going very well and we are very satisfied with the amount of dealers—and we're seeing great interest. We're showing a new concept, design, and technology, and the attendees are looking for something new. We did not have time to get coffee today. We are feeling blessed." — Adi Shemer, Moving Life, Israel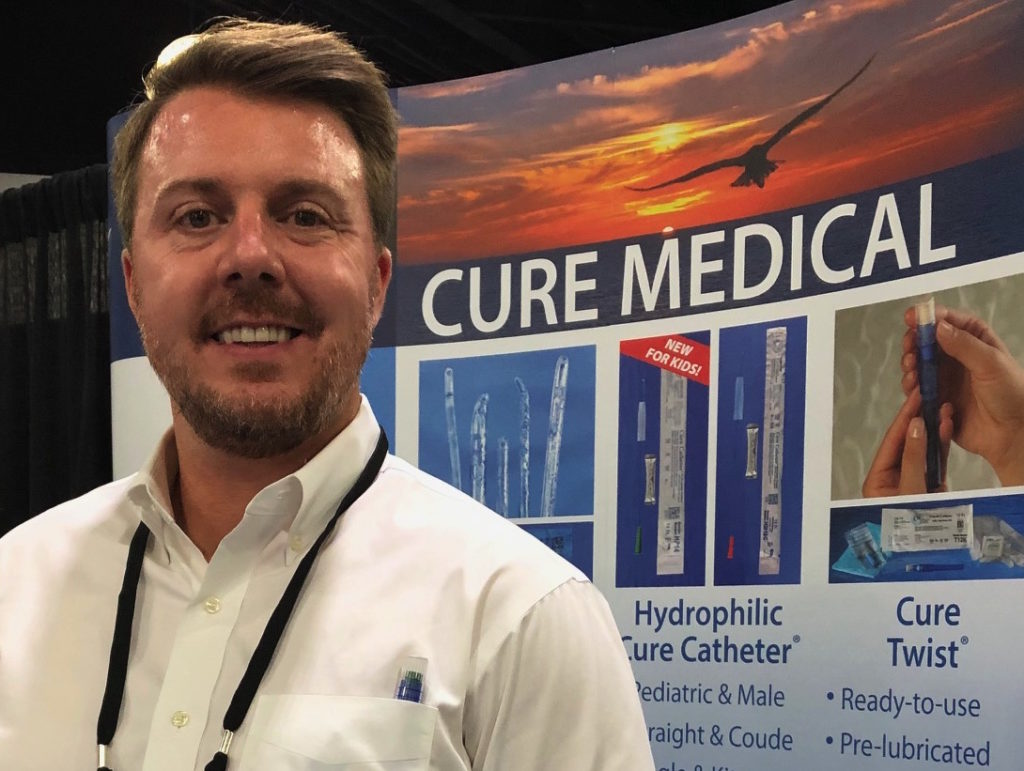 "The show has been wonderful. We've had steady traffic all day with enthusiastic participants. People are walking the floor with renewed vigor, and we have a catheter that can help with that." — Beau Alford, executive account manager, Cure Medical, Newport Beach, California
"Oh my god, the show has been fantastic. I have not stopped to eat or go to the bathroom. People at our booth are having a fun time. As for Medtrade Spring 2020, we will absolutely be there. It's ridiculous not to go to Medtrade Spring." — Marc McKeever, PurWell
"The foot traffic has been good. We get to interact with wheelchair manufacturers. It's a valuable education process for many of the people we see. We make Quick Release Wheelchair Axles. We are a first-time exhibitor and we wanted to get our name out there to potential customers." — Dale Houska, vice president, Sales and Marketing, Big Sky Precision, Inc., Manhattan, Montana
"We have seen a lot of quality attendees interested in cash-flow products. They like our merchandising tools. Decision makers are here at Medtrade and we expect to get some good outcomes from the show." — Kathleen Hanek, manager of Product Marketing, SP Ableware, Wayne, New Jersey
"Medtrade is a really important show and we've made key connections. It's been a solid day one. Attendees are looking for efficiency, productivity, and scalability of software. We've seen a mix of old and new customers looking for new opportunities." — Gail Turner, HME sales consultant, TIMS Software, developed by Computers Unlimited, Billings, Montana
"Medtrade has been really good and attendees are excited to see us back. People are looking to partner, and I could not be happier. We're back now, and we're thrilled to sign up for Medtrade 2020, but this time with a bigger booth." — Paul Miller, director of Business Development, HME Providers, Medline Industries, Northfield, Ill.