PHOENIX – Word traveled fast in Phoenix earlier this month as Medtrade West attendees and exhibitors absorbed the news that Medtrade would consolidate into one show in 2023. Medtrade Monday asked a simple question; What do you think of the decision?
"I would definitely go to that one show. I'm in California, but I don't care about an extra hour on a flight to get to a central location."  — Greg Racciato, RAC & Associates, Vista, Calif.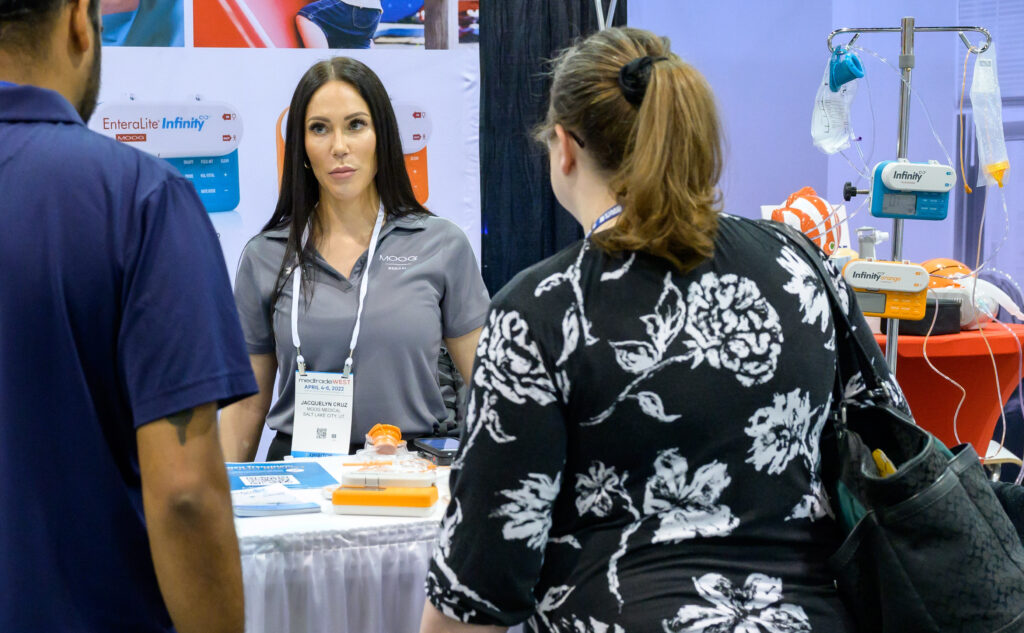 "Consolidating to one show definitely makes sense." — Jacqelyn Cruz (pictured, right), Moog Medical, Salt Lake City, Utah
"I like the idea of one show per year by far. It comes down to expenses for exhibitors. Vendors want to get more bang for their buck." — Dan Vollette, attendee
"This is my first Medtrade and I'm here looking for knowledge, new ideas, and new products. I just read in HME News that there would be one show next year. Location of the show is not a big deal for me, but if one show per year can make it a bigger and better show, everyone will get more out of it. I feel like everyone will go to the one show." — Rhonda Walker and Katie Gooch, Graves Drug, Winfield, Kansas
"I can't wait to see all this energy consolidated into one show. It will be huge." — Bill Fredericks, AllCare Med Supply, Millbury, Mass.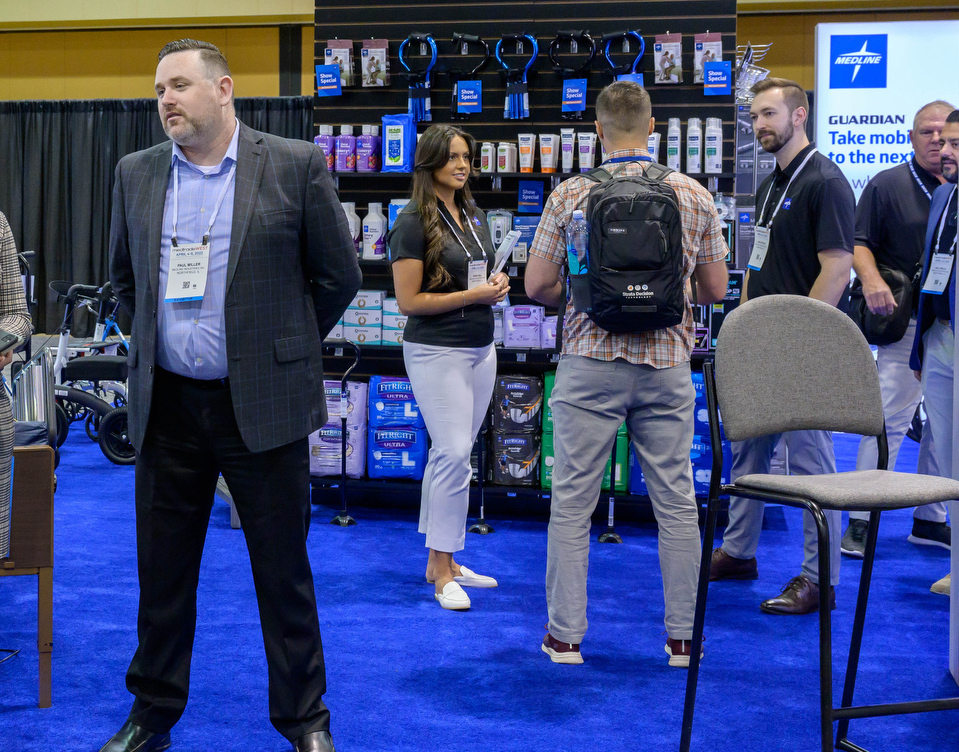 "I like the one show idea for the sake of cost savings. We can all be together and have even more attendees. We are already signed up for Atlanta and we would strongly consider exhibiting at the one show depending on where and when it is." — Paul Miller (pictured, left), Medline Industries, Northfield, Ill.
"We are looking forward to seeing how it works out with one show per year. Maybe we can all be together in one central city in 2023." — Lauren Musto, Convatec, Seattle, Wash.
"As for the one show, we will go wherever Medtrade ends up, and we will be in Atlanta for Medtrade East 2022." — Anna Marie Spartz, rtNow, Frankenmuth, Mich.
"We are faithful vendors and we will find you wherever you end up." — Jayne Violassi, SleepGlad, Columbia, Tenn.
"The idea for one show is great. Not having to send people to two shows will draw more attendees and exhibitors. It will be easier for manufacturers to focus on one time of year. We have featured innovative products and we have accomplished that with lift chairs, scooters, and power chairs. We'll always be here at Medtrade." — Renae Storie, vice president, Pride Mobility, Duryea, Pa.
"One show per year gives manufacturers one central meeting place. It is time for one show per year." — Sherry Huggins, Philips, Pittsburgh
"I am really for Medtrade going to one show. It will mean less travel and less planning." — Domenic Bartolo, Zopec Medical, Blaine, Minn.
"One show per year is a great decision. It will be so much better for vendors and attendees. It will cut down our costs." — Chuck Haik, Vizziq, Stillwater, Minn.