WASHINGTON, DC – It is clear that some Medicaid Managed Care (MMC) plans have been facing financial difficulties, and existing state rules for establishing plans' financial soundness may be inadequate.
AAHomecare has recommended to CMS Administrator Andew Slavitt that CMS should set stronger rules for measuring the financial viability of MMC plans. AAHomecare also recommended that CMS should require a state to be accountable for paying suppliers and providers when MMC plans vetted by the state encounter financial difficulties.
These recommendations were part of the AAHomecare comments submitted on July 27 to CMS in response to the CMS-2390-P Proposed rule for Medicaid and Children's Health Insurance Program (CHIP) Programs; Medicaid Managed Care, CHIP Delivered in Managed Care, Medicaid and CHIP Comprehensive Quality Strategies, and Revisions Related to Third Party Liability.
Download the full comments here.
Legislation to Exclude Complex Rehab Accessories from Bidding-Derived Rates Introduced
WASHINGTON, DC – H.R. 3229, a bill that will protect complex rehab wheelchair accessories by preventing the application of prices derived from the Medicare competitive bidding program, has been introduced in the House of Representatives with Congressman Lee Zeldin (R-NY) as lead sponsor. The full title of the bill is: H.R.3229 – To amend title XVIII of the Social Security Act to provide for the non-application of Medicare competitive acquisition rates to complex rehabilitative wheelchairs and accessories.
The legislation is needed on account of CMS' stated intention to apply competitive bid program pricing to complex rehab wheelchair accessories effective January 1, 2016. This policy change could impact as many as 171 wheelchair accessory codes.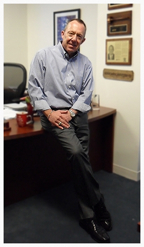 "This legislation will protect consumers and help get this specialized equipment to those who need it the most," said Tom Ryan, president and CEO of AAHomecare. "Congress has already recognized that highly sophisticated complex rehab wheelchairs and accessories require a commitment to provide advanced services, training and personnel to ensure appropriate use, and that these products are very different from standard wheelchairs. When CMS refused a formal Congressional request to rescind the application of bid rates to complex rehab accessories, it became clear that clarifying legislation was needed."
Congressional interest in this issue is significant. On April 20th, the House of Representatives sent a 101 signature bipartisan letter to CMS led by Representatives Bill Johnson (R-OH), Diana DeGette (D-CO), Mike Kelly (R-PA), John Larson (D-CT), Devin Nunes (R-CA), and Dave Loebsack (D-IA). The letter requested that "CMS issue written clarification that accessories used with complex rehabilitative power and manual wheelchairs will continue to be paid at Medicare established fee schedule amounts and that such amounts will not be adjusted based on Medicare competitive bidding program pricing."
CMS has formally responded to the House letter stating that it does not intend to change its policy nor follow the Congressional recommendation.
See the joint press release with NCART here. AAHomecare has worked extensively with NCART to help supply legislative language and build support for the bill. AAHomecare will engage leaders within the Association, the membership at large, and other potential allied groups to advocate further for the bill's consideration and passage.
AAHomecare Submits Statement for House Ways and Means Subcommittee on Health Hearing
WASHINGTON, DC – On July 28, 2015, the House Ways and Means Subcommittee on Health held a hearing on the rural health care disparities created by Medicare regulations. AAHomecare submitted a statement for the record recommending that Congress preserve and strengthen access to home medical equipment for the millions of Americans who require medical care in their homes.
In the statement, AAHomecare asks that Congress protect access to home medical equipment in rural areas by preventing the use of prices derived from the Medicare competitive bidding program, which has been recognized as flawed by well over 200 economists, computer scientists, statisticians and auction experts from around the world.
These rates do not reflect the true cost of business in rural areas, where fewer providers serve larger areas and face higher delivery and associated service and repair costs. To do otherwise would force the closure of many home medical equipment providers in these areas, cost jobs in an economy that cannot afford to lose them, and deprive a growing number of patients, many of whom are seniors or people with disabilities, access to the equipment and services they need to receive medical care in their homes.
Read the full written statement here.