WASHINGTON, DC – Last month, HME stakeholders from around the nation shared stories about how bidding-derived deep cuts for providers in rural areas are affecting their businesses and patients and also shared information on operational issues that CMS is required to collect as mandated by last December's CURES legislation.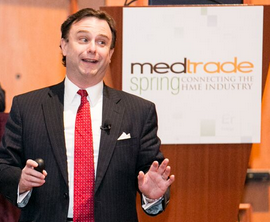 Participants provided numerous examples about how the latest round of cuts, coupled with the challenges of serving patients in rural and less-populated areas, are causing significant disruptions for patients and pushing many providers into operating at minimal, or even negative, profit margins.
While the number of providers willing to share their information with CMS exceeded the time allotted, you can still share your perspectives with CMS. While you can and should provide information about how the deep cuts have affected your business and patients, the CURES bill asked that CMS take into account these three components in formulating future fee schedules, so please make a point of providing input related to these specific areas that CMS is required to assess:
• Travel distance and cost associated with furnishing items and services
• Average volume of items and services furnished
• Number of suppliers in your area
Comments should be submitted to DMEPOS@cms.hhs.gov no later than April 6, 2017. Please feel free to share a copy of your submission with Gordon Barnes at gordonb@aahomecare.org. Please be assured that we will not share any specific and identifiable information from your comments without getting your permission first.
DME MACs to Accept Documentation from Previous Suppliers On Transferring Patients
WASHINGTON, DC – Effective April 24, DME MACs will accept medical documentation from suppliers that originally serviced a beneficiary that has since transferred to a new supplier. Currently, DME MACs do not accept documentation from the original/previous supplier, which has caused much burden on both beneficiaries and their new servicing suppliers. This means when a patient changes suppliers and if the new supplier receives medical documentation that complies with Medicare requirements from the previous supplier, the new supplier does not need to get a new order.
Change Request 9886 states that this change is due to DMEPOS industry comments on the burdensome documentation responsibilities on suppliers. This a positive development for suppliers, and we're pleased to see that CMS has listened to industry concerns on the issue.