WASHINGTON, DC – AAHomecare continues to press the case for longer-term relief for rural and non-bid area providers as well as for significant structural improvements to the Competitive Bidding Program with Federal regulators.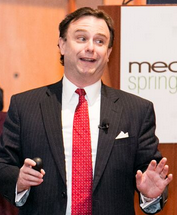 Last week, AAHomecare's Tom Ryan and Jay Witter (pictured), along with Thomas Barker, an attorney recently engaged by the Association, and Cara Bachenheimer of Invacare, had a productive meeting with the CMS Office of General Counsel to discuss the legal basis for the association's policy recommendations to the Agency. Other topics covered included addressing the "double dip" cuts for stationary oxygen for rural providers and preventing the application of bidding-derived reimbursement rates to complex rehab accessories.
The Association is committed to engaging HHS and CMS staff wherever possible to advance the case for long-term improvements for the bidding program and pushing back against the deep cuts foisted on rural providers wherever possible. AAHomecare officials believe these efforts will eventually pay dividends of a fairer and more sustainable business environment for the entire HME community.
DME MAC Contractor Shares Update on Jurisdiction C and B Claims Reprocessing
WASHINGTON, DC – On Monday, CGS, the DME MAC Jurisdiction C and B contractor announced that they are prepared to begin reprocessing claims that are subject to the CURES-mandated fee schedule adjustment. The mass adjustments will be conducted in batches. They will be processing claims five days a week and it is expected to take 24 weeks to complete. Jurisdiction C has approximately 4.7 million claims and is planning to reprocess 40,000 claims per day. Jurisdiction B has approximately 2.5 million claims and will be reprocessing 20,000 claims each day.
See CGS' announcement and educational video on the adjustment process for more information.
Georgia Suppliers Secure Licensure Win
MARIETTA, GA – Years of hard work paid off for Georgia suppliers as SB 41 was signed into law last week to provide state licensure for Durable Medical Equipment that includes a requirement for suppliers to have a physical location in the state. "Our licensure law is pro-business and pro-patient," says Teresa Tatum, executive director for the Georgia Association of Medical Equipment Suppliers (GAMES).

"We are pleased with the outcome of this lengthy and complex process," says Tyler Riddle, GAMES President. GAMES will work with the Georgia Board of Pharmacy in the rule-making process for implementing SB 41. The Board of Pharmacy will have the authority to begin administering the licensing statute after July 1.