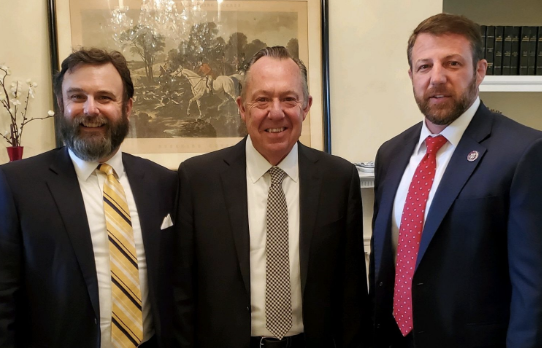 WASHINGTON, D.C. – AAHomecare's Tom Ryan and Jay Witter were on Capitol Hill to build support for H.R. 6641, legislation to boost Medicare reimbursements for suppliers in former CBAs through a 90/10 blended rate.
The schedule included a meeting to talk strategy for moving the bill forward with Rep. Markwayne Mullin (pictured far right), one of lead sponsors of the bill. See more about how you can add your voice in support of this effort via our Medicare Reimbursement Campaign Central.  Your persistent and passionate advocacy is critically needed to raise the visibility of H.R. 6641 in the House of Representative.
FDA Allowing Release of Metabolic Formula on Case-by-Case Basis
WASHINGTON, D.C. – In February 2022, Abbott Nutrition issued a voluntary recall for powdered infant formulas manufactured in the company's Sturgis, MI facility due to concerns over potential cronobacter or salmonella contamination for those products.  The recall and a pause in manufacturing at the facility have significantly limited availability of infant formulas nationwide.
To help alleviate the situation, the Food and Drug Administration (FDA) has informed Abbott that the agency has no objection to the company providing the product to individuals needing specialty and metabolic formulas on a case-by-case basis. On FDA's related recall page, the agency adds:
Abbott has confirmed with the FDA that the company will consider release of these products on a case-by-case basis, depending on product availability and the severity of the individual's need. Patients and caregivers seeking access to these products should contact Abbott directly to request that a product be made available to them by calling 1-800-881-0876.
Additional information, including a list of the 21 specialty and metabolic formulas that may be released on a case-by-case basis, is also available on the FDA recall page.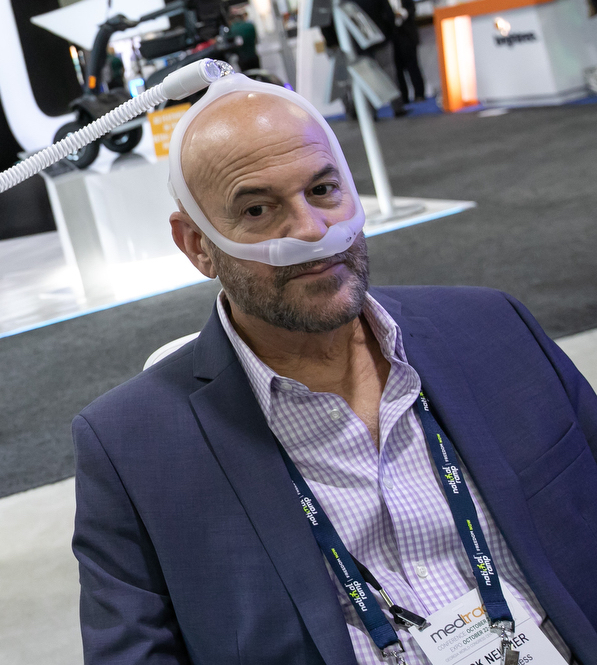 New York Medicaid Unbundles PAP Supplies and Allows for Rental or Purchase of PAP Devices
ALBANY, N.Y. – New York State Medicaid department released their DME Manual update, effective June, 1 2022. Per the 202-page manual, all CPAP and BiPAP supplies that were formerly bundled with a new PAP set-up will be unbundled as of June 1. Heated humidifiers (E0562) and a cool humidifiers (E0561) were also unbundled from a new CPAP or BiPAP set up, and will be paid separately.
In addition, PAP devices can either be purchased or rented as a 10-month capped rental. If the member has a primary payer, the provider must submit an EOB from the primary payer according to Medicaid billing guidelines.
NEMEP's Payer Relations Committee, chaired by AAHomecare's David Chandler, engaged New York Medicaid officials to secure these gains.  NEMEP president John Quinlan deserves special recognition for his leadership in this effort.
The NEMEP team is prioritizing these issues for continued advocacy with Medicaid leaders:
Improving High Frequency Chest Wall Oscillation Device (HFCWOD E0483) payment policy.
Improving back-up wheelchair and wheelchair repair policy.
Addressing other DME items with low FFS reimbursement compared to surrounding states
See pages 47-52 of the 2022 New York DME Manual for more on the PAP policies.
Breastfeeding Coalition Makes Headway 
WASHINGTON, D.C. – The Breastfeeding Coalition met virtually this week to continue discussions on efforts to abolish state sales tax on breast pumps and supplies, ongoing engagement with Medicaid plans, and work with Medicare to update the MUE for breast pump tubing and shields, changing policies to allow for one breast pump kit per birth, supply of milk storage bags and the resupply of other vital supplies.
The Coalition also has a subgroup that has secured lobbying help in Illinois and Rhode Island. Governor JB Pritzker in Illinois recently signed legislation allowing breast pumps and supplies to be exempt from state sales tax. Similar legislation is currently moving through the House and Senate in Rhode Island. All companies doing business in Rhode Island can weigh in with support of SB. 2603 and H.7867.
The group is also developing a white paper to outline the gold standard for providing breast pumps and supplies in order to assist payers in updating their policies.
Jason Canzano, president of Acelleron Medical Products and co-chair of the Breastfeeding Coalition said:  "I'm so proud to be co-chairing the AAHomecare Breastfeeding Coalition, our mission is to increase breastfeeding initiation and duration rates and make achieving breastfeeding goals easier for mom. Collectively as a group of breastfeeding equipment providers and manufacturers we work on removing breastfeeding barriers by legislative and policy changes regionally and nationally that support expecting and new parents that chose to breastfeed their baby.
"Mostly recently we have abolished sales tax on breast pumps and the associated supplies in Illinois and are currently trying to do the same in Rhode Island. Abolishing sales tax on breastfeeding equipment is helping to relieve the sales tax burden on DME providers and pumping moms. Additionally we have worked on reaching out to insurance companies to cover the newly established breastmilk storage bag billing code K1005. Just this week, Cigna announced they now covering breastmilk storage bags for pumping moms! Breastmilk storage bags are one way to help increase breastfeeding duration rates for pumping moms."