WASHINGTON, DC – Rep Tom Price, M.D. (R-Ga) has been confirmed as the next Secretary of Health and Human Services by a Senate vote of 52-47. AAHomecare president Tom Ryan released a statement immediately following the confirmation, saying that, "Dr. Price has a strong appreciation of the role that home medical equipment providers play in allowing people to remain in their homes when recuperating from an illness or dealing with long-term health challenges.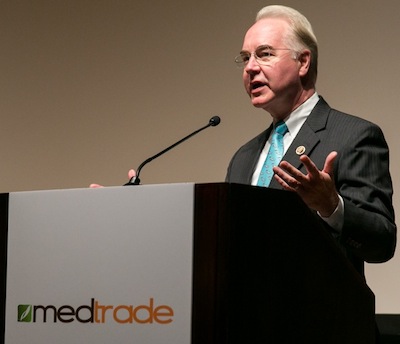 "He has been a long-time advocate for legislation that would improve Medicare reimbursement practices for home medical equipment," continued Ryan, "and has led Congressional efforts to make sure that individuals who rely on home medical equipment in rural communities, and other less-densely populated areas, can get the products and services they need."
• "We will be competing with many others in the health care community for
his attention and priority," wrote Cara C. Bachenheimer, senior vice
president, Invacare Corp, in a Medtrade Monday editorial. "It's a great first step to welcome Dr. Price
to his new position, but we certainly have lots of work to do."
• "Price has been a strong advocate in Congress on behalf of HME providers with a focus on patient-centered health care," added John Gallagher, vice president of Government Relations, The VGM Group. "Price has sponsored, and led efforts over the last several years, to ensure that HME providers have the necessary resources to deliver the highest quality of care for their patients."
• "I agree that we need to temper our enthusiasm, but I also think it's ok to be optimistic," said Kevin Gaffney, group show director, Medtrade. "With Medtrade Spring just two weeks away, it's my hope that some of that optimism and enthusiasm will spread to the educational sessions, the show floor, and to AAHomecare's Stand Up for Homecare reception."
Price spoke on day three of Medtrade 2016, giving attendees a dose of
optimism while demonstrating a clear understanding of the challenges
faced by HME providers. Price's 45-minute talk and Q&A at Medtrade covered a wide range of topics. In light of Price's confirmation, we share the following "excerpts encore" from Price's speech.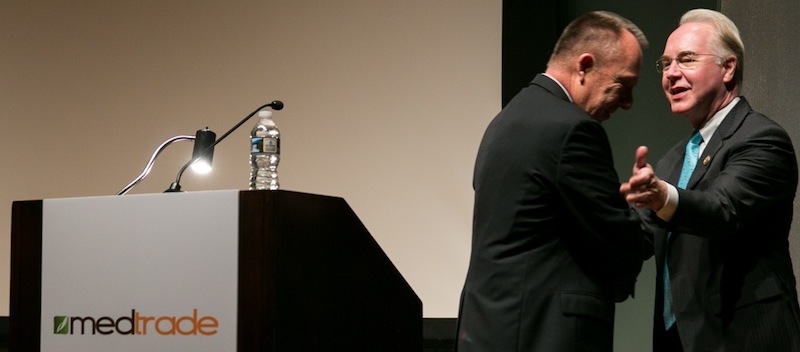 On competitive bidding: "This is craziness. It just doesn't make any sense at all. We continue to battle. We continue to fight. As was mentioned, 39% of DME suppliers have gone out of business since this craziness started. That's not because they chose to retire…it's because the federal government got engaged in the process and said, 'We'll pick the winners and losers' and it's just so sad. We continue to battle."
On CMS: "They are not bad folks, but their charge is different than yours and mine. Your charge is to care for people. Their charge is to make the numbers add up…that hurts you from a professional standpoint, but patients are being compromised right now in their care because of what the government is doing. That is a story that needs to get out there."
On audits: "Three to five years they say is the average [at the ALJ level]. If your appeal process lasts that long, then it is not a fair process…This is ridiculous. I believe we need a timeline. If the federal government can't get their act together and move through the process, then it is decided in your favor after a finite period of time. For me, that would be six months. You can't continue to have this going on and on and be over your heads and over your patients' heads. It simply does not work."
On fee for service medicine: "The nation has kind of bought into this in a superficial way, and there are folks in Washington who are pushing this; that all of health care, for all of us, needs to be run though this massive process of integrated care, value-based purchasing, or whatever the latest buzzword is so that every single incident of care must go through the federal government in some way. This is so they can make those numbers add up and control it. This is a very very dangerous place to be. I believe strongly in fee for service medicine—the ability for one free American to identify another free American who has a service or a product that they desire, and to contract independently, outside the realm of government control. This is absolutely vital for quality health care in this country. In fact, I think it's the only thinking that is going to save quality health care in this country."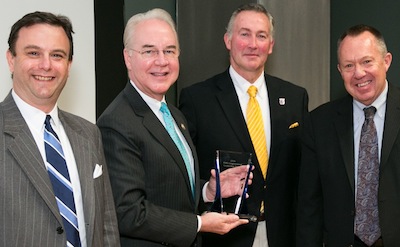 On pre-claim review: "Again, this is from the brilliant minds up there [with sarcasm]. Now they are not bad people, but they are so limited in what they know about how patients are cared for in the real world. They say, 'Oh I've got a great idea' to make those numbers add up. Let's make it so that if you have any requirement for utilization, that you must get approval first. That's what's called rationing by inconvenience. Prior authorization is what they called it when I practiced medicine."
On complex rehab technology: "The ability of your industry to allow for the independent mobility of folks is incredible. What has occurred in the CRT arena over the past 10 to 15 years is astounding…and then you have the government coming along and saying, 'Oh by the way, we think you ought to suffer under the same umbrella as everybody else.' We pushed that off through the end of this year, and we are working on trying to make certain it [CRT] doesn't come under competitive bidding after the first of the year."
On Center for Medicare and Medicaid Innovation (CMMI): "As part of the ACA [Affordable Care Act/Obamacare], they [CMMI] have been given the authority to have CMS determine what kind of demonstration projects in the area of care for seniors that they want to put forward. And they believe that the act gives them the authority to require, from a mandatory standpoint, that they can dictate to providers what to do…CMS is telling physicians and hospitals prospectively, before the fact, that this is what you must do because this is all we are going to pay.
"What that means is CMS is now picking the prosthesis or the mode of treatment and what patients are able to have prior to the injury or the challenge they have. The docs don't have any say. The patients don't have any say. This is an experiment…This has gone way too far. If we allow this as a society to happen, then it's just who's next. I promise that you are all in their crosshairs, because you've got a big line item. Educate your member of Congress about the damage of CMMI and that it ought to go away."
On regulation of the medical industry: "It's not to say that we don't believe in appropriate regulations and reasonable regulations. It's not that the government does not have a role in all of this, because they are paying for a lot of it. But at the end of the day, these decisions—clinical care decisions—need to be made between patients, families, doctors, and providers—and nobody else."