WASHINGTON, DC – With a July 1 deadline looming for additional Medicare reimbursement cuts for suppliers in rural and other non-bid areas, there's an urgent need to get House companion legislation to S. 2736 introduced with a strong round of original co-sponsors.
Champions on Capitol Hill are especially looking for support and co-sponsorship from members on the House Energy & Commerce Committee when the legislation comes out shortly after the House returns from recess on April 12.
If providers are represented by any of the individuals on the committee, AAHomecare officials are asking you to make a personal contact by April 7 with their DC or district offices, asking for an individual who handles healthcare related issues. In your contacts, you should:
• Tell these individuals about the effect that the competitive bidding program is having on your business and your patients, and ask that the Representative contact Rep. Tom Price's office to co-sponsor upcoming companion legislation to S. 2736.
• Inform them that this legislation will freeze the next round of upcoming cuts for rural home medical equipment providers until CMS fairly assesses the effect of previous reimbursement reductions on patient health, and makes other adjustments to the competitive bidding program methodology.
Members of the Energy & Commerce Committee are listed below – individuals with a "yes" in the 4185 column are current co-sponsors of H.R. 4185, which provides adjustments for rural and non-bid area providers and also fixes the bid ceiling mechanism for future bidding rounds.
While H.R. 4185 technically remains active, the implementation of the first round of cuts that has already taken place has diminished the potential effectiveness of that bill. However, it is still a good indicator for those who might be inclined to support the companion legislation that is about to be introduced in the House.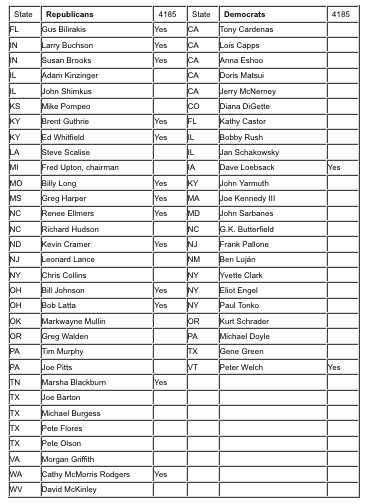 Support on the Republican side for H.R. 4185 was considerably stronger, so extra efforts on the Democratic side will be particularly helpful this time around. Of course, support and cosponsors are welcome from every corner of Capitol Hill, so please contact your Representative even if they're not on this list. You can also see the complete cosponsor list for H.R. 4185 here.
While direct engagement with legislators and their staff members is the most effective means to advocate for better public policy for HME, you can also send an email here in support of S. 2736 and House companion legislation.
With the cuts we've seen in the Round 2 Recompete bidding results, the bidding program continues to ratchet up the pain for HME providers and patients everywhere. This new legislation will help limit the cuts for rural providers, while forcing CMS to assess and report on the program's effects on beneficiary access and also removing the ever-downward-pressing bid ceiling CMS envisions for future bidding rounds. This is a win we need for the entire HME sector.
A great Senate bill with strong co-sponsorship is already out there – now the task at hand is to build on this promising start by helping generate strong support for a House counterpart. Whether you're an experienced advocate for HME, or a relative newcomer to contacting your legislators, the time for action is now.
Round 2 Recompete: Price Reductions Found in Nearly Every Category
WASHINGTON, DC – Last week, AAHomecare shared its analysis of results of the Round 2 Recompete (covering Enteral Equipment and Supplies, Enteral Nutrition, NWPT Supplies and NWPT Pump, and Hospital Beds). Here is a rundown of all major categories, presented in terms of change between the new Round 2 Recompete rates vs. the Round 2 rates currently in effect. Our calculations show an average overall 7.1% decrease in prices when compared to Round 2 prices; the handful of categories that showed modest increases are highlighted in blue.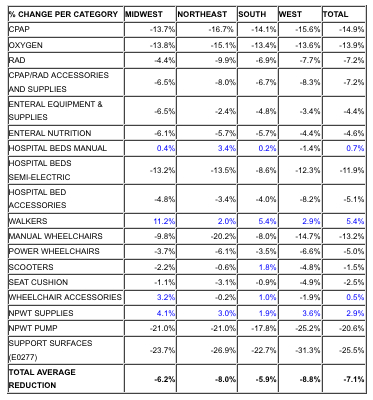 Categories in the Round 2 Recompete that were not part of the original Round 2 bid cycle include: Nebulizers and Relations Supplies; TENS Devices and Supplies, Commodes; Urinals & Bed Pans; Patient Lifts; and Seat Lift Mechanisms.