WASHINGTONG, DC – AAHomecare officials are urging providers to participate in the latest round of data submission to make a stronger case for audit reform. Even if you didn't participate in the earlier data submission rounds, you can still take part in the survey.
The new data submission period for the HME Audit Key is currently open for data from the 4th Quarter of 2016. Suppliers can go to HMEAuditKey.org to register; participation is free – you just need one of your organization's NPIs and respective 5-digit zip code to register and get started.
Assistance
• Email support@HMEAuditKey.org
• Call 1-844-HME A KEY (844-463-2539)
Reminder: Individual Audit Data is NOT Required. For those of you who have not yet delved into the system, be assured that the Audit Key does not require you to submit data on individual claims, but instead seeks cumulative counts of pre- and post-payment audits and appeal claim outcomes under DME MAC, RAC and SMRC reviews.
Your participation will help us build a strong data-set of performance benchmarks while also helping the HME community make the case on Capitol Hill and at CMS for much-needed audit reform. Please submit your 4Q 2016 Data by Friday, February 3.
Shape HME Policies & Practices While Learning From Your Peers on AAHomecare Councils
Among the many benefits of membership with AAHomecare is the opportunity to participate in its active councils. Getting plugged into AAHomecare councils and subsequent work groups is a fantastic way to build relationships, collaborate on initiatives that benefit your business, and learn from Industry colleagues and AAHomecare staff.
AAHomecare councils are often "Ground Zero" for bringing new issues to the table and carving pathways forward, both at the individual company level and for the industry in full. Each council is tailored to focus on specific types of issues, such as mobility (CRMC), respiratory and general mobility (HME/RT), and supplies/soft goods (Medical Supplies). As such, your company can select the council(s) that best represent your product mix and home in on issues that directly affect your patients and bottom line.
Plus, the relationships built through council involvement offer an immeasurable value as council members get connected and build rapport with other like-minded, forward thinking individuals from across the country who are determined to find innovative solutions, both in the traditional Medicare space and beyond.
An overview snapshot of each Council is available on the AAHomecare website, and we will be highlighting the various Councils and sharing their 2017 goals over the next several weeks through Wednesday in Washington.
To learn more about the various councils and how you can get involved, please reach out to Ashley Plauche, AAHomecare's Manager of Government Affairs, who serves as the staff liaison for many councils at ashleyp@aahomecare.org.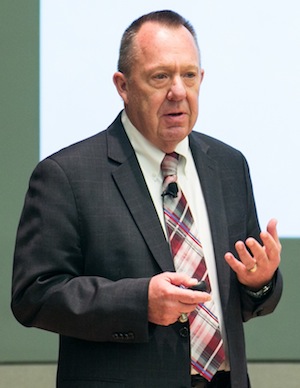 HME/RT Council Spotlight
With a focus on the HME Industry being recognized for the services and incredible value it provides, the Home Medical Equipment/Respiratory Therapy (HME/RT) Council is a vibrant group dedicated to respiratory and general HME issues affecting AAHomecare members.
Council Chair George Kucka of Fairmeadows Home Health Center explains, "AAHomecare, under the leadership of Tom Ryan (pictured), has taken a proactive posture to move the HME Industry forward in these challenging times. Following President Ryan's lead, the HME/RT Council has developed far reaching initiatives to re-brand the HME Industry and to sell this brand to patients, referral sources and all types of Payers as 'professional, cost-effective healthcare providers.'"
The Council is home to two Work Groups that are working on enhanced reimbursement for respiratory through outcome-based care models and improving patient outcomes through advanced technologies.
In addition to offering support for association-wide priorities like Competitive Bidding reform, the Council established the following 2017 goals:
• Move forward with the Value Based Purchasing initiative for Clinical Respiratory Services based upon the results of a respiratory summit, including developing quality metrics for servicing respiratory patients.
• Work toward developing an approach to billing for upcoded procedures and services for reimbursement through 3rd parties and end users.
• Work toward developing educational materials to promote appropriate reimbursement of specialized trach supplies.
• Continue the conversation on ventilator definition and reimbursement legislation.
The Council is open to any AAHomecare member and holds quarterly conference calls and meetings in conjunction with major industry events like Medtrade. The next HME/RT meeting will take place at Medtrade Spring in Las Vegas.
To learn more about the HME/RT Council and how you can get involved, please reach out to Ashley Plauche, AAHomecare's Manager of Government Affairs, who serves as the staff Council liaison, at ashleyp@aahomecare.org.