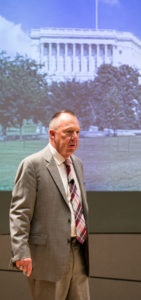 WASHINGTON, DC – With H.R. 4229 under consideration in the House, it's natural that HME stakeholders are focusing much of their attention on increasing the co-sponsor rolls (now at 116 co-sponsors!) for that legislation. But there is still a case for keeping Senators, as well as House members who are already on board as co-sponsors, invested in our issues in the near term.
One way you can keep these legislators engaged is to encourage them to contact OMB Director Mick Mulvaney to ask that he approve and release the Interim Final Rule (IFR) rolling back bidding-derived reimbursement cuts for HME sent over by CMS in August.
MAMES President, Patrick Naeger from Missouri-based Healthcare Equipment and Supply Co., has reached out to his Members of Congress to get their help to push OMB for action on the IFR.
In December, Pat's Representative, Blaine Lutkemeyer (R-Mo.), had a call with the Director Mulvaney on the issue.  This month, Pat heard from Senator Roy Blunt's (R-Mo.) office that he, too, reached out to the OMB Director's office with a letter encouraging the Director for action on the rule.
In his letter, Sen. Blunt points out that many of his constituents "will have no choice but to transition to full-time skilled nursing facilities if they do not have access to DME that makes it possible for them to remain independent and in their homes for a fraction of the cost" and asks for expedited approval of the IFR.
"I can't stress enough the need to keep the pressure on at OMB," Pat notes.  "While the legislative effort is important, we do not have the luxury of time, for we are seeing this industry shrink and many are struggling to stay in business!  We need an all-hands-on-deck approach to figure out who can best influence Director Mulvaney."
We've heard other reports that both Senate and House members have reached out to OMB to make similar requests thanks to outreach from HME leaders, and we strongly encourage you to ask your legislators to do the same.
Points to make in reaching out to your legislators on the IFR:
In late August, CMS sent an Interim Final Rule (IFR) to the Office of Management & Budget that would roll back a portion of unsustainable bidding-derived reimbursement cuts that are affecting Medicare reimbursement rates in rural areas as well as TRICARE, Medicaid, and other payors who follow that fee schedule.  For many mainstream HME products, these rates have been cut by 40-50% – and more – even driving down reimbursement rates below the supplier's cost of providing the equipment in a large number of cases.
Briefly note how these cuts are impacting your business and your patients.
The Ask: Please provide a measure of relief for HME suppliers and the communities they serve by contacting Director Mulvaney at OMB and asking that he approve the IFR.
Comments on CURES Implementation Note Potential Beneficiary Impacts
Last week, AAHomecare submitted comments on CMS' PRA submission to implement §5002 of the CURES Act. The provision caps federal financial participation (FFP) for Medicaid spending on DME paid under fee schedules. Beginning in 2018, the cap applies to a state Medicaid program's aggregate spending for DME that exceeds Medicare's aggregate spending for DME under Part B (including competitive bidding).  In the comments, AAHomecare asserts that implementing FFP caps without understanding their effect on beneficiaries ignores a statutory mandate and undermines Congress' responsibility to oversee how CMS implements the statute. In addition, reducing Medicaid funding for DME to Medicare levels will create access barriers for beneficiaries that may be worse than what Medicare beneficiaries face under CBP and adjusted fee schedules.
You can access AAHomecare's comments here.
HME Audit Key Adds Benchmarking Features
See How Your Company Stacks Up Against Your Peers
The HME Audit Key is currently open for the HME community to submit data on cumulative counts of pre- and post-payment audits and appeal claim outcomes under DME MAC, RAC, and SMRC reviews.   Suppliers are urged to submit data for this round by February 16. The HME Audit Key program is adding a new benefit for suppliers who participate in two consecutive rounds (i.e. – the current round and the next submission round set for July 2018).  Suppliers submitting data for those rounds will have access to a benchmark report that allows them to see how their company compares to other participants.
The report will allow participants to compare their company's performance vs. the aggregate results in areas such as DME MAC prepay audit denials and new patients subject to audits in selected categories.  You can see a prototype report here and a screenshot of a sample page below.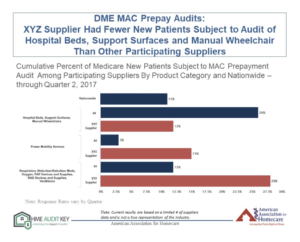 Increased industry participation will help us collect compelling data to help us advocate for audit reform on Capitol Hill and at CMS – and will also help us build a resource that will allow suppliers to benchmark their performance against their industry peers.
Learn more and register at HMEAuditKey.org.