HOUSTON – As the nation rallies around those impacted by Hurricane Harvey's destruction, AAHomecare shared a few of the encouraging stories about association members who are rising to meet the needs of their community and beyond.
In the midst of tragedy, their response speaks volumes about the services and front-line patient care that our Industry offers, in good weather and bad.
Wave Healthcare spent last week contacting their ventilator and oxygen patients to determine which individuals needed evacuation assistance and that each family had a "worst case scenario" plan in place.  They also reached out to assist another supplier in the Houston area whose location is reportedly under three feet of water to provide medical equipment and supplies.
Other providers shared details on preparation and relief efforts for their patients, even as they were dealing with the impact in their own homes as well. Hill Country Medical Equipment, which has an office in a neighboring area, prepared staff to meet the needs of the potential influx of patients who would be evacuating into their area. The MED Group shared their outreach efforts in partnering with a local radio station to provide needed goods and services to affected areas.
These responses are characteristic of the great services our Industry provides.  This is not about "bent metal"—this is about passionate and caring people whose companies provide critical support and services, 365 days a year, 24 hours a day, even when natural disasters strike.
AAHomecare will continue to work with Congress and the Administration to educate them on the invaluable role the Industry plays in patient care and to engage CMS on how suppliers can assist those impacted by Hurricane Harvey.
CMS Grants Flexibility in Meeting Emergency Health Needs in Texas & Louisiana
HHS Secretary Tom Price declared, "Due to the emergency declaration and other actions taken by HHS, CMS is able to waive certain documentation requirements to help ensure facilities can deliver care." The actions will be retroactive to August 25 in Texas and to August 27 in Louisiana. See the Texas announcement and the Louisiana announcement for more details.
AAHomecare Responds to Capitol Hill & CMS Requests for Fixes to Medicare Regulations
WASHINGTON, DC – Last week, AAHomecare submitted comments to the Ways and Means Committee for their Medicare Red Tape Relief Project and also for a CMS Request for information (RFI).
Earlier this summer, Ways and Means Subcommittee on Health announced an initiative to reduce Medicare regulations and requested providers share feedback on burdensome regulations. Similarly, CMS also requested stakeholders share ideas on how to reduce burdensome regulations in the 2018 ESRD PPS Proposed Rule (CMS-1674-P). AAHomecare responded to both requests and covered a variety of regulatory issues in the letters regarding documentation, implementation of competitive bidding, and CMS' audit and appeals program. AAHomecare is pleased to see CMS and Congress is interested in reducing burdensome regulations and requesting stakeholder feedback.
You can find a copy of Ways and Means feedback here and the CMS RFI comments here.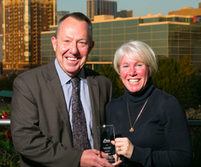 Nominations for 2017 Van Miller Homecare Champion Award Due by Sept 8
ATLANTA – Nominate a colleague to be honored as the 2017 Van Miller Homecare Champion. The award recognizes an AAHomecare member who has made an exceptional contribution to the homecare sector throughout their career in one or more of the following ways:
• A longstanding record of service within the homecare community;
• Embodiment of the spirit of caring and generosity which are the hallmarks of this profession;
• Active membership and engagement in the American Association for Homecare.
This award honors individuals with an outstanding record of accomplishment or leadership in various aspects of the business of HME and the care that is an essential component of it. Nominations can be submitted to Sue Mairena, suem@aahomecare.org through Sept. 8.  Find the nomination form and see past honorees here.
The 2017 Van Miller Homecare Champion will be honored during the Stand Up for Homecare reception during Medtrade on Tuesday, October 24, 2017 and recognized in a special notice in the trade press and local media.