GOOSE CREEK, SC – Industry legend Sheldon "Shelly" Prial died last month at the age of 95. Shelly's passion, knowledge, and willingness to fight for the industry will long be remembered.
Back in 2015, I interviewed Shelly for a series of Medtrade Monday articles detailing his overall philosophy, early years as a pharmacist in New York, and his marriage to Thelma. The photo below is Shelly and Thelma, his wife of 67 years, on their wedding day in 1950.
The last time I spoke with Shelly (about four years ago), he said from his home in Goose Creek, South Carolina, "The good lord hasn't called me home just yet." He added, "It's time for the next generation to continue the fight."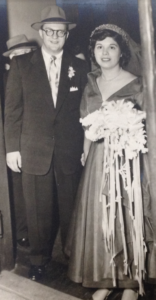 Shelly cultivated his considerable tenacity as a child in the Bedford-Stuyvesant section of Brooklyn in the late 1930s, making his way around the streets of New York on a bicycle as a delivery boy for his dad's drug store. Mid-way through WW II, young Shelly volunteered to go into the army. At the physical, he failed the eye test due to vision problems in one eye.
The next week he came back and tricked the physician by reading the eye chart twice with the one good eye. When Shelly relayed this bit of deception to me, he quickly added, "Don't tell anyone I did that. I don't want people to think I'm dishonest. I'm Jewish, and I really did not like Hitler."
I assured Shelly that Medtrade Monday readers would cut him some slack. After serving in WW II, the 20-year-old Prial went back to school, eventually earning his Bachelor of Science degree and becoming a Registered Pharmacist in 1950.
Medtrade attendees may remember Shelly in his signature bow tie, a style of dress he adopted after his neck tie would repeatedly get coated in various pharmaceuticals during the old school mortar and pestle mixing process. As the former Medtrade Ambassador, Shelly was often seen with his beloved wife, Thelma, who died in 2017.
During a series of interviews in 2015, Shelly shared the story of how he and Thelma met. A year before graduation (1949), Shelly reluctantly agreed to go to a party that would change his life.
Here's how he remembered it: "My best friend Stanley invited me and I said, 'No, I'm working tomorrow and Sunday.' One of the reasons he invited me was because I had a green 1940 Buick Convertible with red leather seats. I finally said yes, so we went in my vehicle to this party. That's when I met Thelma, who's sorority was there. 

I said, 'Let's stay a little later and help clean up.' When we got back, I said, 'Stanley, I'm marrying Thelma.' He told me I was out of my mind, and I said, 'No, I'm serious.' We got married eight months later."
"Mom and Dad were truly inseparable in both their lives and their careers," wrote Pam Stein and Jon Prial, Thelma and Shelly's adult children. "From the pharmacies they ran to the home health care dealer co-operative they established, they made every decision as a team and they never disagreed on anything."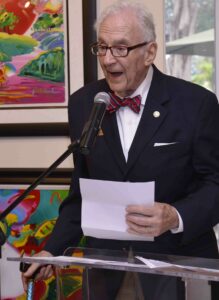 The home health care dealer / pharmacy co-operative that Pam and Jon mentioned was one of the first advocacy ventures that Shelly organized. To put it mildly, Shelly was highly successful in convincing his peers to get involved. In short, he was a force of nature. If every HME provider had the tenacity of Shelly Prial, there is no way that competitive bidding would have ever passed. Congress could not have withstood an army of Sheldon Prials.
I once asked Shelly, "What has been the secret to your happy life?" He immediately said, "I found a great woman." The last time I heard Thelma's unmistakable voice was during a phone call to Shelly in 2015. She was sitting close to Shelly while we chatted. Suddenly Shelly asked, "Thelma, when was the last time we said a cross word to each other?" She responded with one word in her wonderful Brooklyn accent—"Neva…"
On three occasions at different Medtrades, Shelly and Thelma took me out to breakfast. They insisted that I eat a hearty meal, and I could not resist asking Thelma to say various words just so I could hear her accent. I would occasionally ask Shelly about the "greatest generation" mantle and he would dismiss it, instead maintaining that every generation can and will step up when they must.
He may have been right, but the level of enthusiasm, dedication, and love for life is something that Shelly demonstrated in grand quantities. He will not be forgotten.
Greg Thompson is editor of Medtrade Monday.