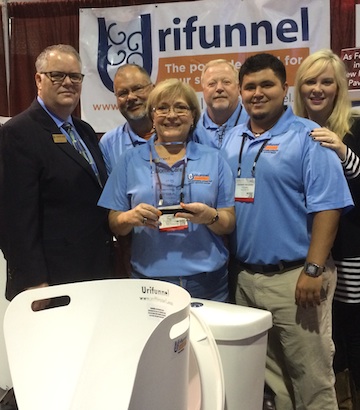 ATLANTA – Medtrade officials handed out several awards at Medtrade 2015, and Medtrade Monday will take a closer look at all of the awards in the coming weeks.
This week, we begin with The Providers Choice Gold Award, sponsored by HomeCare magazine. The gold went to Urifunnel, a company founded by parents of a special needs son. The product is designed as a cost effective option to enhance bathroom sanitation and safety. The Best Booth Award went to Mediware Information Systems.
Medtrade Monday sat down with both companies (scroll down for Mediware) to determine the how and why of these awards, and to get a sense of what will drive the industry in the coming years.
Greg Thompson, editor, Medtrade Monday: Why do you think your product won the Gold?
Jorge A. Escudero, RPh, Urifunnel Inc ("a portable urinal for your special needs"): People instinctively understood our product and how it could help others. The Urifunnel is unique and simple to utilize.
When people first see the Urifunnel, they appreciate the utility of the design and then they begin to grasp the many opportunities it presents to help others. I also feel people appreciated old fashioned ingenuity—and the fact that we are family-owned company with a story of how the Urifunnel was developed as a solution for an issue we faced with a special needs son didn't hurt.
We went to Medtrade as first time-exhibitors to see what the DME industry thought about our product. We hoped others would like us as well. Our team, which consists primarily of our family, is passionate about the Urifunnel because we use one every day and know how it makes our own personal lives better.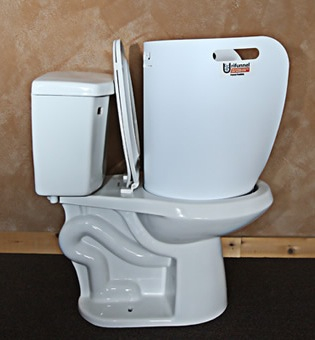 Thompson: What is your level of optimism these days when it comes to the DME industry? Why do you optimistic (or pessimistic)?
Escudero: Optimistic for sure. Yes, there is a considerable amount of change in the industry, but successful people/organizations adapt. Obstacles are challenges, not roadblocks. They will be overcome. I recognize as an entrepreneur that there are many challenges to overcome, not to succumb to. Study the situation, review your options, trust your intuition, and make a move.
To sit still and wait for it to change is not a viable option. Our family saying is to "Make our own luck". You will not be right all the time, but that is OK. Just keep moving. I feel the DME industry will continue to change, payor structures will evolve, and new markets will come into play. A great example is the "Caretailing" market. I had never heard of it before Medtrade, but knew instinctively knew that this is where the Urifunnel will achieve its best success.
Thompson: What kind of marketing help/advice can you offer to DME providers who may want to carry your product?
Escudero: I have found through personal trial that people have a hard time conceptualizing the Urifunnel. For us, "Seeing is believing." I can detail it in a discussion, or in marketing materials, but the "light bulb" goes on when they see the Urifunnel in a toilet commode. After that, no further discussion is needed to explain the product, so you can then move in the pertinent discussion as to the value of the Urifunnel and how it will benefit you as a caregiver.
If you have a showroom, place one in a toilet, and then it will probably sell itself, or at the very least initiate a discussion. Medtrade was a great example of this technique since we had two commodes purchased locally to best illustrate the utility and uniqueness of the Urifunnel. This I feel helped us to win the Gold Award as the Providers Choice for best new innovative product. This Award is very special to us, not only because it is our first award, but because it was voted on by our peers.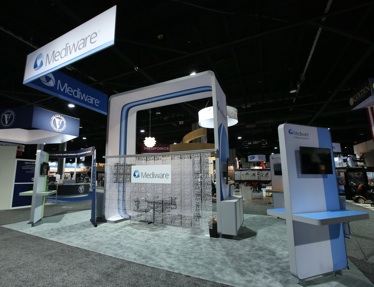 The Best Booth Award went to Mediware Information Systems (www.mediware.com). Medtrade Monday sat down with Kolby Wegener, marketing specialist, Mediware Home Care Solutions Division, to learn more about their eye-catching set-up.
Greg Thompson, editor, Medtrade Monday: Why do you think you won the award?
Kolby Wegener, marketing specialist, Mediware Home Care Solutions Division: We wanted to go with a new booth design concept this year to incorporate our new Mediware branding, our new CareTend product, and our forward thinking vision for the future for home care. Our goal was to create an innovative, sleek, and accessible booth to accommodate for booth traffic and provide numerous opportunities to engage with prospects and our current customers on the show floor.
I feel like our design elements, including our branding colors, our semi-private booth meeting space, and large demo monitors made people feel more comfortable with the booth and interested to see what our software has to offer. The booth really made me feel like we incorporated all of those elements into one consistent message—that we are forward thinking software providers here to support the industry for the days to come.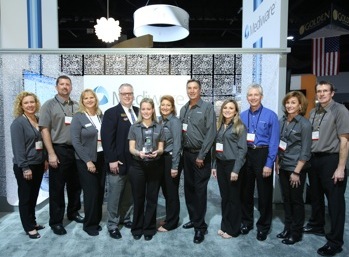 Thompson: What is your level of optimism these days?
Wegener: Despite the tight margins with the HME/DME industry, I am optimistic about where it is headed, and this is because I have great confidence in the leaders that help shape the industry. In going to Medtrade each year, I visit many of the educational sessions and participate in other networking events, and the HME space has such great thought leadership—and education is key to helping DME providers in the future to know how to adapt and change with the times. From healthcare legal advice from Brown and Fortunato, to audit experts such as Capital Healthcare Group, our providers have a resource to work with so they are not alone in the struggles they face.
Thompson: What kind of advice can you offer to DME providers who may want to use your product?
Wegener: Gather as much educational training as possible because industry knowledge is everything. Mediware offers monthly free educational webinars, whitepapers, blog posts, etc, so that providers have the latest knowledge of what is going on in the industry. These resources, in addition to our software, will make the difference in providers "getting by" compared to those that "thrive"
Thompson: Will you be at Medtrade Spring 2016?
Wegener: Yes, We will be there at Booth #544.