NEWPORT BEACH, CA – With two young children, a new DME business in the works, and seven vertebrae (T4-T10) fused in a 2016 emergency surgery, it's been an eventful past four years for Christopher Simila. As CEO of the fledgling Good Life Medical Supply, a 250-sq-ft startup in Newport Beach, California, the 37-year-old Simila is used to challenges, and he is ready for a new one.
"I'm waiting for my PTAN number," says Simila (pictured here at the Audit Happy Hour during Medtrade Spring 2019 in Las Vegas). "It's been a very difficult process to even get set up and involved. I think a lot of people get bummed out by how difficult it is. I'm always down for a new challenge. I'm down for something new. This is completely different from anything I've ever done."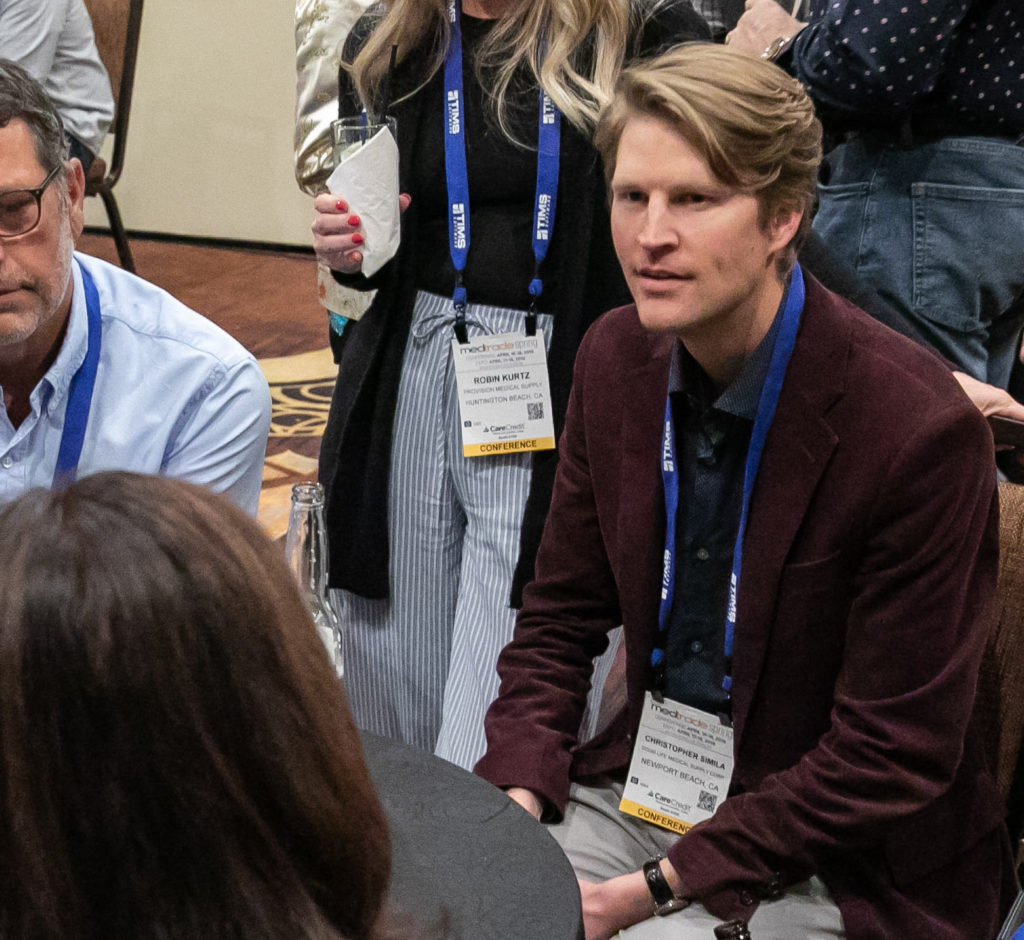 Prior to his foray into the DME world, Simila lived in West Hollywood where he worked in the rough-and-tumble entertainment industry, managing Justin Bieber's producer and a singer/songwriter artist. With  some friends and family also involved in DME, the new venture comes with some welcome support. Additional inspiration came from Medtrade Spring earlier this year in Las Vegas.
"It was my first time going to any Medtrade show, and I loved the Audit Happy Hour where I got to meet with Pam Colbert [Brown & Fortunato attorney], who was fantastic," Simila says. "I went to learn about federal regulations and policies. While some people have been cleared out of the industry [due to govt policies], now is the best time to get into the industry."
Hoping to open his business later this year, Simila is still deciding on product categories. One equipment subset he may carry is orthopedic bracing, a category he became all too familiar with during a trip to the slopes in 2016.
"I was in a pretty gnarly snowboard accident in March 2016 where I broke my back, neck, shoulder, and one of my ribs—it was a mess," he says. "If I could remember the accident, I would. It was the one day I didn't wear a helmet. I was just cruising with my dad and I said, 'I'm just chilling and won't do anything crazy.' And then I was going really fast on a double black diamond…and then I woke up."
Between the accident and now, Simila and his wife have had two children (now one and four years old), moved to Newport Beach, and setup the new DME shop just eight minutes away—an incredibly short commute in the notoriously heavy traffic zones of Southern California.
In addition to attending to a whole lot of details in the coming months, Simila plans to take advantage of SmartSaver rates for Medtrade, scheduled for Oct 21-23, 2019, in Atlanta. "I'll be looking for orthopedics and CBD at Medtrade, plus many other new products—and knowledge," he says. "I want to see what's coming on the market that I can carry in my store, and also learn about the latest business processes from the experts."