WATERTOWN, SD – For more than two decades, Kay Johnson has operated Midwest Medical Services Inc in the 21,000-population city of Watertown, located on the banks of the Big Sioux River in South Dakota. On her daily 25-mile commute to the 3,000-sq-ft location, Johnson sees the vast expanses of land that her people used to cover when making deliveries.
These days, some beneficiaries are instead coming to the business to pick up equipment. It's one of many changes in place in the wake of the rural phase in of competitive bidding pricing. "The reimbursement rates have fallen to such a low level that we have had to extensively change our business model," says Johnson, who just won the 2016 Midwest Association of Medical Equipment Services (MAMES) Above and Beyond Award, given to providers who fight to protect access to quality care on the regional and/or national level.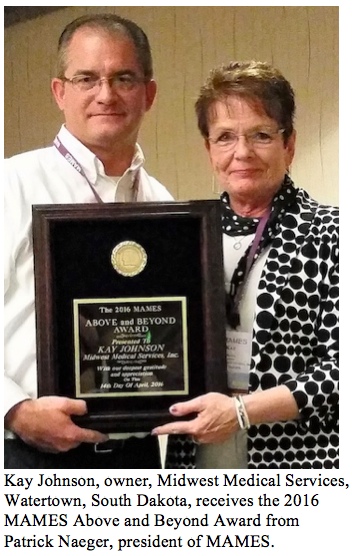 A plan to add two more customer service employees has been put on hold, and deliveries have been pulled way back. "If at all possible, we require beneficiaries to come to the store and pick up their walkers, wheelchairs, oxygen equipment, or oxygen tank re-fills," says Johnson, who has been in the DME business since 1980. "We changed our billing practices as far as taking assignment or non-assignment on Medicare claims. We are a non participating provider, so we can make those decisions according to product line."
Johnson requires payment upfront for non assigned claims, and on capped rental items—CPAP, wheelchairs, hospital beds—she requires a credit card on file for recurring rentals. It's been challenging, but her commitment to legislative action has only been energized, and Johnson plans to attend the American Association for Homecare Legislative Conference, set for May 25-26, 2016.
"That is our only hope right now," she says. "Congress must be willing to learn what DME in the rural areas is all about. I don't think the majority of Congress understands who we are and what we do."
Thanks to Johnson's efforts, Sen John Thune (R-SD) is in the informed camp. "He visited our site, and we invited several other providers to be here with us," reports Johnson. "I asked him, 'What is your level of knowledge about competitive bidding?' He hesitated and said, 'very little.' That gave us an opening to educate him about what it is, what it does to small providers, and more importantly, the access issues it is causing with Medicare beneficiaries. We just can't take it anymore."