ATLANTA – It turns out that demand for in-person interaction is still high among HME providers, with attendees at last month's Medtrade East clearly relishing the opportunity for face-to-face conversations. The following is a sampling of attendees throughout the country who made the trip and found ways to improve their business. The next chance to meet takes place in Phoenix for Medtrade West, scheduled for April 4-6, 2022.
"It's great to be face to face and connect with exhibitors and see new products in person. I can really see if the product fits with my company. So far I've seen some nifty product ideas." — Jim Stevens, Smith Drug, Spartanburg, S.C.
"We are spending one afternoon on the show floor and looking to add lift chairs and scooters to our product offerings for our e-commerce side. I love this Pride [Viva Lift Radiance] Chair." — Debbie Stanford, Advanced Lifts, Houston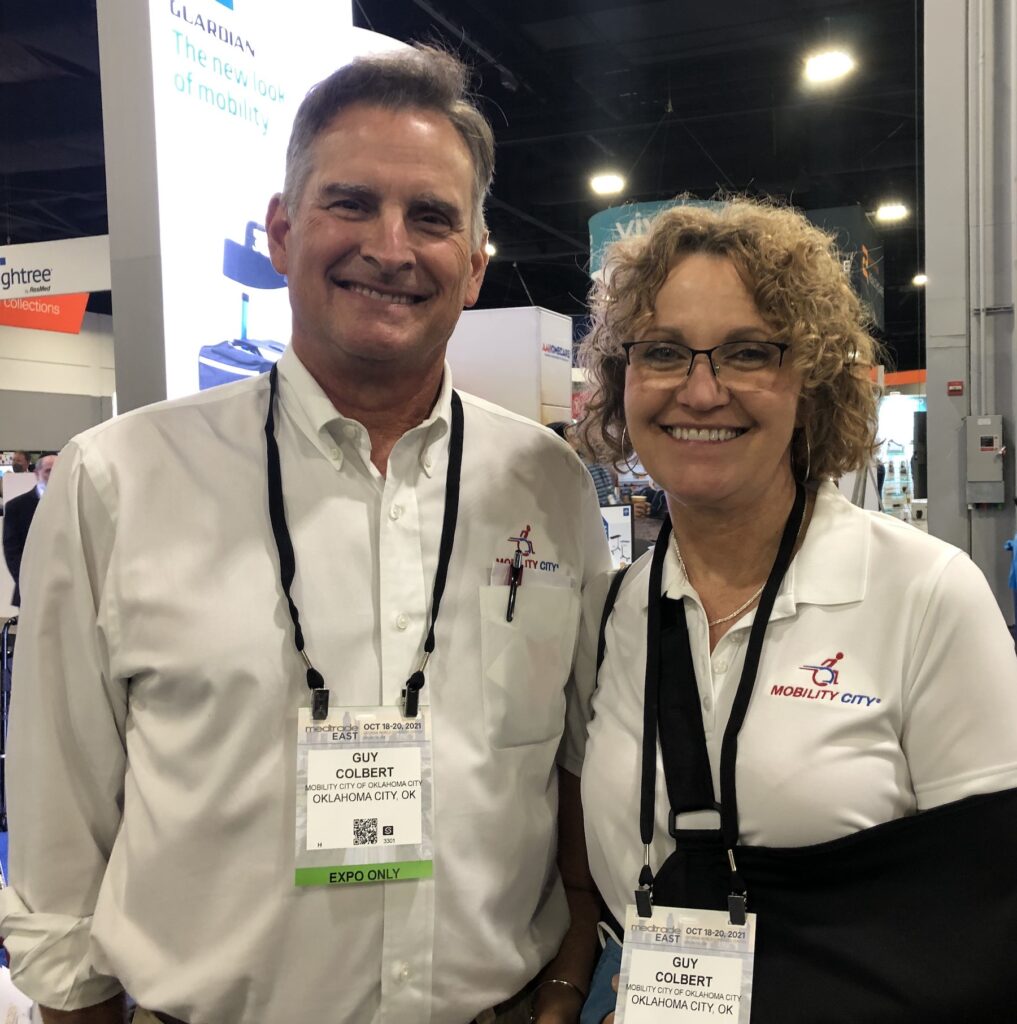 "We are part of a franchise organization and we are franchisees. We had a franchise organization meeting in conjunction with Medtrade East. It's our first Medtrade show and it has been good. We've met with a lot of the vendors who we do business with. Our franchisor scheduled a lot of our meetings, and we do about one per hour." — Guy Colbert and Lori Colbert (pictured right), co-owners, Mobility City of Oklahoma City
"We are first-time attendees and we're looking for new products. So far, it has gone well. Everyone has been very knowledgable and given us new ideas. I've found more products than I expected. You have to come see it in person. It's also nice to have these tables in the back for meeting. I like that." — Helen Stauffer, Post Surgery Rental, Beachwood, Ohio
"Medtrade East has been a great networking opportunity and a great way to meet manufacturers." — representative of Trace Medical, Tulsa, Okla.
"We're here to explore the floor and see new vendor softwares. I found a software company that I might want to use. We will also be here for the four hours on the last day." — Megha Patel, Integra Medical Supply, Boca Raton, Fla.
"I loved Preview Night. It was a good way to preview the show. It gives you a chance to orient yourself in a more relaxed atmosphere. You can plan your day and make phenomenal contacts. For example, Easy Drain Care Products was a pretty creative product—a fantastic product." — Eric Lederman and Israel Cywiak, 4MD Medical, Lakewood, N.J.