EXETER, PA – Pride Mobility Products® (Booth #1911 at Medtrade, scheduled for Oct 31-Nov 3 at the Georgia World Congress Center in Atlanta) has begun manufacturing in its wholly-owned, vertically-integrated, lift chair manufacturing plant in Pontotoc, Mississippi. The Pride Mississippi plant is dedicated to producing the highest-quality lift chairs in the market, using state-of-the-art manufacturing technology, quality-control processes, and local craftsman.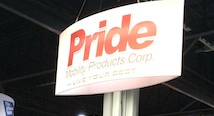 "We listen to our providers and know the exceptional quality demanded in the lift chair market," explains Joe O'Brien, senior vice president of Global Manufacturing. "We realize that the only way to achieve a win-win for all is to stay true to our 30-year roots in lift chairs, and evolve our wholly-owned, vertically-integrated manufacturing here in the U.S. via Pride Mississippi. The results are proving phenomenal in every aspect."
Pride Mississippi, which currently employs approximately 100 local employees, manufacturers every aspect of Pride® lift chairs. The process begins with state-of-the-art computerized cutters that precisely form each of the lift chair's engineered inner structure.
From there, master craftsmen add the springs, upholstery, and lift mechanism – creating an entire lift chair within the plant. The result is that from engineering to manufacturing to delivery, Pride's lift chairs are uniquely manufactured in America, to the most stringent quality and manufacturing standards.
Providers will begin receiving models built in the Pride Mississippi plant as of November 7, 2016, with the majority of Pride lift chairs manufactured there by January 1, 2017. "We're proud to continue demonstrating through three decades of manufacturing lift chairs that wholly 'Made-in-the-USA' creates superior product outcomes," adds Patrick Ramey, director of Manufacturing, Pride Mississippi.
FDS Inc Integrates QS/1 eNGAGE Patient Management Platform
BALTIMORE – FDS Inc has successfully integrated the eNGAGE Patient Management platform from QS/1 (Booth #848 at Medtrade, scheduled for Oct 31-Nov 3 at the Georgia World Congress Center in Atlanta) into its workflow process.
eNGAGE is an interactive platform for pharmacists and technicians to manage patient-focused activities, including Five-Star measures, prescription synchronization, MTM events, immunization opportunities and patient-safety measures.
Offering the eNGAGE Alert functionality inside QS/1's NRx® and PrimeCare® Pharmacy Management Systems provides convenience and added patient detail. The QS/1 pharmacy systems provide color coded adherence measures and hyperlinks directly to the eNGAGE Alert portal, allowing patient-focused opportunities.
"We are excited to work with the team at QS/1 to implement eNGAGE into their pharmacy management systems. QS/1 and FDS are working together to help community pharmacies better serve their patients, increase revenues and compete in today's pharmacy marketplace," said Rich Bukovinsky, executive vice president, Business Development, for FDS Inc.


"Through this partnership with FDS, and the eNGAGE Alert program, we can offer customers additional tools to increase patient adherence and improve overall patient outcomes. Heightened focus on overall patient health has placed a premium on ensuring patients are adherent. Partnerships like this one will keep our customers competitive in the pharmacy marketplace now and in the future," said Jon Bell, market analyst for QS/1.