ATLANTA – To understand the caretail/cash sales challenge, we must be able to state the problem in very simple terms for the purpose of finding a satisfactory solution. The way I see it, HME/DME dealers and pharmacies need to offer more cash sale items to better engage their customers and generate additional revenue. This can be accomplished by offering more retail products in-store and/or online.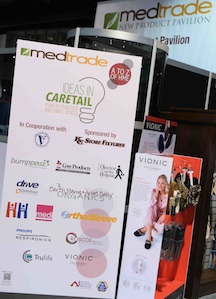 The challenge for in-store is physical space requirements. The challenge for online has to do with the uncertainties of eCommerce, especially with regards to rapidly changing technology, expertise, and resources.
So, we can simply state the problem as follows. You either (1) need to properly train staff on selling more retail items from your physical location by adding and properly merchandising more cash sale items in your store or (2) build an eCommerce presence.
There are informative Medtrade sessions and articles that feature many experts on in-store merchandising and sales staff training; this is not my area of expertise. I want to discuss on-line sales—not for those wanting to compete with giants like Amazon, Walmart, or Walgreens, but rather for those who want to offer online purchasing options to existing and potential customers. The result is better service while generating more cash sales.
However, it is time to face some harsh realities. Only 20% of all purchases done in the USA are done solely at a physical "browse and buy" store. That means that 80% of all transactions are done either completely online or some combination. If you are not online, then you are only servicing 20% of the population and missing out on opportunity.
The real opportunity is to focus on retail/cash sales using technology to complement the existing relationships you have with healthcare practitioners, as well as your own customers and potential customers. I don't want to discourage those of you who want to build an eCommerce empire, but competition is tough.
The costs to buy Google Adwords and run online marketing campaigns can be risky if you do not know what you are doing. And, the time and energy it takes to run and manage an eCommerce site will divert attention from your core business. But, you can find comfort knowing that companies are rapidly developing technologies that lessen the workload with eCommerce websites which are pre-populated with products and vendors that will drop ship the products on your behalf. These tools are typically easier to set up and manage, and may be a less risky and more realistic method for engaging with customers or their caregivers for online purchases of HME/DME products.
Kamal J. Haddad, CPA, is founder and CEO of Health Mobius LLC. Haddad will present Using Technology to Generate Retail Cash Sales: The Next Steps, at Medtrade on Wednesday, Nov 2, 2016, from 8:00 AM to 9:00 AM in room C208. During the session, Haddad will go into detail about each aspect of setting up and running an eCommerce platform.