PARKER, CO – The owner of Colorado-based Independently Yours has been on a familiar odyssey in recent months. The first part of the journey is known to countless HME providers throughout the country.
"Mid March started miserably, with everything coming to a screeching halt," says Bill Leahy, owner of Independently Yours, with locations in Parker, Littleton, and Louisville. "Rentals went by the wayside due to elective surgeries being canceled or postponed."
Business picked up once Leahy was able to find sourcing for personal protective equipment (PPE). When hair salons and restaurants pondered re-opening, Indepedently Yours experienced an additional uptick with operators seeking sanitizers, face shields, masks, and gloves.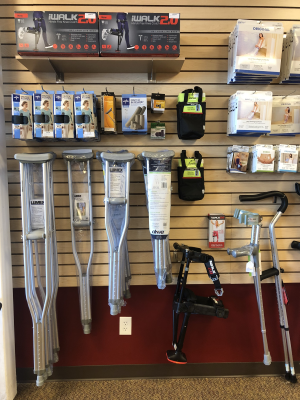 "Over the past couple of weeks, we've seen our normal sales coming back," reports Leahy. "Rentals are increasing because elective surgeries are being scheduled again, and we're starting to see all of the equipment associated with that going out the door again. People are getting outdoors again—biking, running, jogging, and climbing. People get injured, and they need boots, crutches, knee scooters, and all of that. I'm optimistic for the rest of the year that it's going to turn out ok."
Luann Schroder, general manager, Restoring Mobility LLC, New Braunfels, Texas, calls the last two months "painful," with customers dutifully sheltering in place. "We are just now starting to see them come out a little bit over last two weeks," she says. "They need what they need, but it's been slim pickings."
A typical "scooter season" starts in March, but COVID-19 halted those sales, effectively delaying purchases until late May and beyond. "We've been very busy the last couple of weeks," Schroder reveals. "Our service schedules are full. We're getting product into the showroom because we need it."
Online marketing has continued for Restoring Mobility, but the main strategy has essentially been to wait it out. Free scooter deliveries have added an extra enticement, and those may continue depending on the business environment in the coming months.
"I'm optimistic, because people will continue to need the products we have," Schroder adds. "Our customer base is built on a quality, high-end product, and there will always be people who are not willing to accept what Medicare and insurance is going to provide. People don't stop being sick or having the aches and pains that the rusty years bring."
Over in the Tar Heel state, Family Medical Supply, Dunn, N.C., opened back up for walk-in traffic today (June 1). With 18 locations, the regional operation will be taking temperatures, requiring masks, and keeping a ratio of not more than one customer per employee.
As a full scale DME operation, Family Medical sells everything from ventilation to oxygen to CPAP to wound care products—plus retail and even a hospice business. Like so many colleagues across the country, they've seen area doctors close doors, leading to various elective procedures canceled or postponed.
It all adds up to less demand for certain types of DME. "However, it's also true that people were home more, so things like resupply [CPAP and more] actually performed better," says Brad Heath, vice president of Operations and Marketing.