DALLAS – The New Product Pavilion Awards, sponsored by HomeCare Magazine, came down to a close vote last month at Medtrade 2023. Attendees at the Kay Bailey Hutchison Convention Center in Dallas ultimately gave the Bronze Award to the Motif Aura Breast Pump from Motif Medical, LLC.
Motif has won awards at previous Medtrades and their streak continues. Medtrade Monday sat down with Alan Cawley, national sales manager to learn more about the company and the product.
Medtrade Monday: What were some of the reactions to the product at Medtrade?
Alan Cawley, national sales manager: Our DME partners who are seriously involved in the wearable category could not wait for this product to come to life. We saw this first-hand during Medtrade as many of our customers who stopped by our booth extended their congratulations and told us they voted for Motif Aura in the New Product Pavilion. They were shocked to learn our product competes with high-end wearables yet at a price that moms can afford.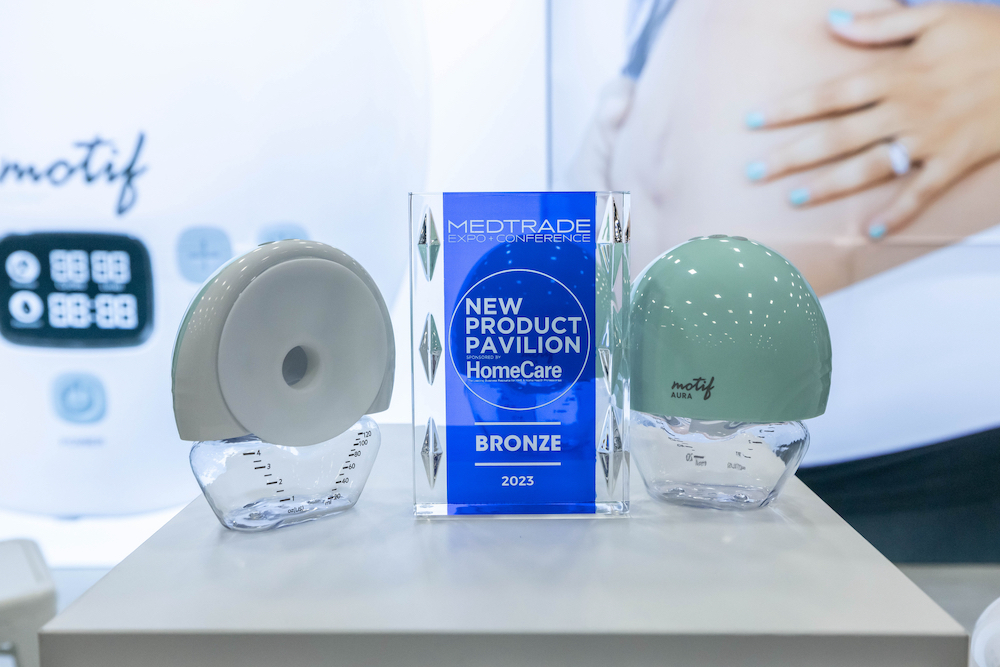 Medtrade Monday: What are the origins of the company?
Cawley: Motif Medical was formed in 2018 in response to the Affordable Care Act providing moms with breast pumps. Major manufacturers started to bypass DME providers and focus on direct-to-payor strategies. Motif was created solely to preserve DME providers' ability to offer high quality devices that meet reimbursement criteria. Since our birth, Motif has focused primarily on reimbursable products that meet coding requirements within the mom-and-baby category.
Our most recent development is the Motif Aura breast pump. Motif Aura is truly a hands-free experience without disruption from tubing or a controller to manage. Our product competes with high-end wearables but can be upgraded for a nominal fee as we took the insurance reimbursement into consideration.
Medtrade Monday: How did the award-winning product come to be designed and manufactured?
Cawley: When designing the Motif Aura, we prioritized the features that moms said were most important, such as discretion, quality, and efficiency. Overall, Motif's goal is to design high quality items that impact moms while preserving margins for those who purchase and promote our products. We know moms will love the Motif Aura as a lifestyle product to complement their Motif Luna pump.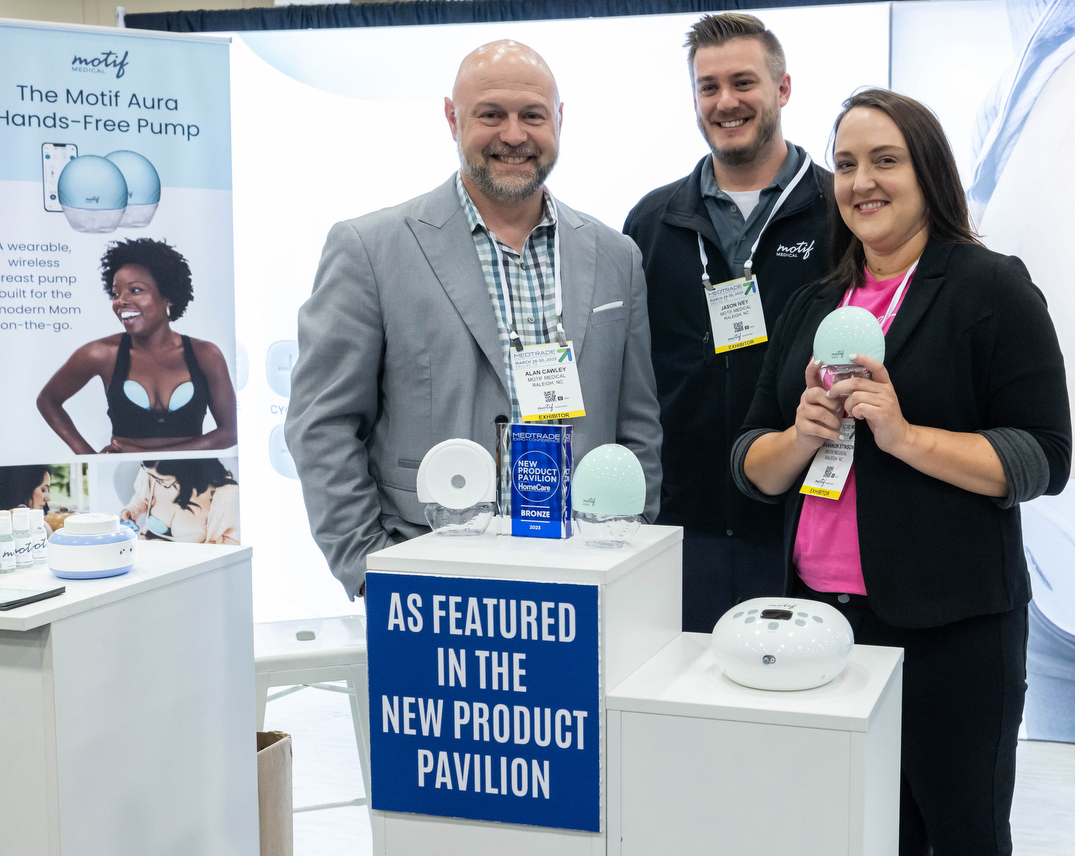 Medtrade Monday: What recommendations do you offer concerning the product?
Cawley (pictured far left with Motif team members Jason Ivey and Shannon Stinson at Medtrade): We recommend using a wearable pump as a secondary, on-the-go option. Pair the Motif Aura with the Motif Luna for the perfect combination of power and convenience.
Medtrade Monday: What are your plans for the product this year?
Cawley: We have fully launched the Motif Aura during Q1 of this year on both our B2B and B2C channels. We have already received great responses from our wholesale customers and our mom audience. We look forward to continuing to serve these channels with great products made for modern motherhood.
Medtrade Monday: How optimistic are you about the future of the DME industry?
Cawley: The mom-and-baby sector continues to thrive in the DME industry. More and more effort to support moms through their breastfeeding journey has resulted in increased insurance coverage for the products they need to be successful in meeting their breastfeeding goals.
Motif is extremely optimistic about the future of the mom-and-baby category within the DME space and is positioned well to support all reimbursable products that moms are entitled to. We hope to continue receiving positive interest from DMEs so we can help them develop another revenue stream that truly provides a service moms everywhere need.
Features of Motif Aura Breast Pump
• Wearable & Hands-free
• Rechargeable battery – Features a rechargeable battery that can last 2+ hours (depending on your settings)
• Quiet motor – A quiet <41 -decibel hum that won't wake your baby
• Soft silicone inserts – Designed to comfortably adjust the flange size without affecting performance
• Closed system – Backflow protection keeps the motor and tubing clean, preventing contamination
• Unique app available phone download to log sessions and control settings
• Two-year manufacturer warranty for motor, 90 day for parts
• Resupply kit that can be billed to insurance payers
• Lightweight – Weighs less than half a pound
• 12 Suction levels
• Hospital-Grade
The New Product Pavilion Awards at Medtrade 2023•
• The Bronze Award went to the Motif Aura Breast Pump from Motif Medical.
• Representatives from Belluscura earned the Silver Award for the DISCOV-R™ Portable Oxygen Concentrator. Take a closer look HERE.
• The Gold Award went to the Miracle Mobility 4N1 Electric Walker Wheelchair from Miracle Mobility of Clearwater, Florida. Take a closer look HERE.