DALLAS – Renewals, win-backs, and new signups for Medtrade continue to pile up. With the show set for March 26-28, 2024 at the Kay Bailey Hutchison Convention Center in Dallas, the following companies are the most recent signups.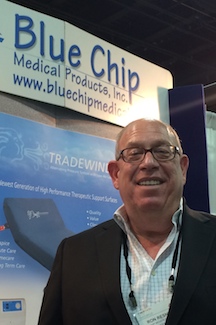 From North America:
• Blue Chip Medical;
• Beyond HME;
• ProLine Medical; and
• Comfygo.
From Taiwan and China:
• Nanjing CareMoving Rehabilitation Equipment Co., Ltd.
• Foshan Hongfeng Co., Ltd.
• Grand Healthcare Co., Ltd.
• Shanghai Berry Electronics Tech Co., Ltd
• Tianjin Promoting Medical Technology Co., Ltd.
• Guangdong Horigen Mother & Baby Products Co., Ltd.
• Shenzhen AOJ Medical Technology Co., Ltd.
• PPM Fulfillment
• Huangshan Jinfu Medical Equipment Co., Ltd
• Home Medical Products Inc.
• Shenzhen Aeon Technology Co., Ltd.
• Huizhou Foryou Medical Devices Co., Ltd.
• Paubox
Veteran Medtrade attendees know Blue Chip Medical from the top of the North American list. The Suffern, N.Y.-based company offers therapeutic mattresses, overlays, and wheelchair seating and positioning cushions for the prevention and treatment of pressure sores.
As president and owner of the 27-year-old company, Ron Resnick has long been a supporter of Medtrade, all the while stressing the role of quality in the creation of his products. Medtrade Monday caught up with Resnick to learn more about Blue Chip and the thinking behind the products.
Medtrade Monday: How tough is it to compete against the cheaper products?
Resnick: I don't even try. Blue Chip is in the 'it's-gotta-work' business. I'm not in the price business. Price business is for all the other guys—the importers and Internet resellers. If you go on the Internet, you see all my competitors selling to everybody. The internet resellers are happy to take their money and ship a box. They don't even do set-up sometimes. They just drop-ship. There's no explanation on how a product works or to identify a possible problem. If there is a problem, who do you call?
That's why I think it's important that most dealers be responsible for servicing these products. I get phone calls every night, asking, 'Can you help me?' They say, 'I bought this product on the Internet from company X and it's not working.' I call the company. I get a voicemail and nobody calls me back. I say, 'Man if you can get your money back, get your money back.'
We're not a buy-a box, ship a box. We manufacture and we cater to infirmed individuals. Our hospital business is booming because of the quality that we have. We can compete against anybody. I'm not talking about in home health care. I'm talking about the big boys. We help the smaller, independent home care dealers if they want to get away from just all Medicare or hospice business. We can help them and teach them how to call a hospital—and make that more clinical approach.
Medtrade Monday: How's business?
Ron Resnick: Business is dynamic, actually. We're one of the few factories that make products in our industry—I mean directly. Most people are just importers or distributors of other people's products. We're very fortunate that we have a big factory here and we're cranking. We have raw materials and we have a very strong balance of business out there; not just home care, but hospital, private label, OEM, hospice, and catalog companies—so it's been very interesting.
Medtrade Monday: How old is the company?
Resnick: Blue Chip is in our 27th year. We just celebrated our anniversary last week. It's very humbling.  We started from scratch with the consideration that we wanted to be the Nordstrom of health care—quality products backed by service. Twenty-seven years later we have customers in a lot of different countries.
Medtrade Monday: What did you think of Medtrade in Dallas?
Resnick: Being in Dallas, in the middle of the country, made it a little bit easier. Dallas is a great place and we look forward to going. There's excitement there. One of my people said there's an atmosphere of curiosity to go to the show because it's different. We enjoyed it.