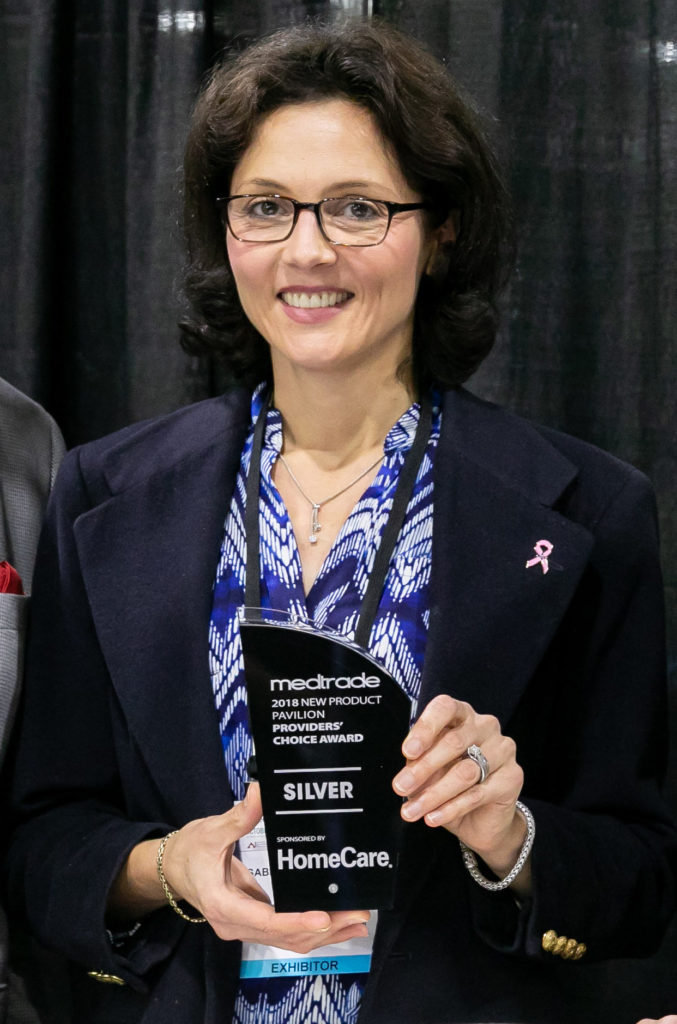 NEW YORK, NY – Four years ago, Sabine Hairabedian, founder and CEO of NY-based Abely, was diagnosed with breast cancer. After several surgeries, she came home with limited strength and mobility. "I ended up in my bed but unable to move," she says. "I couldn't get out. I could not sit. I was stuck in one position, and that was frustrating for a fairly young and active woman."
Armed with an engineering background, she started thinking about solutions that could help people in the same situation. After many prototypes and rounds of user feedback, she developed the Abelift Recliner, a device designed to duplicate the adjustments of a hospital bed within a person's own bed.
Attendees at Medtrade embraced the product and submitted votes for the Abelift Recliner in the highly competitive New Product Pavilion Providers' Choice Awards, sponsored by HomeCare Magazine. The Abelift Recliner ultimately earned the Providers' Choice Silver Award (Hairabedian is pictured here at Medtrade with the award).
"People do not like hospital beds," Hairabedian says. "Hospital beds carry a stigma; either you are very sick or at the end of your life. A lot of people do not want to bring a hospital bed in their home because it also has a footprint. You either have to bring it up the stairs and move furniture so it can fit in the bedroom, or you are stuck sleeping in the den or living room, away from your spouse. This is about maintaining a normal lifestyle and being next to your bed partner. We are seeing really high adoption rates with this product because it helps people in their own bed, or in any bed, because it's a portable product."
Exhibiting for the first time at last month's Medtrade, Hairabedian received "really strong" feedback from providers who appreciated that product could keep patients in their own bed.
"When people are not doing well, either post surgery, during life changes, managing chronic diseases, or even with conditions such as nasal congestion and acid reflux where sleeping at an incline is recommended, being able to stay in their own bed is very important," she says. "Getting help to transition between a sitting and laying down position, as well as to recline comfortably to watch TV or read, helps life to be as normal as possible. It helps people maintain their mobility, independence, and dignity."