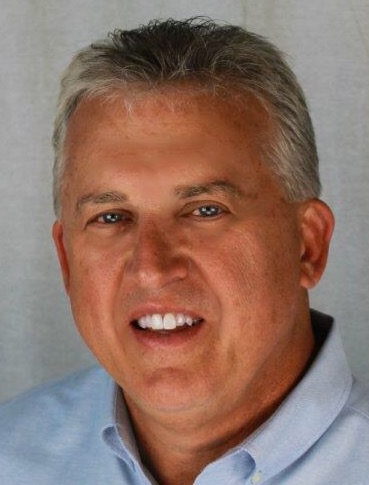 WASHINGTON, DC – CMS announced last week that accessories for group 3 power complex rehab technology (CRT) mobility products will continue to remain exempt from the application of competitive bidding-derived pricing for Medicare beneficiaries. "The beauty of this is that when we open the doors on July 1, nothing changes," explains Doug Westerdahl (pictured, left), owner, Monroe Wheelchair, Rochester, NY. "Without this win, we would have had to let people go. We would have had to decrease our services and limit consumer choice."
Congress has twice passed legislation delaying the application of bidding-derived pricing, including a six-month delay as part of last December's CURES bill that was set to expire on June 30. Last week's policy change essentially extends the CURES provisions indefinitely.
From CMS' announcement:
CMS is issuing a new policy on how adjustments to the fee schedule based on information from competitive bidding programs apply to wheelchair accessories and back and seat cushions used with group 3 complex rehabilitative power wheelchairs. Section 16005 of the 21st Century Cures Act currently allows higher payments for these items but is set to expire after June 30, 2017. By continuing these higher payments, this new action will help to protect access to complex rehabilitative power wheelchair accessories on which people with significant disabilities depend.


"Today's announcement marks a big win for HME providers who furnish CRT products," says Tom Ryan, president and CEO, American Association for Homecare. "CMS' action ensures that individuals with significant disabilities will continue to have access to specialized technology that they depend on, which will also be welcome news for caregivers and medical professionals who support these individuals."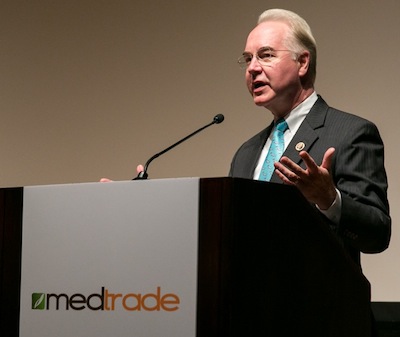 Westerdahl, who also serves as president of the National Coalition for Assistive and Rehab Technology (NCART), explained that accessories are "anything other than the base" of the power wheelchair. "There can be up to 20 accessories that go on that base," he says. "These are things like electronics, adjustable height arms, specialty headrests, specialty seat belts, a foot box, the cushion, and a variety of other things."
Westerdahl believes Tom Price, MD [pictured left, speaking at Medtrade 2016], now serving as secretary of Health and Human Services (HHS), was "very instrumental" in cementing the exemption. "If Price were not in office, this regulatory fix probably would not have been likely at all," he says. "CMS has that latitude, but CMS would have never done it on their own. What really led up to that was the work of NCART and the CRT industry, and the consumer organizations. NCART and Don Clayback led the charge, and there were plenty of other groups involved such as AAHomecare. Congressional support was very bipartisan."
John J. Letizia, ATP, president, Laurel Medical Solutions, Ebensburg, Pennsylvania, agrees. "We fostered a champion in Congressman Price, who is now Secretary Price," says Letizia, who is also immediate past chairman of AAHomecare. "Price and his staff members are more open to listening to problems that are occurring in the DME and CRT sectors.
"The CRT accessory exemption allows us to provide the right products for patients," continues Letizia. "This is a win for patients, as much as it is a win for my business. I can now prescribe the right products, instead of just the cheapest products…I think the future is going to be bright. I think we can get some other wins, but we are going to have to be as diligent as we have been on the CRT issue."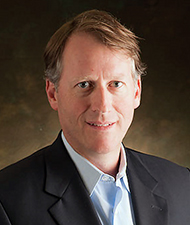 Ryan Peebles, director of Government Affairs, National Seating & Mobility (NSM), Franklin, Tennessee, considers the exemption a "huge victory" for NSM and the entire CRT community. "That community includes consumers, disability organizations, clinicians, providers, manufacturers, and others who worked extremely hard to produce this outcome," he says. "We are a small industry but an extremely important one because of the medically fragile people with disabilities who rely on power wheelchairs. Our sincere thanks to HHS Secretary Tom Price and CMS Administrator Seema Verma for making this needed policy correction. Additional thanks go to the other Members of Congress, their staff, and the respective Committees' staff who worked very hard to resolve this issue."
"This result would not have been possible without the combined efforts of the HME community and patient advocacy groups working together to both mobilize their constituencies and to directly reach out to Congress and CMS on this issue," adds Ryan. "I'm especially appreciative of the terrific support that the National Coalition for Assistive and Rehab Technology, United Spinal Association and the ITEM Coalition lent to this effort, as well as the strong engagement from AAHomecare member companies that manufacture and provide mobility products. When the HME industry and patient groups are strongly united on public policy initiatives, it sends a powerful message to regulatory agencies and Capitol Hill.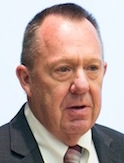 "It's clear that the new leadership at HHS and CMS understand the effectiveness of highly specialized CRT products and other essential HME products in meeting patient needs and reducing hospital stays and other costly clinical interventions," continues Ryan. "We also appreciate the sustained advocacy of Senators Bob Casey (D-Pa.) and Rob Portman (R-Ohio), as well as Reps. Lee Zeldin (R-N.Y.) and John Larson (D-Conn.), who both helped secure the earlier legislative delays to bidding-derived cuts and also led Congressional efforts to secure a long-term solution on CRT."