OLD FORGE, PA – With Medtrade East only one week away, Golden Technologies has launched new and innovative products in the mobility division. The introduction of two new power wheelchair designs with added comfort and performance features will help retailers drive cash sales in an increasingly competitive market for mobility aids. The new power wheelchairs will be unveiled during Medtrade East, scheduled for Oct. 24-26 at the Georgia World Congress Center in Atlanta.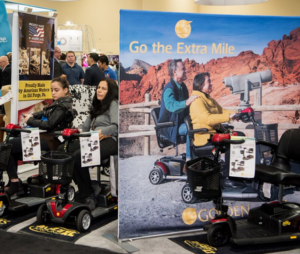 "We invested heavily in new and exciting mobility products to provide our retailers with high-performance products designed for comfort and style to increase their retail cash sales," said Rich Golden, CEO of Golden Technologies. "We continually strive to be at the forefront of innovation and design with all our products. The GB164 BuzzAbout power wheelchair ushers in the next level of power wheelchair options across the home health care industry and has been enthusiastically received by our retailers for both functionality and design. The new entry-level GP161 LiteRider Envy LT rounds out the line-up and continues to mean quality and value. The combination of these three power wheelchairs on our retailer's showroom floor gives them a powerful good, better, best retail offering."
Full-time luxury on the go comes with the convenience of true portability on the new BuzzAbout, the first power wheelchair in Golden's popular Buzzaround Series. Perfect for travel, the BuzzAbout power wheelchair has a stylish captain's seat with contoured support and higher back for longer seating tolerance and comfort.
It features motion sensing LED running lights on the footplate and rear handle activated when the controller is moved. It also features a 300 lb. weight capacity, 2-22 AH batteries standard, convenient offboard charging, and easy disassembly for transport. The BuzzAbout offers excellent performance and maneuverability indoors and out for an active lifestyle.
The all-new LiteRider Envy LT power wheelchair is stylish and durable with a silver powder-coated frame and tubular design that is unique to the Golden LiteRider family. The Envy LT features a compact controller and well-styled joystick designed to make everyday tasks easier such as driving up to a table or maneuvering through a doorway.
The Envy LT has a 27-inch turning radius, making it perfect for indoor or outdoor use, and offers a 250 lb. weight capacity with an operating range of up to 11.4 miles on two 12V 18AH batteries. It also offers convenient off-board charging and easy disassembly for transport. At Medtade East Golden will feature these power wheelchairs that allow individuals to experience maximum comfort with minimal effort while on the move.