ATLANTA –  Golden Technologies is introducing innovative products in the power lift recliner and mobility divisions at Medtrade, the home medical equipment industry's largest trade show in Atlanta, on Oct 16, 2018. Golden Technologies also serves as the official Show Sponsor. The introduction of new technology and comfort features at the show will help retailers discover new ways to drive cash sales with profit producing products.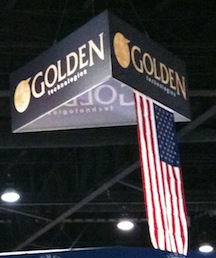 "We have attended Medtrade shows regularly for over 30 years. We aim to help lead our retailers to more education that will help them succeed. They benefit by attending and we want to set that example for them," said Rich Golden, CEO of Golden Technologies. "Thanks to the support of our thousands of retailers, we are positioned stronger than ever to help more Americans maintain their independence and enjoy a new level of comfort with our innovative technology."
Golden Technologies ushered in a new era in comfort seating across the home health care industry. "The introduction of our Twilight cradle technology in a luxury power lift recliner last spring was met with overwhelming enthusiasm and we are excited to announce that we are expanding our Twilight line with the launch of the PR405 Orion with Twilight Technology at the show," said Golden. "Our customers' comfort comes first and we can now offer a greater range of options to experience never before seen or felt levels of comfort, thanks to our patent-pending, three-motor mechanism. In addition, we will launch a new Siesta Series power lift recliner with standard features like power headrest, power lumber, USB port, an independent back and footrest, plus a motion seat for ease of movement."
In their mobility division, Golden is creating a buzz about their new power wheelchair. "The BuzzAbout is very unique in the market. It offers a great combination of power and portability, along with a new front and rear LED lighting system for safety" said Golden. "We are also launching an all-new Alante Sport power wheelchair with a comfortable high back captain's seat, larger lightweight footplate, and color through shroud."
The scooter line is growing with the addition of two new luxurious products with rugged capabilities. "Coming soon are our new BuzzAround LX three- and four-wheel models featuring full-size comfort with the convenience of true portability," said Golden. Retailers at the show can stop by the booth to see what the buzz is all about and have a chance to win $20,000 in Golden products.
Visit www.goldentech.com for more information.