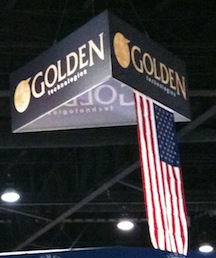 OLD FORGE, PA – Golden Technologies (Booth #1305 at Medtrade, scheduled for Oct 31-Nov 3, 2016, at the Georgia World Congress Center in Atlanta) has introduced a new BuzzAround Extreme Scooter. The new scooter features the portability and easy disassembly of a lightweight scooter with the benefits of a full size scooter.
The three and four-wheel Golden BuzzAround Extreme Scooters come standard with 2-U1 batteries for maximum operating range. The BuzzAround Extreme also features a brand new ultrabright LED headlight and taillight, comfort spring suspension for the smoothest ride, and an extremely comfortable 18" x 16" stadium style seat.
With a "best in class," weight capacity of 330 pounds, large 9-inch tires, and 4-inch ground clearance, the Golden BuzzAround Extreme Scooters are easily maneuverable both indoors and out. Additionally, the Extreme has a 90-amp controller and a 320-watt motor.
"We are all so excited about the latest addition to our BuzzAround family, the Buzz Extreme," stated Richard Golden, president and CEO at Golden Technologies. "It is what our customers have been asking for; a full time awesome looking scooter with U1 batteries for the best value, with full comfort suspension but that is still incredibly portable, lightweight, and maneuverable. The Buzzaround Extreme is exactly what the doctor ordered, so to speak."

Promotional items for the Extreme will include FREE TV commercials and tagged ads, new brochures, marketing flyers, vinyl banners, posters, and tee shirts. "We are proud to welcome Golden Technologies back to Medtrade this year," said Kevin Gaffney, group show director, Medtrade. "Once again, Golden will have a huge selection of caretailing products for attendees to peruse."